An unspoken goal of the 3D printing community as a whole seems to be to print every type of vehicle; there are printed bikes, motorcycles, cars, buses, and boats. And now there's a 3D printed underwater scooter: AMAZEA from the Germany-based JAMADE.
"AMAZEA is an industry-first breakthrough with the potential to redefine maritime vehicle technology and the consumer experience in water sports around the world," said JAMADE Managing Partner Janko Duch. The "lifestyle aquajet" requires no operators license and can be used by most ages with its intuitive steering controls. Its dual electric motors can push it up to 30km/h above water and 20/km/h underwater, which is pretty fast. Providing you can hold your breath sufficiently (or have scuba gear), it can function as deep as 18 meters underwater. And its batteries are swappable for continuous use, whether for recreation, exploration, or research.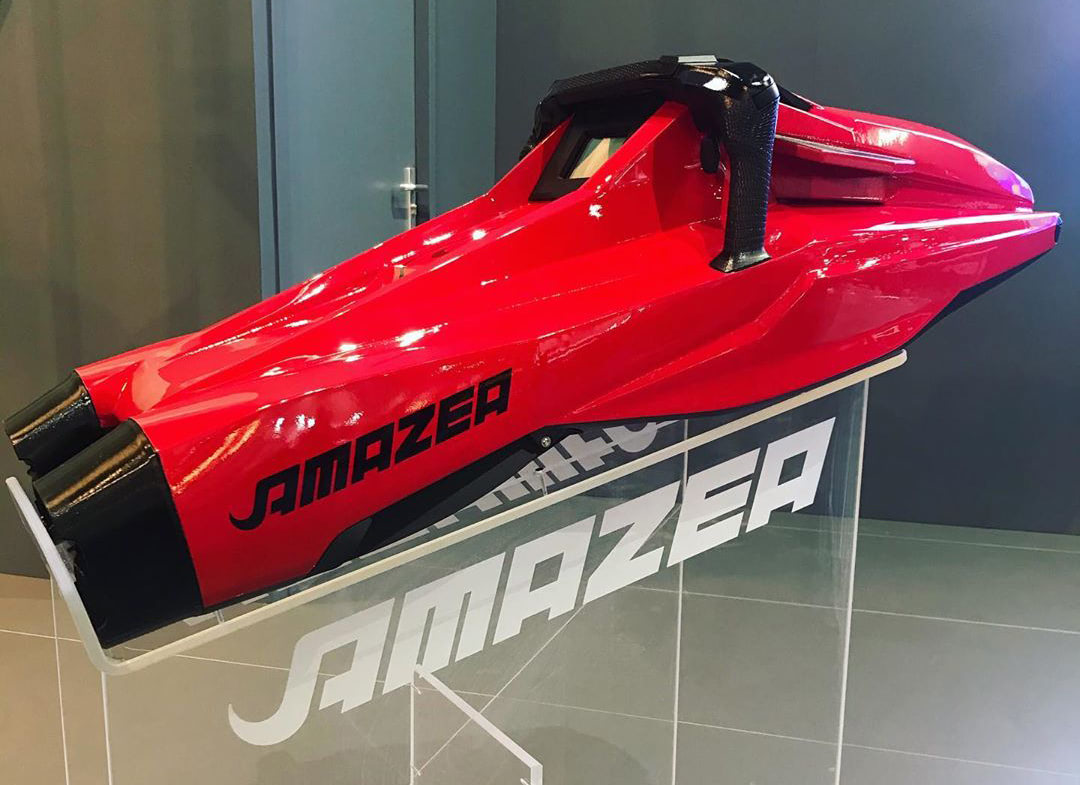 75% 3D Printed
But the coolest feature of AMAZEA is its manufacturing method, which is 3D printing. Approximately 75% of the watercraft is printed on a BigRep ONE. The founders explain why they chose the large-format printer, saying "We opted for the BigRep ONE due to its cost efficiency, accuracy, and quality when compared to the extremely high investment for traditional tools, particularly in the first year's lower quantity." 3D printing not only reduces their low-run manufacturing costs but also allows them to customize orders with special colors and embossed/embedded branding. Additionally, printing the body as one solid piece makes leaks less likely as they typically occur where parts are joined.
Serial Production
BigRep's PRO HT material, which can operate in temperatures as high as 115°C, is used to print the body so that it can survive the harsh outdoor environment. Obviously, BigRep is a fan. "This scooter is a BigRep showcase of our digital solutions empowering production by leveraging the full potential of large-format 3D printers with high-performance filaments," said BigRep Managing Director Martin Back. "It also signifies the rapid progress of 3D printing into the serial production of consumer end products, opening a new dimension for AM in similar niche but high-tech markets as well."
If you hit the beach this summer, keep an eye out for this printed water scooter. And don't be surprised if you also see a 3D printed blimp, or helicopter, or submarine. They'll be here soon enough.
Featured image courtesy of JAMADE