A few weeks ago I was present at London's first 3D Printshow. A great event that played host to some of the biggest names in 3D Printing including MakerBot, Ultimaker and 3D Systems.
Besides a wide variety of stands and workshops, a few seminars were scheduled. One of them was held by industrial designer Pekka from online 3D design tool Tinkercad. I attended this seminar which inspired me to learn the basics of 3d modeling with Tinkercad.
About Pekka
Pekka graduated in 2008 at the Lahti university of applied sciences in Finland. He has done globally recognized design objects such as jewelry, eyewear and lamps. On his website he explains that he, as a Finnish designer, has been inspired by light in particular. This is because of the polar night of the winter and the midnight sun during the summer. At Tinkercad he is an Technical Artist and makes sure that the users of Tinkercad are getting the right tools to design.
About Tinkercad
Tinkercad is a WebGL-based 3D design tool that was launched in 2011. The tool operates completely in the browser so you don't have to download anything. Tinkercad guides its users, with the help of step-by-step lessons, through the basics of the 3D design process. We think this truly is a great approach and it has helped us to understand the basics in just a few hours.
When one has finished a lesson or created a new 3d design it is just a small step to actually print the model. Just click on 'Print in 3D' and you get to choose if either Shapeways, i.materialise, Ponoko or Sculpteo gets to print your design. Of course it is also possible to download your model in .stl or whatever and print it out yourself.
Printing my own 3D printed eyewear
So back to Pekka's seminar. One of the things he explained to the crowd is that he sees eyewear as – perfect for 3D printing – because eyewear is so personal. The measurements and material have to be just right to get the desired look. That's why he wears 3D printed glasses designed by himself, and even better, his frame can be found on Tinkercad to be modified to anyone's needs and to be printed.
With this in mind I thought it would be fun to try this and this article is part one of my adventures. So where did I start? Well at first I googled a bit to learn more about the development of spectacles. I wondered which measurements were a necessity and which materials were suitable. I found this great page on measuring yourself for a custom frame. My first findings are, considering measurements:
– pd in millimeters (pupillary distance)
– gap between the lenses in millimeters (for you nose)
– overall width in millimeters
Material:
– Nylon
With this in mind the next thing I would have to do is find an optician that was willing to help me. At a certain point I hope there'll be a time where I would have my own 3D printed frame in my hands, ready to get prescription lenses fitted into them. So I went to the nearest optician to my house in Amsterdam and was welcomed surprisingly warm. The optician was really interested and gave me the measurements that I needed.
The prototype
The next step for me was to take a look at Pekka's model on Tinkercad. To then change the measurements and then print out a prototype.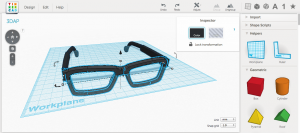 i.materialise
I chose to use i.materialise to print out my prototype. As a material I chose Multicolor, which is the cheapest. My prototype will be printed in one piece so it's not functional but I think that's all right, cause it's just a prototype. With shipping included this cost me around 24 euro's.
So now I have to wait a few weeks till my prototype arrives. In the mean time I'll be trying to improve my modeling skills with Tinkercad. I'll keep you posted.
Update
Read more: part 2