Renowned industrial machinery manufacturer JC Steele develops large metal components for brick-making machines. These parts are usually reliant on sand casting processes which in turn requires the company to create large sand molds. JC Steele has found a more efficient way of creating these molds by 3D printing the patterns that sand casting depends on. In effect, they've managed to cut costs by 75% while also eliminating multiple steps in their production process.
Sand casting is a method with quite a few stages. First, positive patterns are created from a variety of materials. This often means drawing, interpreting and then crafting them by hand with hard woods like mahogany and maple, but also pressure cast aluminum. These form the basis of a negative cavity in sand which forms the shape of the eventual object. The molds are crucial as they are a great way of creating large, durable parts from metals like ductile iron to use in stiff extrusion equipment.
However, with 3D printing, sand casting is simplified in multiple ways. For example, digital models reduce a lot of the initial steps in drawing and designing, even foregoing the use of wood entirely. They also eliminate the need for handcrafting and decrease material wastage by switching to additive manufacturing. Additionally, it involves less post-processing and excess material disposal. Overall, they reduced the process from seven steps to four, cutting production time by 50% on complex geometric patterns.
3D Printing Patterns for Molds
By 3D printing the patterns, JC Steele eliminated the biggest part of the process, i.e. designing and creating a pattern by hand. They also managed to eliminate the chance of human error in interpreting design drawings and cut out the expensive process of managing reductive waste. This has resulted in a boost in design productivity as well. They managed to create 60 new patterns in a single year, having a BigRep large-format 3D printer running round the clock.
JC Steele chose 3D printers capable of printing high-quality patterns as any defects would carry over to the eventual mold. Additionally, large-format printing was necessary as the company needed all the build volume they could get. They were manufacturing large objects with some pretty complex augers, which are huge columns that operate like a drill bit to compact and move material forward through an extrusion chamber.
Quality and materials were also massive considerations in developing molds. If the parts end up being disproportionate or badly printed, they risk ruining the sand cavity. Fortunately, the PETG they now use fares well compared to the traditional wood design. It offers minimal wastage along with precise parts that need very little post-processing. It also has the added benefit of being eco-friendly and easy to process.
Aside from the larger patterns, the company also uses the printer for a range of other parts they need around their factory floors.
As far as comparing plastic to wood, I think it's just as durable in sand casting and our other applications.Chris Watts, JC Steele's Pattern Shop Supervisor
3D Printing For Tools & Other Parts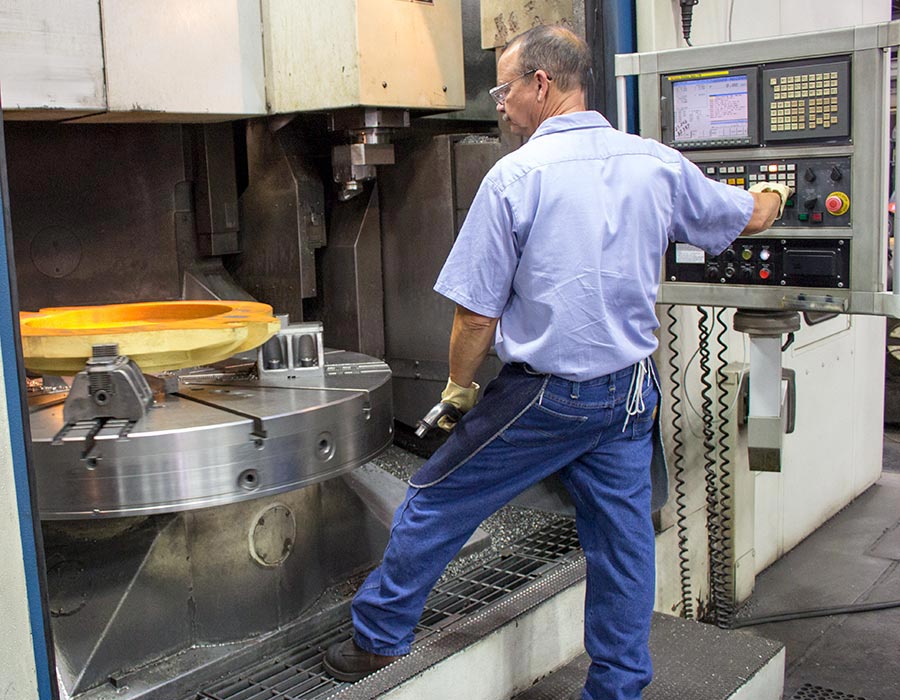 "We make a whole range of parts, from something that can fit in your hands to something bigger than your car," said Jeremy Kauffman, JC Steele's Engineering Manager. "If we need a large quantity of a smaller part, I can nest 100 parts on the BigRep ONE that I can only fit a few of on another printer."
These kinds of parts include small tools, safety equipment but also obsolete components. As a company that is about a 130 years old, JC Steele have a lot of parts that are difficult to find or have completely gone out of production. 3D printing is a great way to update such pieces of equipment, fixtures or tools. It also allows the company to improve their old equipment with guard rails, handles and other safety features. This is the case with many companies in the industrial, automotive or aviation fields, where decades-old equipment is in extensive use.
JC Steele has found it useful to keep a catalogue of old parts and designs to quickly print and improve on. They are also testing and prototyping parts at a rapid rate, giving way for new pattern and design testing. By employing 3D printing, they are making the best use of their technologies and workflow, revitalizing pre-existing manufacturing methods and older equipment in the process.
Featured image courtesy of JC Steele & BigRep.