It's a big misconception that it is expensive to start with 3D printing. When you have a tight budget, cheap 3D printer kits can be a great starting point. Why DIY kits still exist mainly has to do with saving costs, because the components can be packed and shipped more efficiently.
Below we'll first describe what to look for when buying your first kit and at the bottom of this page you'll find a list of the best cheap 3D printer kits.
Assemble a DIY 3D printer Kit
When jumping into the world of 3D printing, I believe it's a good idea to assemble a kit to get a basic idea of how they are built and how 3D printers work. While following the instructions and putting the parts together you'll gradually learn all the terms and vocabulary associated with 3D printing which will make it easier to solve problems in a later stage.
Basic skills you need to get started
That said, nowadays, assembling a kit comes down to connecting a few parts with screws and cables. Most of the time, all the hard work is done in the factory. So no soldering or drilling is required. The assembly time of cheap 3D printer kits ranges between 1 and 16 hours, depending of the level of knowledge of the user.
Basic Skills Required:
A little better than basic understanding of electronics
A little better than basic understanding of mechanical components
A little better than basic computer skills
Bed moving over z-axis or y-axis?
Cartesian, Delta, Scara and Polar are all different types of 3D printers. What is interesting, is that within the Cartesian 3D printers there are two segments: let's say the Prusa Mendels and the Ultimakers. A Prusa moves the bed over the y-axis and an Ultimaker moves the bed over the z-axis. Both have their pro's & con's but it generally comes down to this:
A 3D printer with a bed that moves over the z-axis can achieve higher speeds. A bed which moves over the y-axis can handle more weight, is mechanically simpler and is easier to maintain. Therefore I recommend to opt for a Prusa type in the case of purchasing a kit.
Materials used for the frame
It may appear that these kits all consist of the same materials, but please keep in mind that when assembled, look at things like the rigidity and weight of the 3D printer kit itself.
3D printers have quite a few moving parts and can shake quite a bit, especially at higher speed prints. Therefore you need a little weight to keep your machine into place and not find it vibrating itself off the table and onto the floor.
You must also be cognisant of a flimsy frame as this could lead to distorted and skewed prints. For this reason I prefer solid heavy frames made of wood, metal or melamine. With that in mind some cheap 3D printer kits will use a metal frame but is so thin that it really provide nothing in terms of rigidity. A good metal frame that is considered tough will range from 3.0mm to 6.5mm in thickness.
Bowden versus Direct Feeder system
You might want to take in consideration what type of extruder feed system you'ed like to work with. A bowden type or a direct extruder feed. The Prusa's of this world most of the time have a direct extruder and the Ultimaker's a bowden. Direct extruders are placed on the moving parts of the 3D printer. The heavy stepper motor of the direct extruder slows down the printing speed and can take down the print quality. Bowden printers can achieve higher print speeds. Direct feed extruders are better with specialty flex like materials.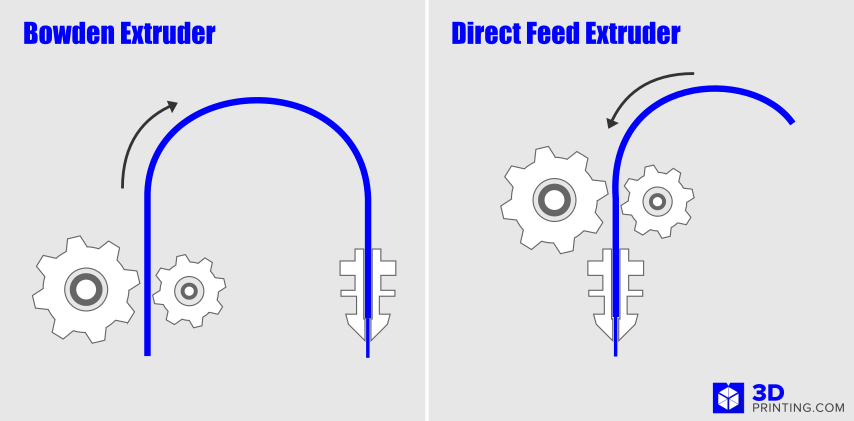 Advantages of Bowden Extruder
Lesser weight of moving parts, higher accuracy prints at high speed
Less momentum to overcome, therefore faster printing times
Disadvantages of Bowden Extruder
Finer tuning of extruder to compensate tube length play
Challenge to print flexy filaments, extruder has problems gripping the flexible material
You can't finish your filament spool, you always have leftovers
Advantages of Direct Feed Feeder Systems
More accurate direct feed of filament to hotbed, easier retraction less ooze
Handles flexi like filaments better
You can finish your filament spool till the end
Disadvantages of Direct Feeder Systems
Additional weight of motor on carriage causes issues with quick changes in direction
Filament Guide – Tips & Tricks
As this is your first 3D printer and initial cost is a factor (in this case under $750), we also need to consider the running cost of the machine itself! Filament spools are probably the most expensive running costs of any 3D printer, so it is always a good idea to take a look at a filament guide to ensure choosing a good filament for decent quality prints.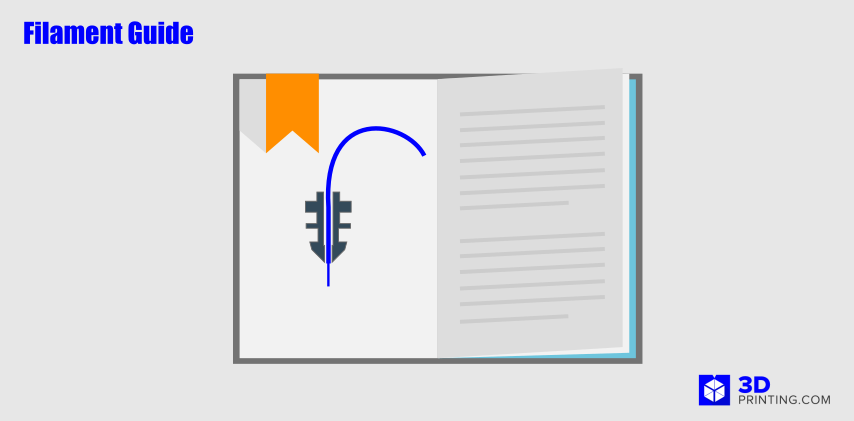 Most intermediate / professional users will advice not to go cheap and they'd be completely correct. However, this is your first ever 3D machine, which will result in weeks / months of trial and error and therefore it makes no sense to fork out money on expensive filaments that will probably go to waste anyway… So here are a few tips and tricks to ensure decent printing quality using lesser expensive filaments, while protecting your new printer from reoccuring damage:
Moisture free filaments
Certain filament materials such as PLA and Nylon easily absorb moisture from the atmosphere. It is this absorption that can cause problems such as effecting print quality and cause damage your hot-end through blockage.
Hot-End Damage: Moisture absorption causes filament swell. If the swelling is sufficient enough, the plastic will simply block up the nozzle and may cause permanent hot-end damage.
Print Quality: During melting of the plastic, the trapped moisture turns into steam and causes some bubbling. It is this bubbling that interferes with the extrusion rate and results in a model that lacks strength and quality… not to mentioning not looking good!
Solution: To combat filament moisture absorption and serious damage to your new equipment, one inexpensive solution is to buy vacuum bags. Place your filament spool in the bag, throw a couple of silica gel packs and suck all the air out.
Dust free filaments
Dust is an other problematic factor. This is because the dust will find its way onto the filament even during the printing process. As the filament is fed through, so is the dust which eventually reaches the nozzle and can either cause a partial blockage which in turn compromises your print quality or a complete blockage
Solution: A simple and inexpensive universal filament filter can be installed that will automatically remove any dust particles while the filament is being fed through.
Click here to go to our filament storage guide for more storage tips and tricks.
Assembly Printer Guide
As I mentioned earlier you will encounter problems. As a rule, the better the initial built the lesser the problems you may encounter or need to solve later on. A good initial built starts with great assembly guides and quality parts. I prefer watching assembly video guides first, because I'm more a visual learner and get a better understanding by seeing how someone else does it.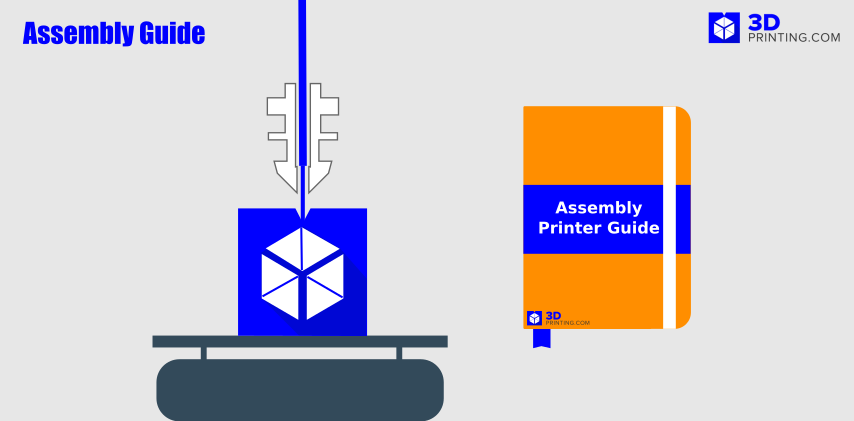 Unfortunately some of the great guides out there have their flaws and to add to that the 3D printing world is changing so quickly. It could end up your kit has some new parts in it replacing old ones that are not mentioned in the guide or look just a bit different. As a result this could lead to some confusions so prepare to get stuck at a certain points and re-assess. Some of these companies seem to assume the users are as tech or engineering savvy as their peer group which may not always be the case.
Sometimes the best guides are made by fans. A great example is this MakerGear M2: The Ultimate Tips & Tricks Guide.
Slicing model software
Typically your 3D generated model will come in .STL format, usually created using a 3D package such as Blender. This is the file that your printer must read in order to print out the model. However, most 3D printers create solid parts through the process of building up layers of the plastic being used. Therefore, a slicer software is required to slice up the solid model into layers which is a language the 3D printer understands in order to start and complete the print.
There are several slicers out on the market, some of which are fantastic and pretty much plug and play, but they can cost a pretty penny. So it is very much a question of balancing the price of the slicer to the price of the printer itself. Luckily there are several great Open Source slicers out there that are effectively free for download and use. We recommend you download and try some of them out for yourself as it is very much a question of personal taste… not to mention that some slicers can even have an affect on the final print quality.
Go to our software page for an overview of available slicers.
Support
So this brings me to my next point, support. Support comes in many shapes and forms. Does the company deliver one-on-one customer support with a helpdesk employee via mail or phone? Do they have a forum, a Google or Facebook group where the community helps out each other? All of these can be very helpful tools in the event you get stuck on something whether it be the 3D printer or the print outcome itself. In addition this can also be a great way to get involved in the community itself and some day you may be helping someone else with a problem you overcame.
All in all I recommend first consulting customer reviews. Hands on usage from the public and real users is the best way to cut through all the marketing hype and it is the best way to gauge the quality and function of a product before committing your money.
We constantly update this list, so you can always check back to find out what the best cheap 3D printer kits are.