We've told you how Lamborgini is using 3D printing technology in their design process to make the Aventador lighter and faster. Now German automaker Daimler AG has funded a research partnership between the Fraunhofer Institute of Laser Technology and the German company Concept Laser. The result is the X line 1000R 3D printer with a build volume of 630mm x 400mm x 500mm (23.6 inches x 15.7 inches x 19.7 inches). The new machine was introduced at Euromold 2012.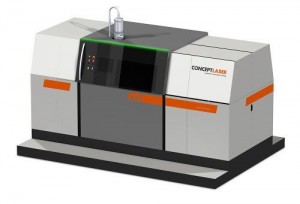 The machine was developed to aid in the production of complex metal parts that are traditionally made using a time- and money-intensive sand casting process.
Layer thickness
The X line 1000R 3D printer has a layer thickness of 20 to 100 microns. Ponoko's blog states about the layer thickness: 'This would be a significant achievement for a plastic or resin printer, but it's remarkable considering that this is a laser sintering printer for fusing powdered metal'. Long story short, this machine seems to be a big step forward in metal printing. We'll be watching it closely.