Exhibitions eh. Remember those? They used to be a thing, before the you-know-what forced us to live underground like Morlocks.
Apparently the TCT Asia exhibition in Shanghai did not suffer a similar fate as every other public event on the planet, as evidenced by the announcement of a new polymer printing SLS machine, which was revealed at said event.
The machine, named the Flight ST252P from Farsoon Technologies (headquartered in China with offices around the world) is the most recent addition to the Flight series of printers which were first unveiled at the same event in 2019.
The Flight series of printers differ from traditional SLS machines as they have a fiber laser rather than a CO2 laser. And just in case you were wondering, Flight is a portmanteau of fibre+light.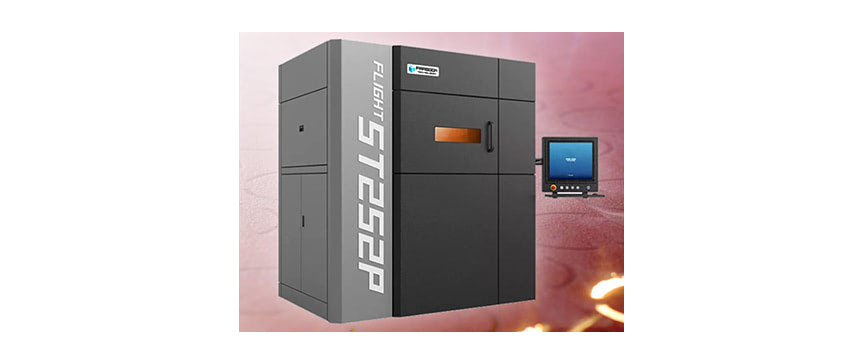 Due to the higher power delivered to the printbed in the fiber laser system, as well as smaller beam diameter and increased energy absorption, operators are able to print a wider range of commercially available materials. Two additional polymer powders were also released at the exhibition. More on that later.
Due to the open nature and consequential flexibility of this printer, it is aimed not only at manufacturing companies but research institutes too. Farsoon, it seems, are very much in favor of helping customers to develop their own new materials with this system.
With a background over 25 years in developing additive systems and material powder, Farsoon is one of the few companies in the market that can harness integrated plastic laser sintering solutions. Dr. Xu Xiaoshu, Chairman of Farsoon Technologies
Dr Xu was previously technical director for the world's first SLS laser sintering company DTM Corporation, which has since transformed into 3D Systems. So they know their onions where it comes to polymer sintering.
The 252P series offers two configurations being the HT252P and the ST252P, which in turn offer chamber temperatures of 220°C and 280°C respectively. Like the previous CO2 laser variant of the 252P series, this one has the same build cylinder size of 250 × 250 × 320 mm.
If you want a bigger one, you need to look at the first Flight model from last year (the Flight 403P model).
These higher temperatures enable the warp-free printing of high temperature engineering plastics such as PA6, PA66, and PEI. You could probably print PEEK in there too, although it is not explicitly stated on the press blurb. Hey, it's an open system. Print whatever you want.
Back to the new polymers, the company also announced the release of two new powder types, being a custom FS2300PA-F Polyamide powder (touted as a cost effective yet tough powder for prototyping) as well as a new PA12 which is aimed at both prototyping and end use products. There is no mention of the relative cost of this PA12 (so we guess that it is more expensive than the FS2300PA-F, as it is more suited for end use).