Geeetech is crowd-funding its successor to the Me Ducer, E180 on Kickstarter. The company is looking to put 3D printing on the map by making it far more accessible to the average consumer. Aside from its accessible price, the E180 is also easy to use and reliable. Additionally, the company has given it a compact size so it can fit into any desktop environment.
The company has stated: "The aim of this Kickstarter funding is to bring this enlightening and interesting technology to more and more people throughout the world. Through hands-on play, they could cultivate self-confidence, perseverance, and systematic goal-completion competence, gain the courage to make mistakes and prepare themselves for future career planning."
The printer is currently available for early bird backers at a price of $199, which is 33% off of it's retail price. As of the publishing of this article the company has put together just over $17,000 with 29 days to go. It's still early days for the project but they are heading towards their intended goal of $50,000 very quickly.
Features
The compact casing houses motors, fans, control board and wires. This ensures that it easily fit into any workspace. The printer has a build volume of 5.12 x 5.12 x 5.12 in (130 x 130 x1 30mm). It also uses a Bowden extruder with a cold end and a hot end with a replaceable nozzle. The standard nozzle is made from ceramic materials that help reduce heat loss.
The E180 is ready to use out of the box. With a few adjustments it can be ready to use. Another promising feature is the break-resuming capability. This allows the printer to start up after an interruption or stoppage so that the print can continue as planned. It also allows users to complete a print over a series of successive sessions.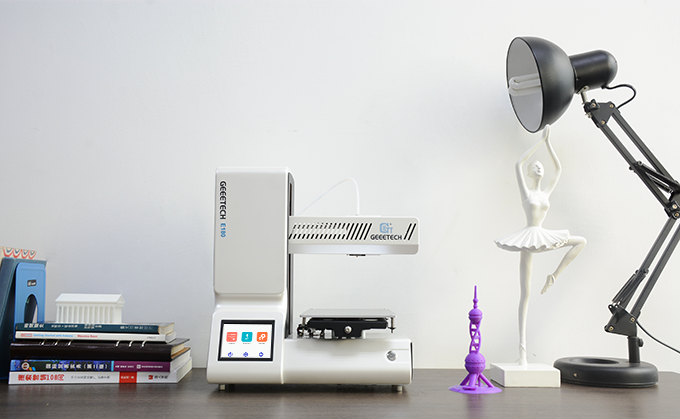 In terms of materials, the E180 only uses PLA and promises great print quality. Users can operate the printer through a 3.2 inch touch-screen interface. The E180 has wifi connectivity along with a cloud-based solution. Users can also use EasyPrint 3D APP to upload photos of their prints and interact with the rest of the community.
The E180 looks to have its features tailored specifically for newcomers to the technology. In that regard, the bare-bones design makes sense. With its emphasis on ease of use and its price, this printer looks to be well-suited for anyone looking to see what 3D printing is all about.