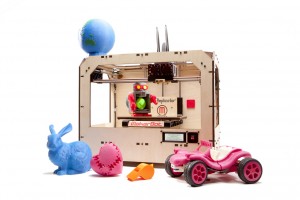 Today, MakerBot Industries announced the launch of its latest product, The MakerBot Replicator™. This new personal printer will debut at CES in Las Vegas and is as of today available in the MakerBot store for pre-order.
This new printer comes with the MakerBot Dualstrusion™ which is 2-color printing. Also it has a bigger printing footprint which allows you to print bigger objects (roughly the size of a loaf of bread). The starting price of the Replicator is $1749 USD.
With the Replicator it is possible to activate two extruders (the part that turns raw feedstock into the objects) which makes it possible to print with two different colors at the same time. Also because of this you can experiment with multi-material objects.