Today Ultimaker released their third generation desktop 3D printer, The Ultimaker 3, here at Makerversity/3DPrinting.com's HQ. With this release Ultimaker announces a new generation of 3D printers. The UM 3 is all about minimizing down time and maximizing efficiency.
The integrated configuration of hardware, software and materials – in cooperation with the streamlined adjustment possibilities – will lead to an efficient workflow and the best possible printing results.
The Main Improvements
High uptime and maximum performance
With the Ultimaker 3, users can easily switch between Print Cores, which are tuned for each material. Note that these Print Cores are optimized for Ultimaker's own industrial grade materials to maintain high quality with repeatable output. The result is that multiple users can now have access and can easily change the Print Cores for any application.
3D printing with unlimited geometrical options
Thanks to the new dual extrusion system, this new generation can print more complex 3D models with unlimited geometric options and more types of industrial quality materials (including soluble material PVA).
This means designers will approach the design process in a different way with less limitations and more freedom to make their models as complex as possible.
User-friendliness thanks to improved printer automation
The improved printer automation will eliminate all guesswork that normally comes with preparing a print. An example of this is the smart material detection which means the UM 3 can detect a material with the help of NFC-technology and change the material settings accordingly.
The UM 3 also includes active* bed leveling, a USB port, ethernet and WIFI functionalities which all result in more accessibility for the users.
* So what is active bed leveling? Well it's not a fully automatic bed leveling system like we know from for instance the Lulzbot TAZ 6. The electronics that you need to achieve fully automatic bed leveling would make the bed too heavy and as a result the Z-axis would probably skip steps.
So with the Um 3 you do have to manually adjust the three screws bed but in reality that would probably only be once with the initial setup. After the initial setup a sensor in the nozzle and an electronic field on the bed detect if the Z-axis needs adjustment and can activate an automatic adjustment of the Z-axis.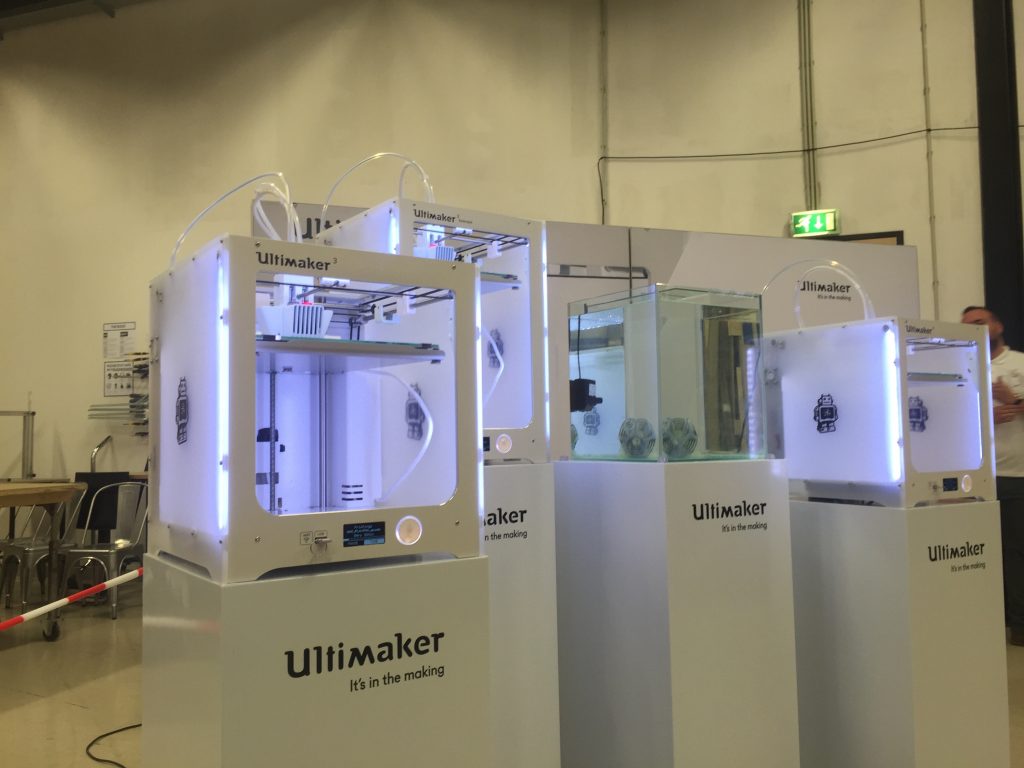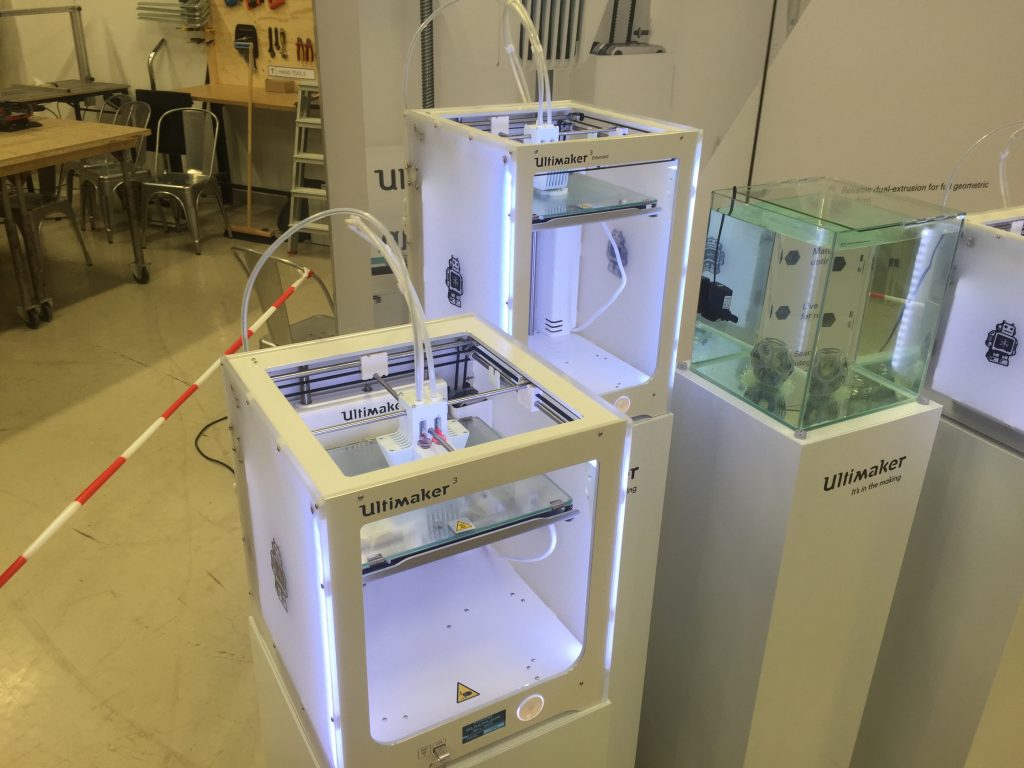 Other Great Features
The new Ultimaker 3 supports a large range of technical materials, including Nylons with soluble PVA.
The option to track progress of your prints in realtime is made possible because of a built-in camera that is connected with Cura.
The Ultimaker 3 will be available in an extended version. The dimensions of the extended version can be found in the specifications below.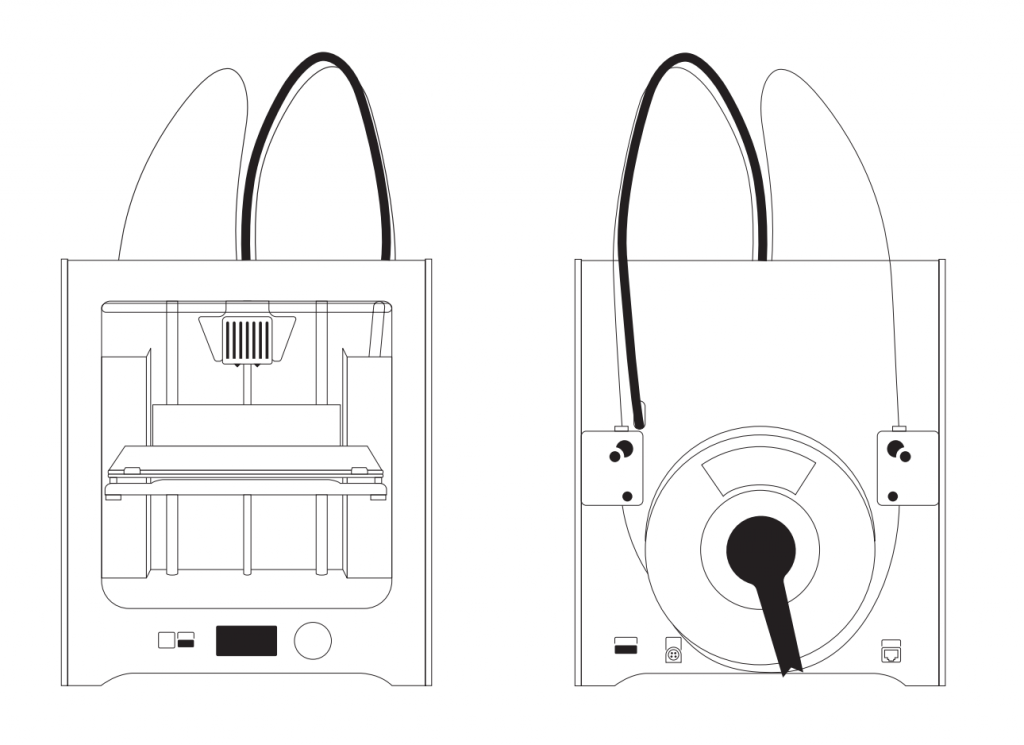 Ultimaker 3 Specifications
Printer and Printing Properties
Technology – Fused Filament Fabrication
Print head – Dual nozzle, with lifting mechanism on 2nd nozzle. Easily swappable printcores.
Build volume – Left nozzle: 215x215x200mm; Right nozzle: 215x215x200mm; Dual material: 197x215x200mm
Filament diameter – 2.85 mm
Layer resolution – 0.4mm nozzle: 20 – 200 micron
Step accuracy X, Y, Z – 12.5, 12.5, 2.5 micron
Print head travel speed – 30 – 300 mm/s
Material flow speed – 0.40: up to 16mm³/s
Build plate – Heated glass bed
Material types – PLA, PVA, ABS, CPE, Nylon
Nozzle diameter – 0.4mm
Nozzle temperature – 180 – 280 ºC
Build plate temperature – 20 – 100 ºC
Nozzle heat up time – < 2 min
Build plate heat up time – < 4 min (20 – > 60 ºC)
Average operation noise – 50 dBA
Nozzle replacement – Easily swappable printcores
Filament storage – Open, reel holder incl. guide for 2 spools of 750g NFC system to automatically detect material type
Connectivity – Wifi, ethernet, stand alone via USB-drive
Bed leveling – Active leveling
Camera – Yes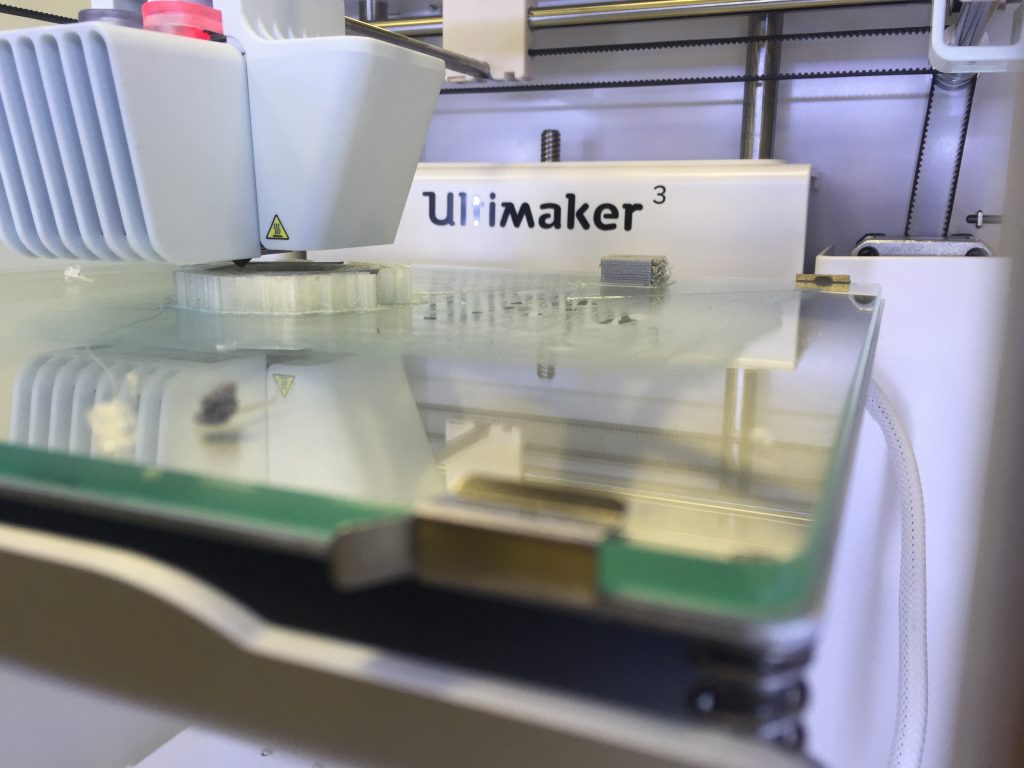 Physical dimensions 
Printer outer dimensions (incl bowden tube and spoolholder) – 49,3 x 33,8 x 58,8 cm
Printer outer dimensions (excl bowden tube and spoolholder) – 35,7 x 33,8 x 38,8 cm
Nett weight – 10,6 kg
Shipping weight – 15,5 kg
Shipping box dimensions – 39,0 x 38,0 x 56,5 cm
Physical dimensions Ultimaker 3 EXTENDED
Printer outer dimensions (incl bowden tube and spoolholder) – 49,3 x 33,8 x 68,8 cm
Printer outer dimensions (excl bowden tube and spoolholder) – 35,7 x 33,8 x 48,8 cm
Nett weight – 11,3 kg
Shipping weight – 16,2 kg
Shipping box dimensions – 40,0 x 39,0 x 68,0 cm
Power requirements
Input –  100 – 240V; 4A, 50-60Hz; 221 W max.
Output – 24 V DC, 9.2 A
Ambient conditions
Ambient operating conditions – 15 – 32 ºC, 10 – 90% RH non condensing.Refer to material specs for optimal operating conditions
Storage conditions printer – 0 – 32 ºC
Software
Supplied software – Cura 2, Official Ultimaker Software
Supported OS – Windows, Mac, Linux
File types – STL, OBJ, 3MF
File transfer – Print direct from Cura via Network, Stand alone USB drive printing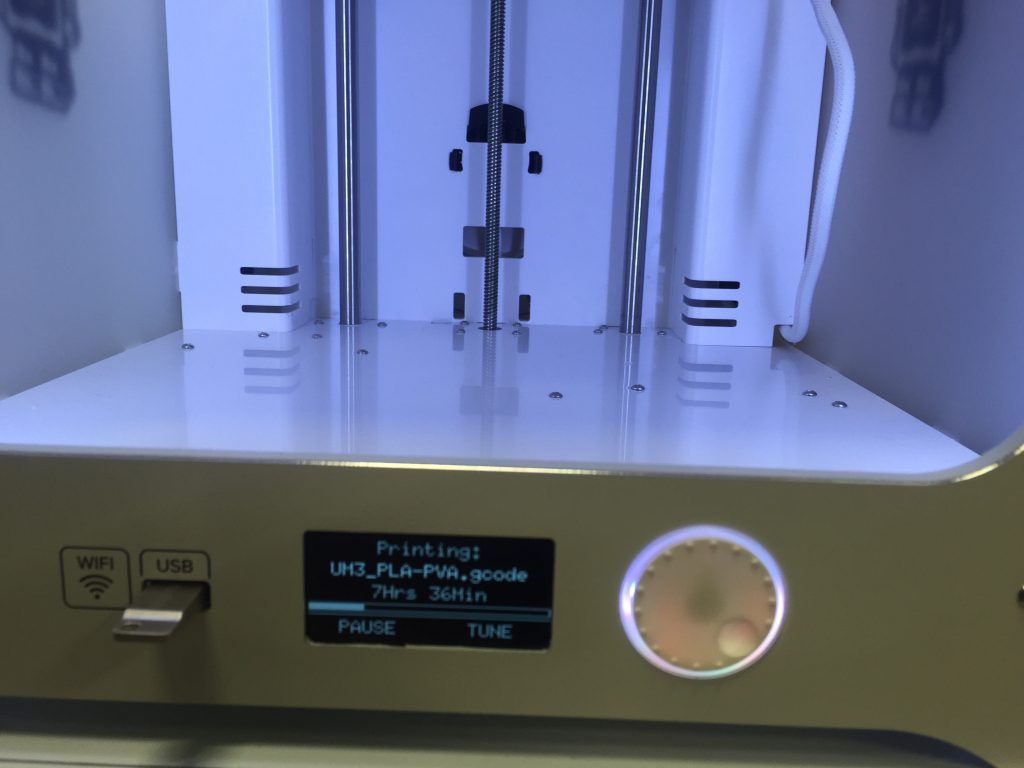 Price
This 3D printer focusses on professionals who know how to make good use of all the advantages of 3D printing, within a variety of sectors. We can't wait to try it out ourselves.
The Ultimaker 3 is immediately available via Ultimaker's retail partners and Amazon. The price starts at $3,495 USD.