Will Gorman designed a 3D printer model that can rebuild LEGO parts. This LEGO printer by the work done by MakerBot and RepRap.
That it can print LEGO parts is nice but what makes this printer really interesting is that it is also entirely made out of LEGO. In theory this printer is able to copy itself. The printer uses three LEGO Mindstorms NXT bricks with nine NXT motors.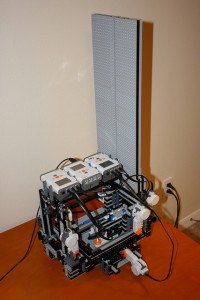 How it works
The current design works with 1×2, 2×2, 3×2, 4×2 and 8×2 LEGO bricks. Once a brick is grabbed, the next brick in line falls into place. Once each layer has completed printing, the printer rotates up a single brick height. It can print objects that are up to twelve bricks tall.
This video shows the LegoBot in action