Get more than what you pay for with the all new Tevo Black Widow Large OpenBuild Aluminium Extrusion 3D Printer Kit.
3D Printing is slowly but surely becoming a technology to look forward to. Its reference in popular media is becoming ever so often that one tends to think that this technology is destined to change everything we know about industries like aerospace, architecture, automotive, defense, and medical replacements, among many others.
As this technology is still in its infancy, there are many companies trying to make a foothold in its ever growing economics. Tevo is one such company; they are the makers of Tevo Black Widow 3d
printer kits. The company has recently upgraded their offering for the market with the all new Large OpenBuild Aluminium Extrusion 3D Printer Kit.
The 2016 Newest Tevo Black Widow Large OpenBuild Aluminium Extrusion 3D Printer Kit, has one of the largest build volumes in its price range. We recently got a chance to lay our hands on this printer and these are our thoughts about it.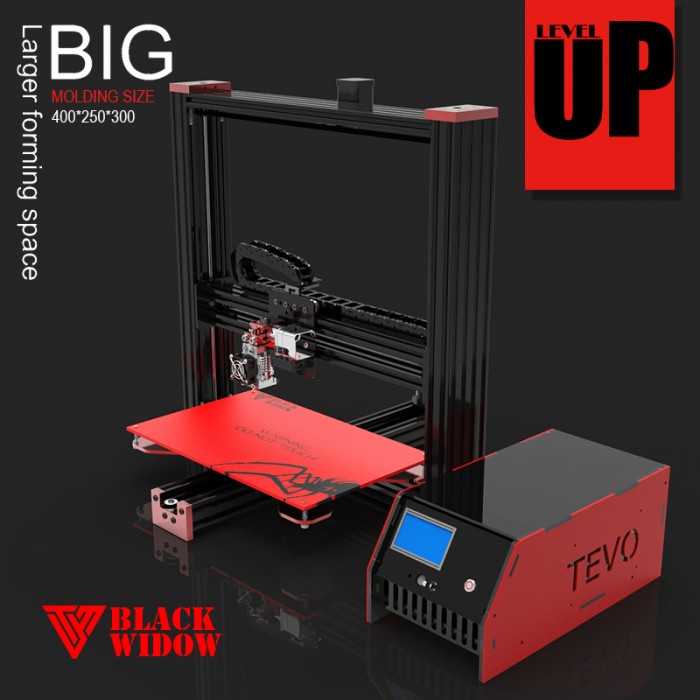 Great attention to details
The printer costs just $500 on 3DPrinterBay but what you get for that price is worth more than you can ever expect. The packaging of this product it better than most high priced assembled printer, we were completely impressed with the power supply box that comes with a huge fan to cool the electronics. This printer came with a 500W power supply which is great because when we use the heated bed the printer tends to draw a lot of power and anything lesser than this would blow up the power supply, which unfortunately is a common issue with DIY 3d printer kits. The build material like the powder coated aluminium plates and fittings give the printer the feel of the premium product. This is one of the few DIY printer models that comes with a drag chain to hide the loose wires, I'm just loving it!
Easy Assembly & Helpful Community
DIY Kits are a great way to learn and understand the way these machines work. However, if you are not a DIY guy you are normally up for a real task at hand. We found that Tevo Black Widow is one of the easiest DIY printers to assemble. The printer kit was very well labelled and the assembly instructions were easy to understand. There's always a chance that something might still not be clear to you. If that is the case, just ask the huge community of Tevo users who are more than happy to give a helping hand. If you need any help, all you need to do is post the issue of their Facebook page.
Value for your money
As mentioned earlier, the printer costs just $500 and what you'll get is worth a lot more. The printer is sturdy, it uses the best quality material and it works with almost all kinds of 3D printing filament. Tevo comes with a E3D V6 all metal aluminium extruder, which along with 5:1 gearing stepper motor helps in printing with exotic materials like flex without any major change to the setup.
The Final Verdict
2016 Newest Tevo Black Widow Large OpenBuild Aluminium Extrusion 3D Printer Kit is a top DIY 3d printer kit in its price range. We would strongly recommend the $50 upgrade to get the BLTouch sensor which helps the printer with auto bed leveling.
For a discount of 20 USD, use this coupon code in the 3DPrintersBay.com store check-out: BW20USDOFF