Shapeways recently raised $5 million from Union Square Ventures in New York and Index Venture in London. This now makes Shapeways an independent company with Philips, Union Square and Index Ventures as its shareholders. Because of this investment, Shapeways is able to grow the team, add more features and open their new headquarters in the Big Apple.
A brief overview of their history:
In September 2007 the software development started on the first elements of the Shapeways service. In December, that same year, the first conceptual creator was running enabling Shapeways to convince Philips to continue.
The first part completing the upload – test – manufacture – ship cycle happened in February of 2008. A breakthrough for Shapeways because this was the first time that they could actually hold a manufactured piece in their hands. The first press announcement was in July 2008 announcing a unique service enabling everybody to make, customize and sell unique products made using 3D printing.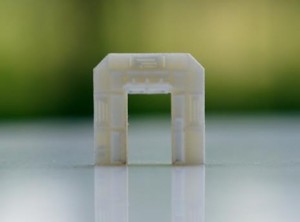 The first part completing the Shapeways cycle
The first shop where everyone can sell their products was added to the platform in January 2009. Shortly after that they introduced the Co-Creator platform making customizing products really easy. In the time of their existence Shapeways managed to grow a community, now of more than 50,000 members, that shares the passion of 3D printing. As a result there are now more than 20,000 makeable products available. On a monthly basis, Shapeways produces more than 10,000 unique products and these numbers are growing fast.
Since the start Shapeways has been located in Eindhoven, the Netherlands. Their choice to now move to New York has to do with their ambitions growth plans. They wanted to establish their headquarters in a place where they could really find all the people they need both from a design and a technology perspective. Also, a lot of their community comes out of the US and they wanted to be closer to them. The office in Eindhoven remains with their service team and supply chain management.
Shapeways getting the attention from big investors outside of the industry and moving to New York is an exciting development in the world of 3D printing.