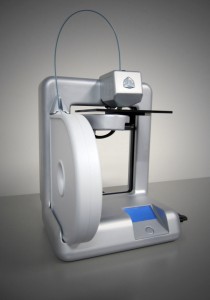 3D Systems recently launched their first personal 3D printer, The Cube. This is the first desktop printer which can be bought as one peace. Also the design of the Cube is a contrast to personal 3D printers like the MakerBot Thing-O-Matic. Instead of the MakerBot's exposed design and wooden housing, the Cube and its plastic chassis has a more futuristic appearance. Other than this the two printers are not that different. They both rely on an attached spool of plastic: ABS and PLA offered in assorted colors.
What maybe even makes the Thing-O-Matic and the Cube most alike is that they both depend on a community of designers to make printing plans available to others. The Cube has a website for hosting designs called Cubify, which launches today, and MakerBot has its Thingiverse, already home to more than 15,000 object plans.
Cubify
Where Cubify differs from the rest is the full service. In addition to hosting design files, the Cubify site also lets you place an order to print and ship out object too large to print on the Cube. This makes 3D Systems the only company that sells both 3D printers as well as 3D printing services.
Technical facts
The retail price of the Cube will be $1,299 USD. The printer size is 14x14x18 inches and weighs about 9 pounds. The build envelope can be 5.5×5.5 inches. A cartridge of plastic comes together with the Cube and it can print about ten to twelve average size parts. A cartridge of plastic will cost you $50 USD.