The competition within the personal printer market grows with the advent of Fablicator. This brand new personal 3D printer can, as it now seems, only be bought fully assembled. The Fablicator has a rigid aluminum frame, you that you can literally stand on it, and it doesn't warp when humidity levels change. The printer is integrated with a computer running Windows 7, and pre-installed with all the software and settings you need to get printing immediately.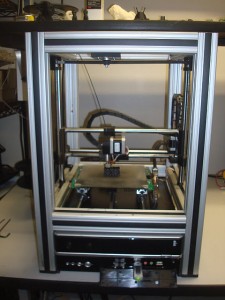 The Fablicator can both use ABS or PLA for printing models but as they say on their website, any filament with a diameter from 1.65mm-1.8mm can be used. The in-build area is measured 7x7x7inch (178x178x178mm) which allows a wide variety of functional and artistic parts. The printer was designed and built from scratch, and uses aluminum T-slot, 12mm linear bearings combined with active hot end cooling to achieve excellent print quality.
The company behind Fablicator is KL Services Group Inc. based out of Allentown, PA in USA. It is a family run company which engages mainly in contract PCB assembly services, design services and process consulting.
When can we expect it?
The expectation is that the Fabricator will be in production near the end of January, but no specific date is set. The development is still in progress and the Fabricator will not be released before it is completely ready.
What will it cost?
The quoted price is around $3000 USD including integrated computer and software. At the moment they only offer this model but if the customers are satisfied with the first model, they will do their best to get new versions on the market within the next 6-12 months.
Some Fablicated products: