3D printing and automation are two peas in a pod. After all, 3D printing is a type of automated manufacturing. As AM continues its takeover of production applications, factory managers are incorporating more and more automation into their AM production lines. Much of the automation is centered around post processing as up to two-thirds of the cost of 3D printed parts can be associated with the removal of support materials and improving surface finishes; this is especially true of metal 3D printing.
So when we think about automation in 3D printing, it's usually something like the IDAM project where robots are being used to do everything from sawing off metal printed parts from build platforms to moving parts through polishing stations and thermal treatments. These automated systems for high-end metal 3D printers are amazing but also accessible only to large companies. Fortunately for the rest of us, automated features are finding their way into more affordable 3D printers.
Automation of Desktop 3D Printing
Nearly every desktop 3D printer now has some form of auto-bed leveling. It was only a couple of years ago that auto-bed leveling was seen as a troublesome gimmick and now it is a standard feature that users rely upon. The same goes for filament run-out detection, a feature that prevents the waste of printing time and material by pausing prints when filament runs out, which is now available on printers under $500.
Ultimaker S5 Pro Bundle
Ultimaker has taken this feature to another level with the release of their S5 Pro Bundle that includes a Material Station. The Material Station not only stores six spools of filament but also automatically loads the next spool of filament when one runs out, and it can choose the right filament for each of its two print heads. Automated filament loading enables 24/7 continuous 3D printing, with operators needing to be present only to occasionally add spools of filament or remove completed prints from the build chamber.
Ultimaker S5 Pro Bundle
The Ultimaker S5 Pro Bundle is made up of three breakthrough devices:
Ultimaker S5 – the award-winning, composite-ready dual extrusion FFF 3D printer
Material Station – a 6-spool pre-feeder with humidity control that automatically switches between materials
Air Manager – a top enclosure with a material-matching adaptive EPA filter
These integrate seamlessly together to overcome the common challenges associated with FFF material handling and storage – making it easier to unlock demanding 3D printing applications that deliver real business value.
Specifications »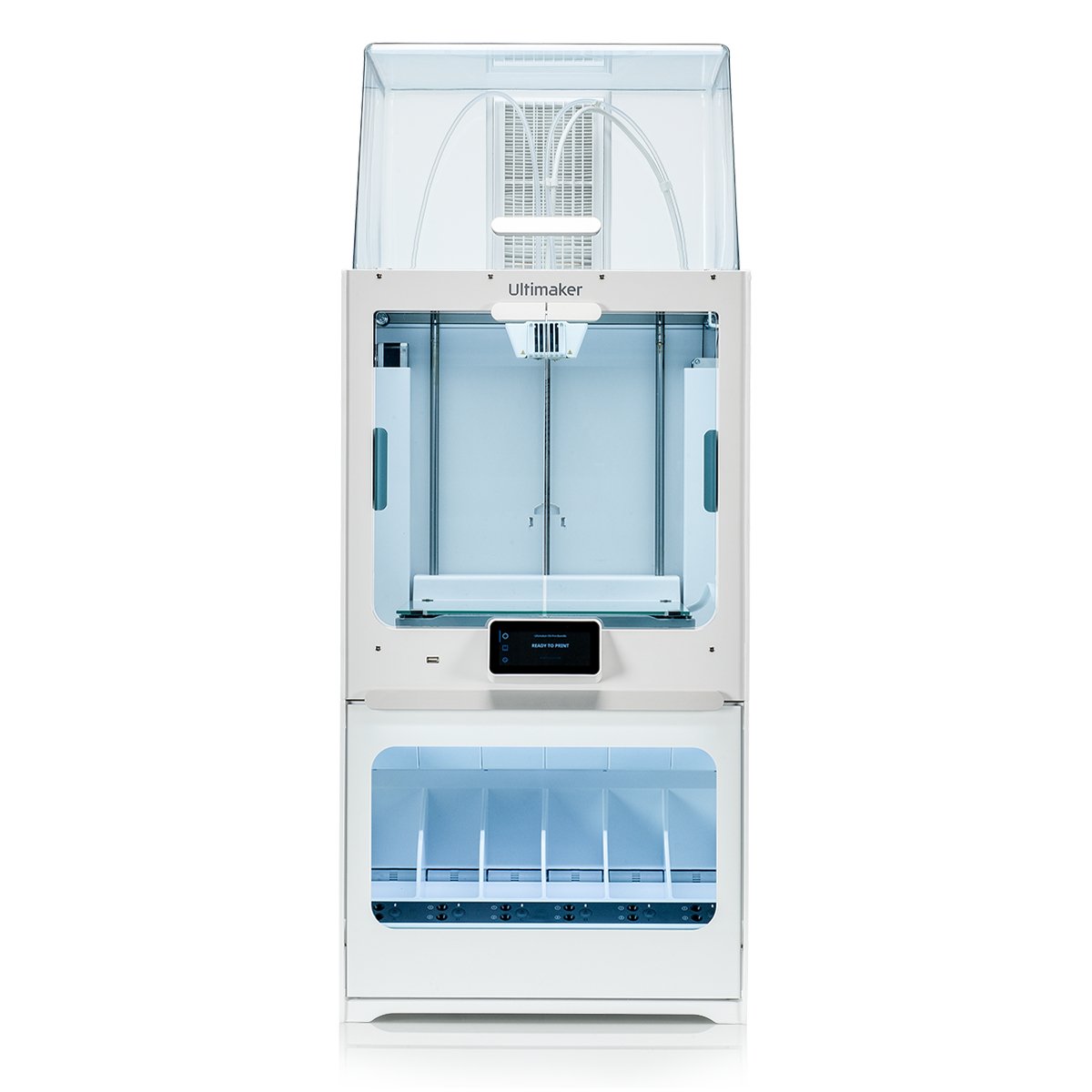 Speaking of removing completed prints from the build chamber, that's another action that's being automated and I'm not referring to the DIY conveyor belts that work only for small objects like this:
More affordable robotic arms are also empowering 3D printing farms to incorporate more automation into their operations. Voodoo Manufacturing uses a UR10 robotic arm from Universal Robots to tend to dozens of 3D printers by swapping out build plates when prints are completed. If the arm was mounted onto a mobile base it could tend hundreds of printers.
A common driver of integrating automation into production lines is to reduce labor costs but it's not the only reason. Human labor comes with inconsistencies and errors so automation is also used to increase quality control, which is especially important for high-volume production lines. Eventually, affordable 3D printers will automatically load filament and eject prints, meaning they'll be able to operate for multiple days at a time without ever being touched by a person. The democratization of manufacturing continues unabated thanks to 3D printing.