The FabPro 1000 DLP 3D printer from 3D Systems is a desktop solution to professional and industrial problems, with a desktop price to match. Here, we'll explore a couple use cases of the FabPro 1000 system.
Artforge Jewelry Studio
Simon Walker is a goldsmith and owner of Artforge, a custom jewelry studio. He was able to expand his business with the FabPro 1000, saying, "I have been very impressed with the FabPro 1000's print quality and smooth surface finish – so important when you're producing pieces to be cast for fine miniatures and intricate jewelry. The Achilles heel of most 3D printing solutions for investment casting has been the material. However, with the FabPro JewelCast GRN resin, I am getting consistently great casts."
Fast Print Speed
Powered by DLP (digital light processing) that cures an entire layer of photopolymer at once, the FabPro 1000 prints significantly faster than SLA (stereolithography) machines that use a laser to draw each layer for polymerization.
Werner Blumenthal, CEO of WB Engineering, uses the FabPro 1000 in his product design and development firm to reduce turnaround times and production costs. He's used several resin 3D printers and had this to say: "Overall I am impressed with the build speed and accuracy of the FabPro 1000, when comparing to other Desktop resin printers in this price range. You can expect more dimensional accuracy on downward-facing features that require support removal due to the optimized support structures, which minimize deformation when compared to other printers in this range."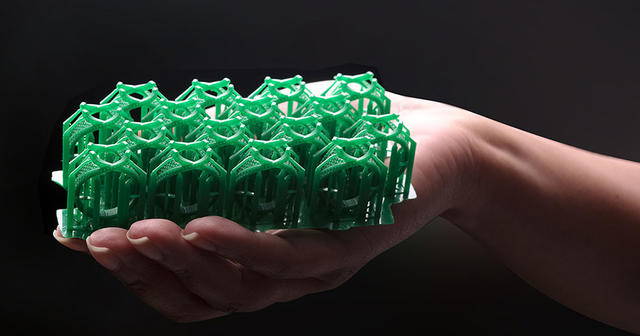 In regards to print speed. There's a FabPro 1000 review on Amazon that describes how fast you can actually work with the FabPro in comparison to other 3D printers. "This is a true DLP printer, as opposed to an SLA like the Form models, ergo when they say it can print 3x faster they aren't joking, and in fact it can potentially print many times faster than that. For example, if I print a small model on an SLA and DLP, the DLP will be faster due to drawing complete layers all at once, but this is also missing the fact that you can load the bed with multiple small models and they will all print in the exact same speed as printing just one. Ergo, a DLP printer – if I load the bed – is not only multiple times faster than an SLA, but this particular one is even 4 times faster than my dual extruder FDM printing in duplication mode, given my FDM can print four models in 3hr30 and the Fabpro can print 12 of that same model in 3hr30 with the black resin."
Printable Materials
The FabPro can work with nine different materials, including resins specially designed for making prototypes, functional parts, dental molds, surgical guides, and flexible components like seals and gaskets, and the included 3D Sprint software is compatible with 13 file types, more than any other resin 3D printer.
The FabPro 1000 is one of the most affordable industrial-grade 3D printers available. 3D Systems is adapting well to the shift in 3D printing to more accessible solutions as they've historically served commercial and industrial customers with much deeper pockets than the SMEs (small to medium enterprises) that the FabPro 1000 is aimed at.