In this post we will be taking a look at the F410 filament 3D printer from Fusion 3, a 3D printer manufacturer from North Carolina.
The F410 a fairly voluminous FFF type polymer printer, with its own filament drying area and an enclosed chamber, designed to retain heat and enable the printing of a wide variety of specialty filaments (which we will look at later).
Fusion3 F410
- Enclosed print area
- Automatic bed leveling
- Remote control management
- Low operating sound
- Built-in air filter
- Powerful slicing software
- Wide range of printable materials
Specifications »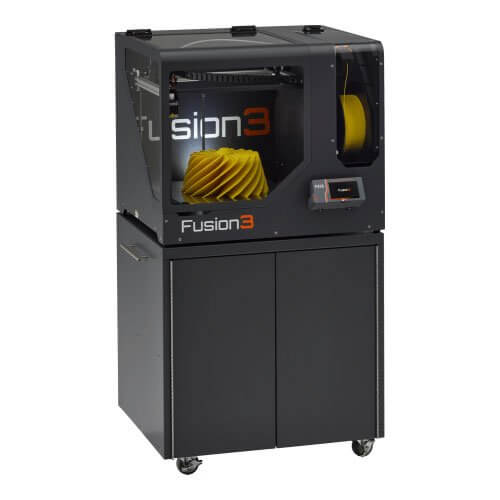 Specs
The dimensions of the enclosure measure in at 724 x 775 x 648 mm and it weights in at a manageable 38.56 kg, so no need to break your back. We would recommend asking a buddy to assist if you want to lift it though, as it may be a little cumbersome to grasp on your own. The castor wheels at the bottom also help in that regard, and the castors and movable base come as an optional extra.
The build size measures in at 355 x 355 x 315 mm, yielding a total print volume of just under 40 litres, and the print head deposits material at a steady 250mm/s.
Speaking of print heads, they are with three different nozzle diameters, being 0.4mm, 0.6mm and 0.8mm and they are all E3D volcano types, heating up to 300 degrees celsius. Naturally, the smaller nozzles can print with a smaller layer height between 20-300 microns and the larger ones go from 200-500 microns.
The gantry motion is moved by use of kevlar belts, as opposed to rubber ones, which reduces backlash and stretching, and helps to maintain accuracy over time.
Materials
Having a heated bed chamber, the F410 is capable of successfully printing a number of higher temperature polymers while reducing differential warping.
So polymer filaments such as ABS, which tend to struggle on a non-enclosed printer are extruded with ease and do not suffer from such warping which is experienced when printing in an uncontrolled thermal environment..
Fusion 3 has published a list of so-called approved filaments, which is an extensive list of materials from known vendors.
Materials include many different brands of PLA, ABS, ASA, PETG, carbon fiber filled, nylon, polycarbonate, flexible filaments (TRU/TPE), polyester and more.
You can check out the full list of approved filaments at this link here. It's worth pointing out that the F410 only accepts filaments of 1.75mm diameter.
Extras
The F410 comes with a bunch of extras not found on a standard desktop printer, including an optional air filter to keep your lungs safe from plastic vapours (particularly important for ABS), optional extra glass print beds, and the heavy duty rolling cart.
It comes with the Simplify3D software, for all your slicing and orienting needs, and accepts .STL and .OBJ files. This all runs off a 32-bit, 120mhz ARM-Based controller and features onboard 4GB storage and an SD card slot.
This sturdy looking beast can be yours for the sum of $4,599 USD, and they ship anywhere in the world.