Ram Tenneti and Jai Prakash Yadav from Sagacious Research provided us with this great research article explaining the impact 3D printing has on the dental world.
The compatibility of scanning, visualization, CAD, milling and 3D printing technologies along with innate curiosity and creativity of people involved makes it an exceptionally exciting era to be in dentistry.
3D Printing is playing an increasingly important role in dentistry and our research focus has been to unearth the underlying changing trends of evolution, in this technology over time. Our research is based on the patent landscape and the ever changing filing trends.
There has been a great deal of hype around the applications of 3D Printing and labeling it as a disruptive technology that is going to transform the manufacturing forever, however we still have a long road ahead.  Although certain application areas such as 3d printed organs, dentistry, oral and maxillofacial surgeries do make use of digital manufacturing technologies along with the usage of CAD and are whole heartedly working towards a new era of possibilities, it still holds some barriers and has some limitations.
This article shall explore, the origin, reasons and why 3d printing is crucial; through our research insights, which shall help people and companies associated, take effective steps in understanding the changing market dynamics and empower themselves to meet the global competitive market place with breakthrough technological applications in dentistry, to make the world a better place to live in.
The patent filing in the domain started from 1984. Our research analyzed patents related to 3D printing in dental industry and found that companies like 3M, Mitsui Chemicals, Dentsply Sirona, Bego Medical, Align Technology, Glidewell, Straumann and 3Shape have actively protected their IP.
Fig:1 below shows the processes, techniques, materials used for 3D printing in the dental industry along with the patent filing date and trends.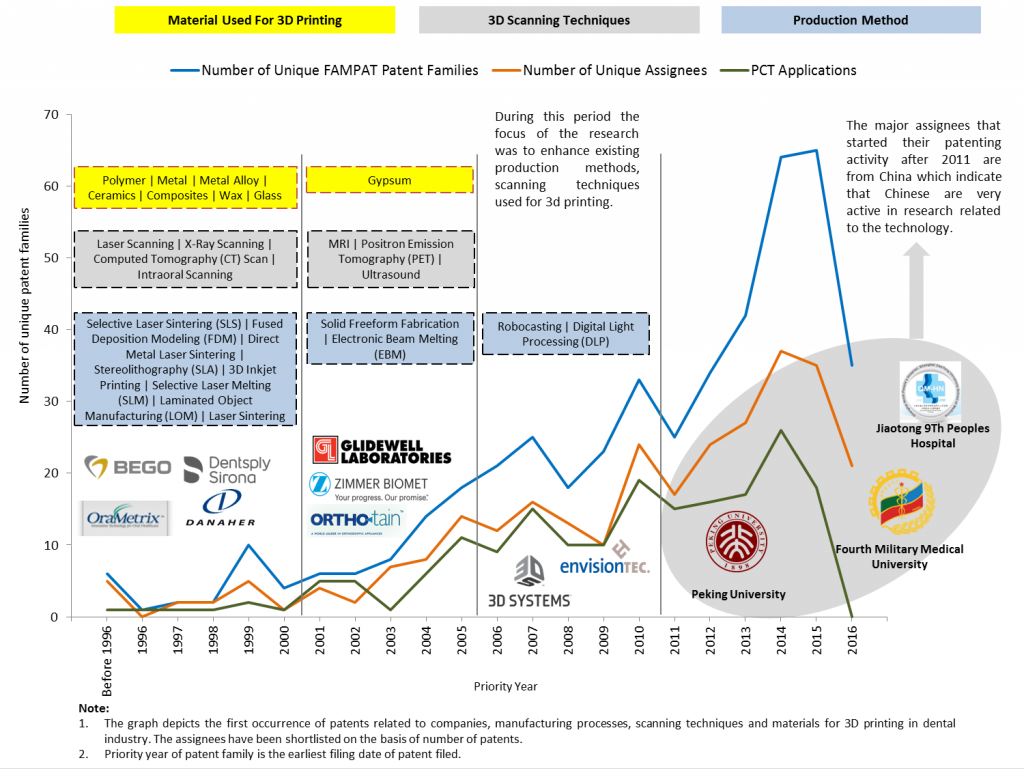 The patent filing trend since the past few years (2011-2015) has witnessed a rapid increase over years, despite of dips in 2008 and 2011. Prior to 2008, major focus for inventions was inclined towards usage of 3D printing for manufacturing dental molds and prosthetics. Further, a number of patents related to stereo lithography expired in 2008 which lead companies to freely use the inventions for commercialization. Hence the patent filing focus declined in 2008 in order to commercialize the free to use inventions. From 2008, major focus has been on the complete digitization aspect for producing dental products. Our research suggests, mass manufacturing in Dental industry will be a major area to focus upon which in turn will be followed by sustainable solutions to improve aesthetics of end use products including customizable offerings.
the USA, Germany, China and France have emerged as leading markets for the technology which have been showcased in Fig: 2, below.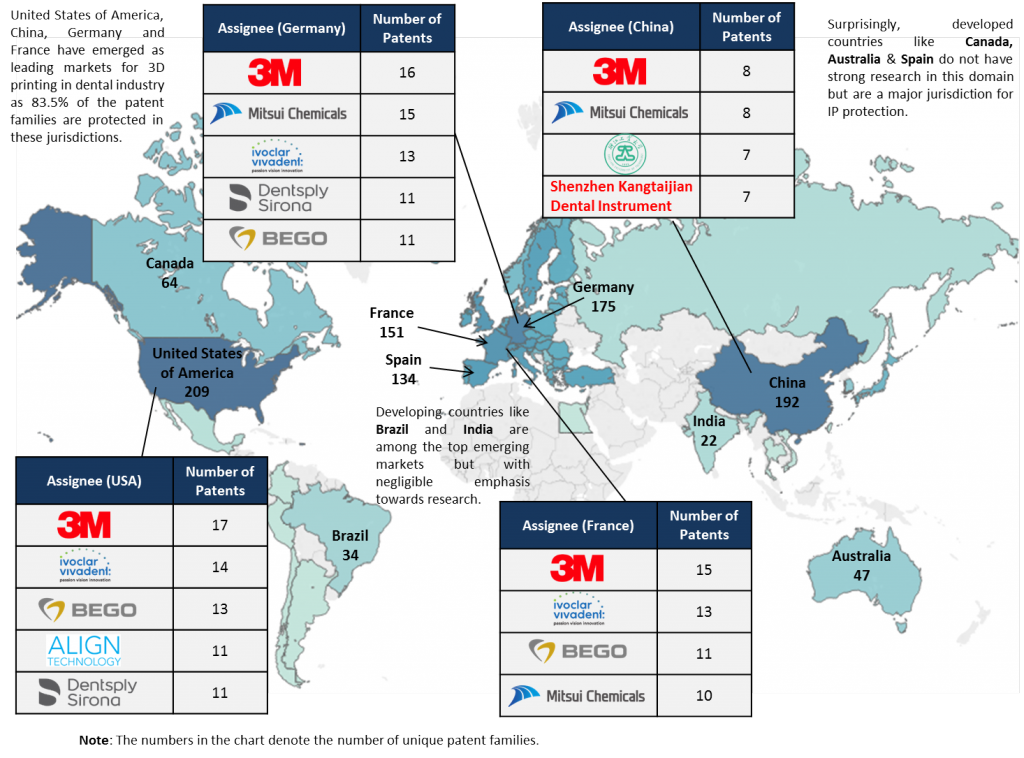 A patent family filed by companies in different jurisdictions, indicates that the company is seeking those jurisdictions as potential markets for its invented technology, described in the patent. Based on the filing activity of patent families in different jurisdictions, we can observe the major patent filing companies in different jurisdictions.
It is evident that 3M has been leading in protecting its technology globally while Align Technology is majorly focused in the US market.
Most of the research is seen in USA followed by China and Germany. China has emerged as one of the major countries in research since 2011, with over 91% of Chinese patents filed in this domain within this period. The number of inventions, researched in China from 2011 has accounted for 39% of the total patents filed in period.
Why 3d printing is crucial to the dental industry?
3D printing in dental has solved a lot of problems, be it related to denture positioning, customized requirements, denture retention, etc. Fig: 3, shows the distribution of patents according to the problem solved by them in order to make further improvements in the existing system.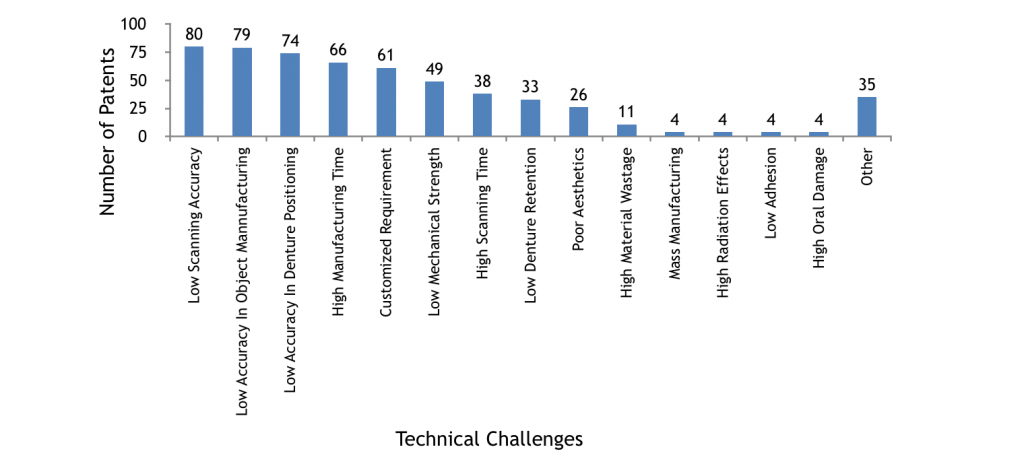 The Other Challenges are as shown below: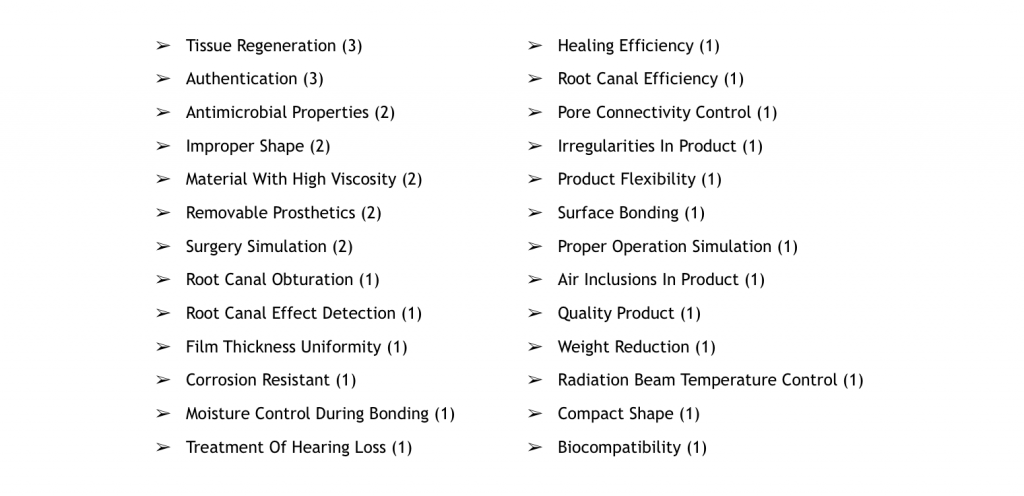 Note:  The number in the brackets represents the number of patent families corresponding to respective technical challenges.
Sagacious performed a SWOT analysis on the basis of patent landscape in order to identify potential in the technology domain.
Key Players IP Position:
There are 462 patent families related to 3D printing in dental industry and are owned by 196 different companies/universities.
There are companies that have started patent filing from 2011 and have shown consistent interest in IP protection related to materials, printers, and scanners. Most the new entrants have originated from China.
Chinese universities like Zhejiang University and Zhejiang University of Technology have shown their R&D activity by filing patents in China only. These universities are good opportunity for collaborations.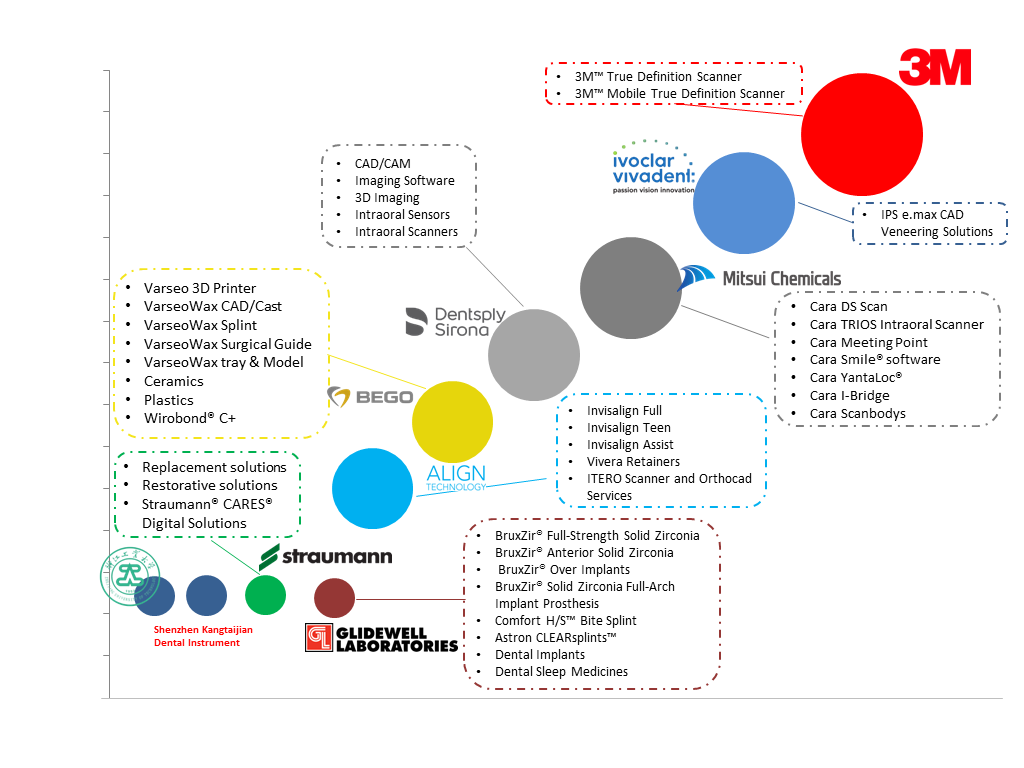 Note: The size of the bubbles varies according to the number of patent families owned by respective companies.
What's Next?
The most prominent advancement in 3D printing would be to take it to the level of mass manufacturing and speed up the product manufacturing time. Companies like Align Technology, Dentsply Sirona, and 3M have been consistently working to assure a solution that leverages this technology at mass manufacturing level. Align Technology filed first patent US6976627 related to mass customizations for individuals. The patent utilizes three dimensional bar code embedded on 3D printed articles to identify part information. The three-dimensional bar code information is used to represent corresponding 3Dimensional data for fabricating the parts by additive manufacturing for later use. The bar code can be read by CCD camera to fetch out information about 3D model so that the information can lead to new 3D printed article whenever required. Align Technology sells aligners and retainers under the brand name Invisalign, wherein both aligners and retainers are produced from 3D printers. Align Technology leveraged mass customization technology to create unique medical devices on larger scale.
Dentsply Sirona also filed patent WO2016187155 A1 in 2016 that claim the speed of 3D printing to be increased from the existing one to a rapid pace. The patent discloses about method for 3D printing which removes the extra steps of irradiation to stop the separate cured solid from the bottom clear window in a vat before next layer can be built. The 3D printer may be based on Digital Light Processing, Stereo lithography and light irradiation. The patent helps in improving the efficiency of the 3D printer. The major focus has been on to the mass manufacturing of end use 3D printed products and long life of the products.
Mass manufacturing for end use products through 3D printing is envisioned to be the next big thing with a viable scope for overall improvement. Companies are seeking solutions to reduce manufacturing time, and to increase mechanical strength, manufacturing accuracy, etc. in order to ensure the optimum quality of end use product with cutting edge solutions.
We opine that 3D Printing is ready to emerge from its nascent stage to becoming a viable alternative to conventional manufacturing in multiple industries for various applications. More companies will follow the major players and with this revolutionary shift, companies should start engaging strategically to see how they could improve their offerings, revisit their operations and the implications it could have on the commercial ecosystem as a whole.