Dutch designer Iris van Herpen showed her collection "Micro" during the Haute Couture Week in Paris. In this collection Iris used 3D printing to create new possibilities in design and really brings it to the next level. The reason Iris embraced 3D printing is because her designs go beyond the traditional use of textile and needle. What better way to give the audience a sneak peek into the future than to 3D print your collection.
For a designer like Iris, making these dresses with the use of 3D printing is a totally new way of working. Now, she had to wait until the dresses were printed to finally see what she's been working on for months. There was no adjusting along the way or knowing what the end product will look like until it was fully printed.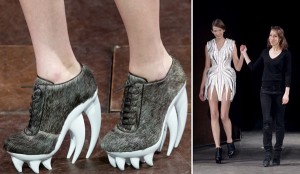 None the less, this collection looks amazing. With her Micro collection, Iris had the guts to show new possibilities within the unforgiving world that's called fashion and while doing that, she also showed 3D printing can be used for nearly anything.