While PLA and ABS are great, there's a lot of interest in the 3D printing world for more functional materials. Material scientists have been hard at work creating new copolymers, alloys, and particle-infused filaments that promise to be stronger and more temperature resistant. The most popular particle to be infused into filament is carbon fiber, which can be found in varieties of ABS, nylon, PC, and PLA. The Carbodeon uDiamond PLA uses "nanodiamond" particles rather than fibers, which theoretically increase printing lubricity, stiffness, strength, thermal resistance, and layer adhesion. Let's find out!
Regular brass nozzle
As a premium filament, it's spooled nicely and appears both round and uniform in diameter. It loads just fine and extrudes cleanly at 220°C. When printing with traditional carbon fiber filaments, a wear-resistant nozzle like hardened steel or ruby is required because the fiber strands are highly abrasive. The nanodiamond particles in the uDiamond PLA are spherical though, so it can be printed with a regular brass nozzle. That's a huge selling point.
Adhesion
My first few prints with the material didn't go well as they came off the bed. I tried printing on glass with and without bed adhesive as well as on painters tape to no avail. Because the parts were initially sticking and then coming off the bed after a few layers, it seemed that the issue could be related to cooling, which was set to come on at 100% on the third layer. So I turned part cooling off and lo' and behold it worked. Never have I printed with a PLA that can't take cooling until now.
Cooling
After further testing, I discovered that it could tolerate and benefit from some cooling, just not more than 20%. Even with little to no cooling, nearly all of the objects I printed had varying degrees of curling up around the edges. Every object was printed with the following settings:
Slice settings
0.2mm layers
2 perimeters
20% rectilinear infill (the 3D Printer Test was printed with higher infill)
4 bottom and top layers
50mm/s
First, as always, is Benchy.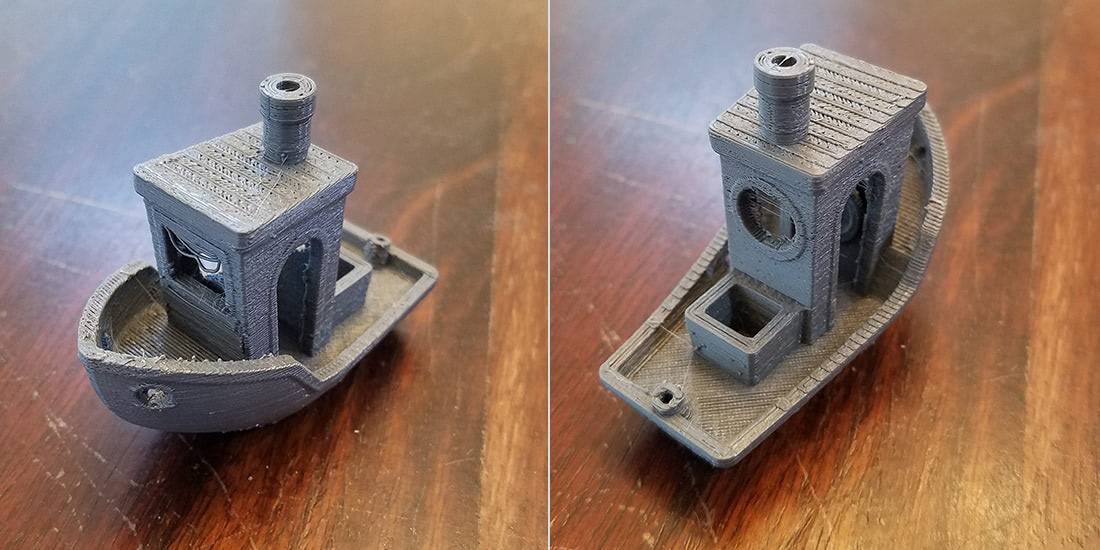 Benchy has several small pillars, steep overhangs, and short bridging, features that are generally improved by cooling. As such, the quality here is okay but not good; large features look the best as those layers had more time to cool. I did try increasing the cooling and tweaking the retraction settings but there's still stringing and some blobs. Top surfaces look under-extruded but when I tried increasing the extrusion multiplier, the quality further deteriorated. The texture of carbon fiber materials is uniquely pleasant and that's true of the uDiamond PLA as well, though it is different from fiber strand versions.
Next up was the 3D Printer Test, which provides an assessment of bridging, circles, pillars, overhangs, top surfaces, and thin text.
The results are subpar when held up against regular PLA. There's significant stringing on pillars and missed extrusion lines on the steepest overhangs. Much of the lettering is unreadable and sagging is present on most of the bridges.
To further examine bridging, the Bridging Test was printed.
I kind of expected this print to fail but it pulled through, though it's certainly not an exceptional performance. Even the shortest bridges have issues but they do get worse as they get longer.
To test layer adhesion, I printed three copies of this object in regular PLA and uDiamond PLA.
Using a hanging scale, weight was slowly added until each piece failed. Here are the results:
uDiamond PLA: 14lbs, 16lbs, and 24lbs; average of 18lbs.
Regular PLA: 96lbs, 117lbs, and 103lbs; average of 105.3lbs.
It's important to note that the uDiamond was printed 20° hotter and with 85% less cooling than the regular PLA, which should have increased its layer bonding rather than reduced it. I think it's safe to say that the nanodiamonds aren't improving layer adhesion.
The manufacturers claim that the material is stiffer than regular PLA so I printed a couple bars, put the same amount of weight on them, and took pictures of the amount of bend (the camera was fixed and the pictures were taken with voice activation). This extremely high-tech apparatus consists of a couple pieces of 4×4 wood and a large book.
I couldn't take any real measurements but I could draw a straight line from the same corners. It's pretty clear that there's more displacement on the regular PLA. So yes, uDiamond PLA is stiffer.
Finally, to test thermal deflection, I measured both of the bars with a caliper and then put them through a basic annealing run. My oven was heated to 170°F and then turned off (because that's as low as it will go; the ideal temperature is about 160°); after letting the oven cool for a minute, the bars were placed on an oven-safe sheet and put in the oven. The gradual cooling causes less warping than does exposing the parts to sustained heat. Here are the before and after dimensions:
Before
uDiamond PLA: 5.8mm x 20.7mm x 120.6mm
Regular PLA: 5.8mm x 20.3mm x 120.6mm
After
uDiamond PLA: 5.9mm x 20.7mm x 120.6mm
Regular PLA: 5.85mm x 20.5mm x 120.2mm
The uDiamond PLA experienced less shrinkage and expansion than the regular PLA so it seems it does have improved heat resistance.
My Verdict
There are more drawbacks than benefits with this filament. Surface quality is mediocre and layer adhesion strength is about one-fifth that of regular PLA. The main selling point of PLA is that it tolerates a wide range of print settings and just works, which is not true of uDiamond PLA. After much tweaking, I never achieved results that meet my own print quality standards. It is a bit stiffer and more resistant to heat so if you specifically need those characteristics, then this filament may be for you. Otherwise, look for something else.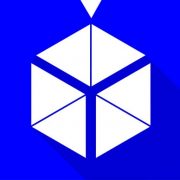 Heads up: we've purchased this product in order to write an unbiased review. This article does contain affiliate links. If you purchase something through one of those links, you won't pay a penny more, but we'll get a small commission. Read more here.