After somewhat of a hiatus in the food printing field, 3D Systems have doubled down on their efforts. In a new deal with CSM Bakery Solutions, they are looking to provide ingredients, products and services related to food and baked goods. The deal also gives CSM the exclusive rights to work with the ChefJet Pro printer.
"Our agreement with 3D Systems has the potential to re-shape the food industry. Across a number of industries, 3D printing has helped transform industries and there's every reason to think the same can be true for the food industry," said Marianne Kirkegaard, President and CEO of CSM.
CSM hopes that they can use the 3D printing technologies to impress their customers and create new designs. Aside from the advantages of the automated processes. There are certain shapes for candies and chocolates that only 3D printing can provide. This can aid the company in setting themselves apart from the competition.
The ChefJet Series
The ChefJet Pro uses powdered sugar and hydrated food coloring to produce candies, baked goods and chocolates. The ChefJet has 4 printheads that allow for multicolor prints. This printer and its little brother the Monochrome ChefJet mainly vary in size. The Pro has a build volume of 10 x 14 x 8 inches. The monochrome ChefJet is the smaller version with a 8 x 8 x 6 inches print area. The other difference being that, as the name implies, the monochrome only prints in a single color.
They are priced at around $10,000 and $5,000. The Pro is capable of producing 100 candies per hour and is about twice the size of a microwave. The ChefJet Pro has already earned a home at restaurants like Melisse in Santa Monica.
Kyle and Liz von Hasseln developed the printer after retooling their 3D printer to process sugar layers. They got the idea after having forgotten to bake a cake for a friend. This led to the creation of their company, Sugar Lab. Liz von Hasseln now runs the culinary division at 3D Systems.
3D Systems & Food Printing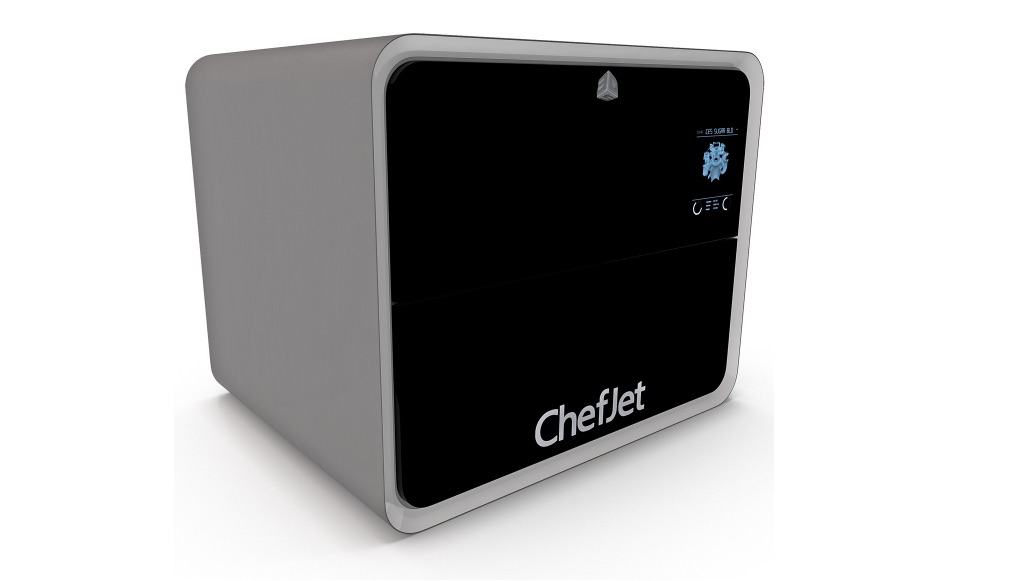 Food printing is one of the quirkiest areas of additive manufacturing but it also has massive industrial potential. Previously, we have demonstrated how various restaurants employ 3D printing to improve their culinary experiences.
There were rumours afloat among the 3D printing circles that 3D systems had discontinued their culinary efforts. This is a sign that they are moving forward with these plans and expanding efforts beyond just printers. The company is offering materials and services as well.