Every 3D printing technology has its own set of do's and don'ts when it comes down to print preparation. In this article we'll go through the rules of thumb when prepping a print for selective laser sintering. Let's take a closer look at filling and arranging 3D models in the build chamber, also known as 3D nesting.
Nesting Best Practices for SLS 3D Printing
Sometimes, what at first glance seems the best way to prepare a build, turns out to be less effective in terms of build time and maximum amount of printed parts to obtain. Wrongfully placing of parts in the build chamber can also cause part-deformations and even failed prints.
For this post, we used information provided by SondaSYS, a specialist in SLS manufacturing.
Center your objects

Centring your objects makes it easier to control the heating stability of the printing process. The more you move the objects towards the corners, the risk of build chamber under-heating increases which can result in deformations / failed prints.
Objects with different sizes

When you need to print models of various sizes in one process, always start by nesting the bigger parts in the middle of the build platform and place the smaller ones towards the edges of the build chamber. As mentioned in the first rule of thumb – it is always easier to control heating in the middle of the build chamber. This protects the large parts from deformation.
Same orientation for snap-fit parts

When printing snap-fit parts – the constituent elements should always be printed in the same orientation. If you don't do this, the risk of deformation in various axes increases and as a result, the parts won't snap into place.
Position objects flat on the printed

Always nest as many of the objects as flat as possible on the printbed to save time and material.
Print a cage around your objects

In case you are printing multiple small parts – especially when you are combining elements from different projects – it is recommended to enclose them with a printed cage structure. This allows you to easily clean and separate the parts and you will eliminate possible errors when assigning the elements to specific orders / projects.
A cage structure can usually be generated by the operating software. All you need to choose is:
– mesh size
– thickness of the bars
– distance from the outer wall of the model
Open sides facing upwards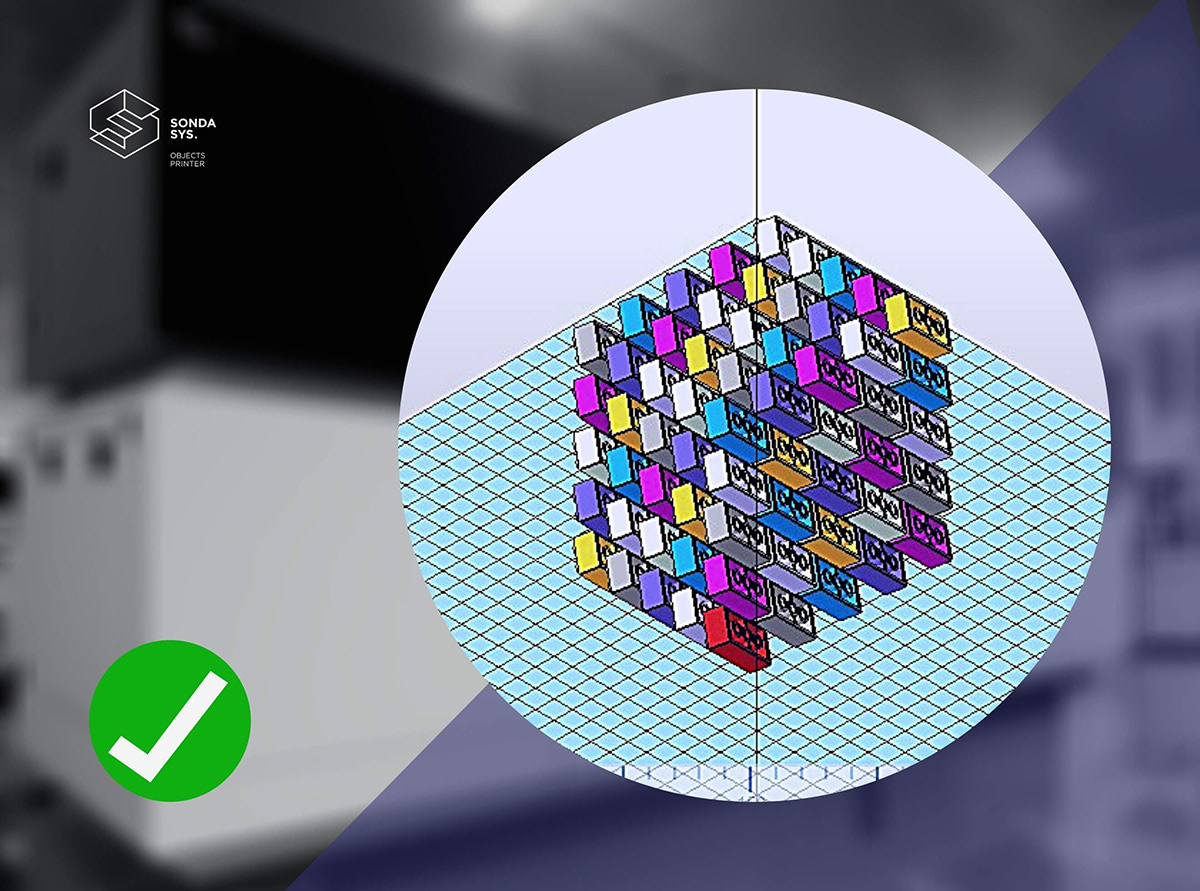 When you tilt the objects by 45 degrees in each plane, with open sides facing upwards, you will have better temperature control during printing. Having the open sides faced up, will create a temperature outlet for the model and it will prevent the model's open sides being closed up by other parts in the build chamber.