Special printing inks are needed in order to make a 3D object from a 3D printer machine. These inks are different from the normal ones, as they are made by adding 3D printing powder to a certain mixture. With a growing demand for 3D printed objects, along with skyrocketing innovations in this technology, the use of 3D printing powders is increasing rapidly, thus powering the 3D printing powders market in an extensive manner. To produce this powder, various alloys extracted from steel, aluminum, diamond, titanium, nickel, and others are used. Water atomization, gas atomization, centrifugal atomization, and plasma atomization are some of the techniques used for making 3D printing powders. From aerospace and defense to automobiles and architecture, several industries make use of the 3D printing powders, thus boosting the global 3D printing powders market. Of all these application types, the 3D printing powder is highly used in the aerospace and defense industry. This powder guarantees sturdiness in the products where it is used.  Rather, there are several automotive parts that are manufactured using this powder. These components have high mechanical strength, toughness and ruggedness, as compared to the same parts made by using other materials.
How is the vendor landscape for the global 3D printing powder market?
The competitive landscape for the global 3D printing powder market is experiencing a rapid rise in the number of operating companies that manufacture the powders. These powders are then used for several industrial processes such as powder sintering, hot iso-static pressing, and metal injection molding. As these applications are expected to witness a substantial growth, the global 3D printing powders market is expected to appear as an attractive opportunity for local and start-up business to expand. By implementing extensive growth-based strategies, coupled with steady investments, companies operating in this market can avail numerous benefits that mainly involve capturing the regional business scenario. Some of the major market players are: Arcam AB, Carpenter Technology Corporation, Advanced Powders and Coatings Inc., Hoganas AB, Arkema, LPW Technology Ltd., Sandvik AB Ltd., Metalysis, amongst several others.
Which is the most lucrative region to thrive for the global 3D printing powders market?
From a geographical perspective, the global 3D printing powders market is segmented into North America, Europe, Middle East and Africa, Asia Pacific, and Latin America. Of all these regions, the market accounts for a leading share in North America, which is at least 38% of the entire market revenue collected in 2017. In this region, the market also depicts immense potential in terms of future development and revenue opportunity during the forecast period from 2017 – 2025. With a well-built infrastructure, state-of-the-art technologies, and a strong economy to back up new 3D printing applications, North America is surely poised to continue with its leading position in the global 3D printing powders market at least until the end of the forecast period.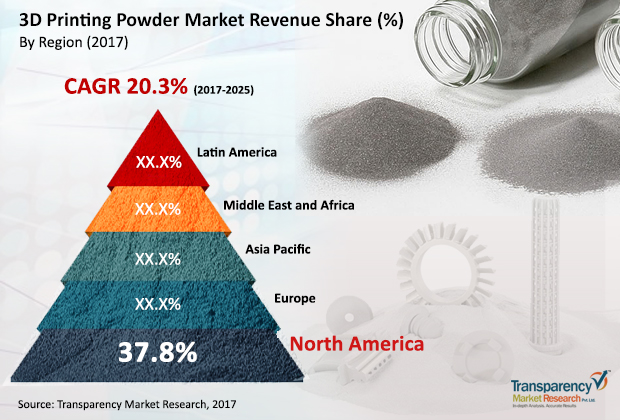 Why is the global 3D printing powders market expected to rise in the near future?
One of the most prominent reasons that mark the rise of the global 3D printing powders market is the extensive rise in the applications where these powders are used. Defense, medicine, consumer goods, aerospace, automotive, and a plethora of other industries see an increasing use of 3D printing powders. Most of these industries also are experiencing a steady expansion, thus leading to increase their consumption of these powders. From a global perspective, there has been an increasing uptake of 3D printed products. This is another prime reason why there has been a rapid rise with regards to utilization of 3D printing powders market.
Research Report Reference: https://www.transparencymarketresearch.com/3d-printing-powder-market.html
About TMR
Transparency Market Research (TMR) is a global market intelligence company providing business information reports and services. The company's exclusive blend of quantitative forecasting and trend analysis provides forward-looking insight for thousands of decision makers. TMR's experienced team of analysts, researchers, and consultants use proprietary data sources and various tools and techniques to gather and analyze information.