Nano Dimension just announced that it has successfully developed a fully 3D printed IoT transceiver. This not only marks the first-ever completely 3D printed IoT device but it also marks the advent of an incredibly fast process (18 hours of production time). The device may allow for extensive and easy testing for 'smart' products and other prototypes that companies develop in the future.
Among the various innovations that make up Industry 4.0, 3D printing and Internet of Things (IoT) are arguably the most exciting. One enables manufacturing revolutions while the other kickstarts a whole new range of communications capabilities. As often happens, a convergence in these technologies is taking place and it may benefit the production of both. IoT devices may also be crucial to the development of autonomous and remotely functioning devices of all kinds, including manufacturing.
Although the device is still in its qualification phase, it is a marvel nonetheless. It spans about (16 x 33 x 1.6mm), making it as small as a coin while being fully functional. The production method uses Nano Dimension's Dragonfly 2020 printer, famous for the development of various electronics and especially for PCBs. Aside from the simple production, manufacturers can easily convert the IoT device for two-way communication purposes, turning it into a transmitter or receiver.
IoT Device Production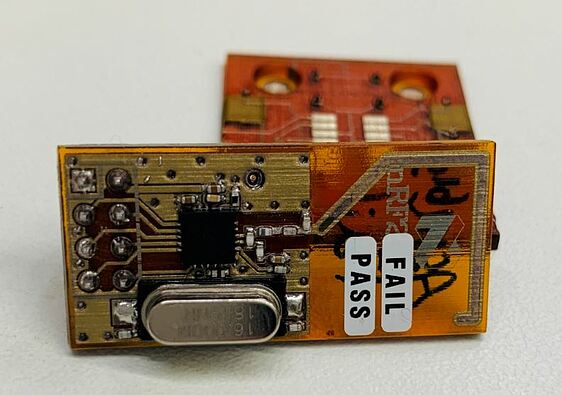 3D printing has allowed for various levels of IoT to make their way in production and design. Imprinting communication into devices has also become a sort of sub-field within additive manufacturing. Some of the most interesting developments in 3D printed IoT technologies can be chocked up to the intricate levels of design and material manipulation the technology allows.
"An ever-greater emphasis is being placed on smart cities, smart buildings, smart homes and smart products by industries and consumers alike. Our solution enables companies to speedily trial and finalize their prototypes in just one day without compromising on quality or performance," said Amit Dror, CEO of Nano Dimension. "They no longer have to wait over a fortnight to understand whether their smart device works or not. This ultimately increases product and cost efficiencies and reduces time to market, which means that the consumer can enjoy the benefits of these products faster than ever before."
The technology can have far-reaching applications considering all the autonomous components companies require. Self-driving cars, for example, have so many components that need to keep in check constantly. The transceiver could vastly improve their manufacturing capabilities and quality assurance. Faster production runs using this IoT device development method could find a home there. Similarly, 3D printing such devices could be a useful addition to routers, toys and even smart TVs and fridges.
Featured image courtesy of Nano Dimension.