It really seems like a hype: 3D printing city landscapes. At the start of this year we reported that a Dutch team succeeded to print out an entire miniature version of the Forbidden City of Beijing, consisting of 980 mini buildings. Of course America couldn't stay behind, and therefore a team has now made a 3D printed skyline of San Francisco. This model is the result of a collaboration between companies Autodesk and Steelblue and it covers a 115+ block area including the Financial and South Market districts.
So what are the exact blocks included in this 3D printed landscape? If you are a San Fransisco local meaning you know your city a little, then you will be able to recognize areas such as AT&T Park, the Ferry Building and the San Francisco Museum of Modern Art. The project was led by real-estate developer Tishman Speyer and his purpose was to tell the story of urban development in the rapidly changing SOMA neighborhood.
To be a little more specific, he thinks this replica of the San Francisco skyline can do a proper job for the field of urban planning, as it might help decision makers to get a better overall view of a city. Compared to a digital replica, he prefers a physical one, as it can provide people with a real, physical view.
"For developers, architects, urban planners, city officials and the public at large, there is nothing quite like a scale model of your city to gain new insights into your surrounds. With 3D printing, we add in a rapid-prototyping capability. We can swap in buildings or entire city blocks to explore design options and to keep the model up to date in rapidly evolving neighborhoods," said Steelblue president O'Brien Chalmers in a press statement. "Adding layers of data visualizations gives us even more power to understand and visualize the way new buildings and infrastructure will impact the urban landscape and the people who live and work there."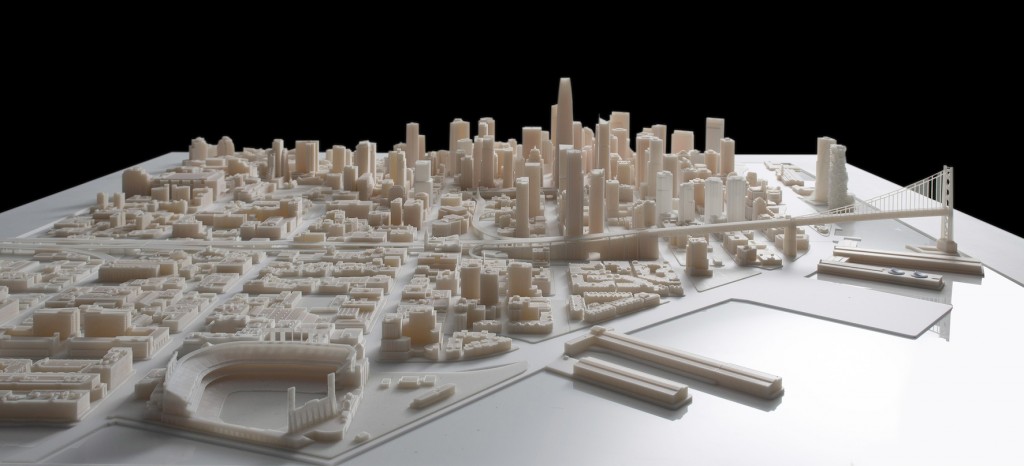 The model also offers a new insight into several development projects in the area, such as the Transbay Transit Center and a lot of other new development sites. The model even gives an idea of what 'future San Francisco' will look like, as it includes buildings that as for today are not yet completed. The model therefore is a reflection of what San Francisco plans to look like in 2017.
The team used two Objet Connex 500 printers with print resolution of 16 microns in order to create this 3D printed miniature. The printers worked two months to print out the entire skyline, and the skyline itself was based on a digital model made by the Steelblue team for, inter alia, photogrammetry purposes.
And more 3D cities are coming, as Steelblue found out these physical as well as the digital models are great tools for urban planning. At the moment, the team is printing models of different cities at their San Francisco headquarters. "We've been creating digital 3D models of cities around the world," said Autodesk's senior product manager Justin Lokitz. "They are incredible tools for urban planning, but sometimes the tactile experience of a physical model provides insights and understanding you can't get from a screen."
This replica will remain with Tishman Speyers, but the team is printing a new 3D replica, which will be publicly displayed at the Autodesk Gallery. Below you can watch a little video of the project:
Image credits: Autodesk/ Steelblue/ Tishman Speyers.