Nevada-based Additec are taking their desktop devices to a whole new level by bringing in DED ">metal 3D printing capabilities. While directed energy deposition and laser melting are usually associated with larger parts, the company has scaled the process down for their μPrinter. It's also $90,000, making it one of the cheapest metal printers using this mix of technologies on the market.
Additec μPrinter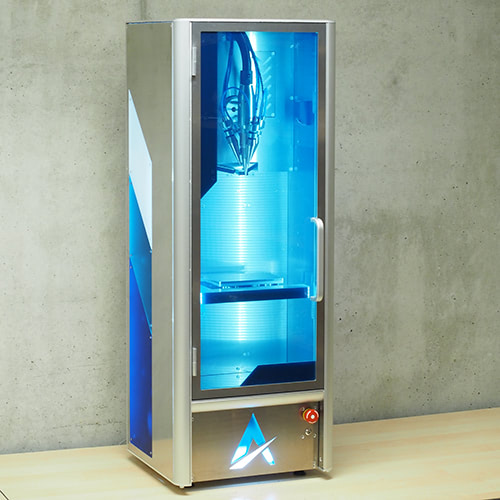 Additec μPrinter is a metal 3D printer with a small footprint. Its Laser Metal Deposition (LMD) technology refers to a welding process where a material is introduced into a meltpool, created by a high power laser. The μPrinter can print both wire and-or powder feedstock.
Manufacturer country:
USA
Industry:
Automotive, Education, Medical
Application:
Prototyping, Research and Development
Print size millimeters:
120 x 160 x 450 mm
Print size inches:
4.7 x 6.2 x 17.7 inches
Printable material(s):
Wide range of commercial welding wire
The μPrinter is based on Additec's patented LMD-WP process, originally launched in 2016. They developed their own laser wire deposition head but this is their first full entry into metal printers. The company actually got its start with making attachments and packages for subtractive and additive manufacturing systems. Previously, they offered retrofit packages that could hybridise existing CNC platforms, converting them for metal 3D printing or hybrid manufacturing. Now, Additec is offering full systems, starting with the μPrinter.
The μPrinter's envelope is 120 x 160 x 450mm (XYZ), which is great considering the dimensions of the printer itself. There are distinct advantages to this size other than simply having a compact work environment and transportability. The build chamber is fully inert and the small volumes make filling quicker, affordable (in terms of materials) and safer than larger prints would allow.
DED Desktop Printing With the μPrinter
Aside from its size, the μPrinter offers other unique features as well. One of its main advantages is that it can process both wire and powder based feedstocks thanks to the LMD printhead. The nozzle has two openings with a thin hole in the middle for wire deposition which has a ring around it. The ring manages the blown powder feeds, alternating the processes. In separating them, Additec are giving users the ability to easily switch between processes depending on the desired outcome of the print. It offers a previously unavailable level of versatility.
Additec insist that aside from printing it is also great for Cladding and Repair work on small components. It uses a 0.6-1mm diameter wire or 45-90 μm powder as the main materials. The deposition head uses 3 or 5 diode lasers at a power of 600 to 1000 Watts. Along with the clear window, it also features a camera for far easier part monitoring.
Additec had to develop an original process control structure to manage the the wire based coaxial deposition system. As it's not as common as powder LMD, they needed a system that adjusts the processing parameters in real time while measuring the height of the individual layers and adjusting nozzle to part distance automatically. They also allow users to set all process parameters in g-code for further flexibility (which would be key for certain users like materials scientists and researchers), along with a macro utility for changing parameters for sections of the build.
The printer is a great example of the growth of 3D printing metal and how these machines are becoming more accessible. The accessibility is happening in two directions, in terms of both size and price.
Featured image and video courtesy of Additec.