A 83-year-old woman chews, talks and swallows using an artificial jaw from a laser printer is rolled. She gets the credits for being the first human, talking with a 3d printing generated jaw. The technique was developed in Hasselt and Leuven. She suffered from a long lasting and rapidly progressive infection of almost the entire mandible with a large wound in her face. In order to retain an open airway, function of swallowing and chewing, surgical removal of the entire mandible was necessary to cure the patient.
The operation was performed in June 2011 in the Orbis Medical Centre in Sittard (Netherlands). The lower jaw of an elderly Dutch woman was completely replaced by an artificial jaw made of titanium. It was manufactured by a 3D printer exactly the right size and had been printed layer by layer.
By inflammation of the jaw , it was  so badly damaged that it all had to be removed. Usually what follows is  a heavy micro surgical repair that takes sixteen hours and can require several fragments of donor bone so that it can be reconstructed and to be put together.
But with the age of the patient in mind, the surgeons preferred a customized and one-piece implant, which was designed and produced in Hasselt, Leuven.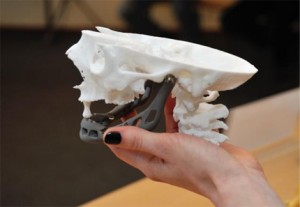 Fast operation
The operation in which the jaw was implanted, took less than four hours. "We prevented the lady a long and risky surgery saved," says Jules Poukens of Hasselt University, who with colleague Ivo Lambrichts and Ingeborg Kroon Burgh were responsible for the design of the artificial jaw. "Shortly after she was awakened from anesthesia, and she spoke a few words, and the next day she could speak and swallow normally again."
The mandible, including joint parts, was printed layer after layer by the Leuven company LayerWise.They used a 3d printer with titanium powder. During the printing process the powder melted, so that no glue or bonding agent was needed. The printer employed the art jaw also to contain cavities which muscles can attach to, slots through which blood vessels and nerves are guided and mandibular dental bridges and dimples so a denture can be screwed.
"The job was done in a few hours," says engineer Peter Mercelis of LayerWise. With classical techniques to implant manufacturing (milling or casting in a mold), it takes something a few days.
The jaw was then coated with biokeramische bioceramics in Leiden, to be compatible with the tissue of the patient, and eventually weighed 107 grams Thirty grams heavier than a natural lower jaw, but not unpleasant for the patient, according to Mercelis.
"Beautiful, beautiful, 'says Hubert Vermeersch, Department Head and Neck Surgery at UZ Gent. "A jaw should move in all directions. Tendons and muscles must be able to attach, and that seems perfectly succeeded."
"Beautiful art also, with openings for nerves and blood vessels. Thus, the sensitivity in her lady lips can be restored. This is very important for a patient. Clever that they have put a coating over it, to prevent rejection. "
3d printed implants
Implants for medical use are manufactured with 3d printers all over the world. Millions of people around the world have implants in their mouth with (variants of) this technique. And in Belgium, several people have already implanted and printed femurhead, cheekbones or skull. "But a complete lower jaw, no, that had never happened anywhere," says Peter Mercelis of LayerWise
According to Hubert Vermeersch, the technique has a small risk that the implant in the course of time becomes exposed in the tissue. "But the risk is just as high as with classical techniques."
The cost of the artificial jaw is "between 7,000 and 12,000 euros, according to engineer Maikel Beerens of Xilloc Medical in Maastricht. More expensive than classical implants and not reimbursed by health insurance. "But because the operation is much shorter than a classical one, you're better off at once," said Ingeborg Kroon Burgh of UHasselt.
The elderly woman is now fine. "In two weeks she gets artificial tooth roots in her jaw," says Peter Mercelis. "Then we screw dentures. A loose dentures just does not work – that would irritate her gums too much. "