Are machines slowly turning us into machines? A New York City-based artist called Rachel Lee Hovnanian currently runs an exhibition in New York about the world's addition to technology. In this exhibition you can see photos of a couple lying in bed, who rather want to watch their phones than make love. Bad couple or killer phones? For another part of her exhibition the artist used 3D printing technology and what she came up with is to be called alienating.
The installation is titled Perfect Baby Showroom and it showcases a laboratory shopping mall. The idea is that parents can decide what their baby will look like and what kind of characteristics it will have. All babies lie on a pillow placed on a tiny metal closet and even more important: they lie in a row, just like products in a supermarket. The ground is filled with wires and plugs: can you find your perfect baby?
"These perfect babies are miracles of nature, yet they are also inventory; infants to be loved, yet products to be prized," Hovnanian explained to Daily Mail. In order to create this thought-provoking piece of art, she used a MakerBot 3D printer to print out all baby parts and then assembled them in the right way.
Her critical art has been featured in publications like Vogue and The New York Times. The exhibition still runs for more than a week. You can check it out at the Leila Heller Gallery, located at 568 West 25th Street, in New York City until October 18th. Here is some more information about the exhibition.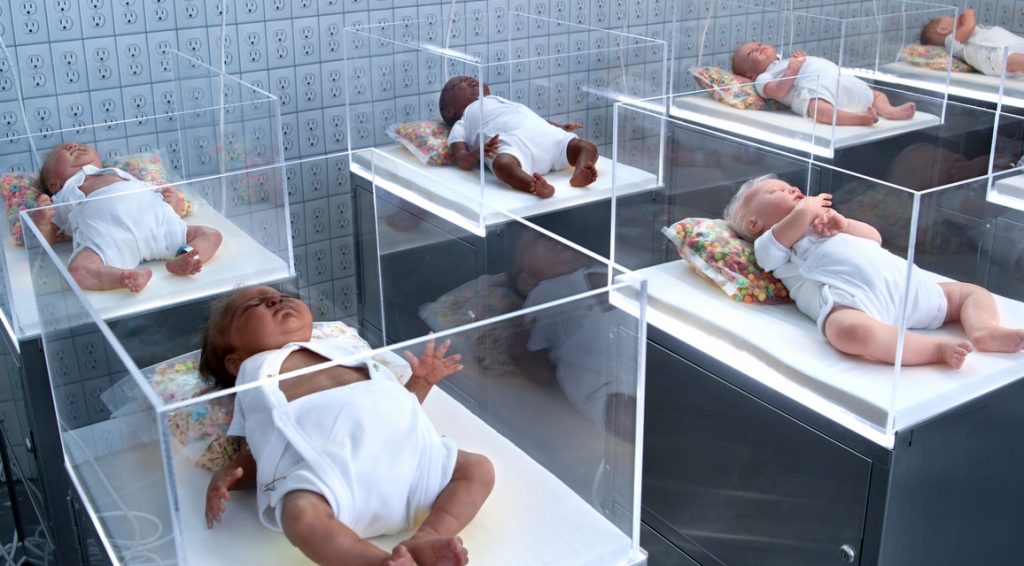 Image credits: Rachel Lee Hovnanian.