As formnext comes to a close, there are many new insights into the state of 3D printing that we gleaned from the event. There were many new machines and technologies on display but there was an overall sense of change in the industry's mindset. Here are our big takeaways from the event:
A Shift Towards Production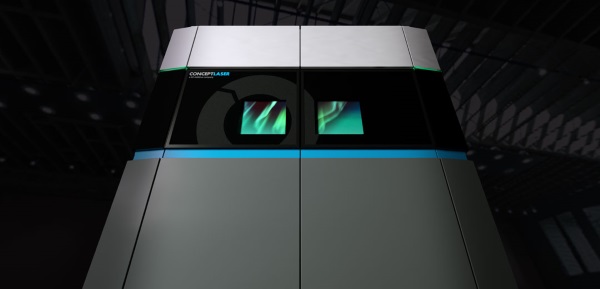 This year, formnext has hosted quite a slate of announcements. While the exhibition hosts new machines every year, this time around there was a notable focus on production as opposed to prototyping. Many industry leaders have been working towards this move towards end products for quite some time.
Machines such as GE's Concept Laser and SLM's SLM 800 are testament to this trend. The size of both printers is enticing for any industrial producer looking for a production-ready machine. However, size wasn't the only indication that this is the new zeitgeist for the market.
Certain machines are keeping the production line in mind with their designs as well. Dutch company Additive Industries was the most prominent in this regard. Their new production removal module for the MetalFAB1 automates the final stages of metal 3D printing, eliminating the need for manual intervention or robotics for part removal.
Taking note of this shift, many companies in the business of electronics and other production industries are taking note. For example, HP is looking to move into 3D printing, possibly seeing it as having become a viable production tool. Similarly, Germany-based Trumpf now has 5 printing machines in their portfolio. Most notably, Trumpf debuted their TruPrint 5000, which can renew layers on old parts and renew machinery.
Metal Printing is Accelerating
In both senses of the word, metal printing is indeed accelerating. Not only are machines getting faster, the number of printers is also skyrocketing every year. New technologies were all around at the event. Desktop Metal touted its Single Pass Jetting technology as 100 times faster than laser printing and cheaper as well. They also showed off their metal injection molding powders.
Similarly, EOS showed off their P 500 powder bed fusion 3D printer 30 per cent cheaper and twice as fast as the P 396. Other entries included Mass Portal with the Dynasty AMS and XJet with its Carmel 1400. Overall, there were a lot of metal machines, which is to be expected considering they dominated the news cycle all year.
formnext Reaches New Heights
As for our final takeaway, it was clear that formnext, the exhibition itself, had grown. The exhibition grew in size by 50% compared to last year. This is a staggering increase. The new total number of international exhibitors now climbed up to 393 exhibitors two months before the event. This also meant expanding their exhibition space from 15,500 to around 27,000 square meters.
49.6% attendees at the exhibition were internationals. The highest number of attendees were from China (14%) and the US (10%). This is not surprising considering that the event hosted the most prestigious companies in 3D printing competing to see who could outdo their announcements. Speaking of companies, the event also featured twice the amount of presentations as last year.
All in all, the major theme in the industry appears to be growing numbers and practical applications of the technology. 3D printing is coming to that stage where it needs to incorporate itself into more areas of the production process to grow. As a result, more companies are seeing the potential market opportunities here. Thus, the focus on metals and industrial size machines that incorporate elements tied to enhancing the production chain.
Featured image Courtesy of Mesago/Thomas Klerx.