Israel-based Nano Dimension just announced the results of its additive manufacturing survey. The survey featured responses from a vast swathe of Engineers, Designers and Business Decision Makers. The leading Israel-based PCB 3D printer company published its findings, so here we are, summarising its key takeaways.
While there are many interesting bits of info to mine out of the survey, the core finding is that 91 percent of respondents expect 3D printed electronics will be a strategic direction. "The results of this survey of electronics design experts from industry leading companies confirm the strategic importance of additive manufacturing of electronics," said Simon Fried, President of Nano Dimension USA. "Our technology's ability to promote mechatronics development speed, agility, innovation, cost and IP security is a significant capability enabler."
Prototyping Electronics
Another major finding involved prototyping, still one of the main uses of 3D printing. Within the electronics landscape companies are very competitive about lead times and prototypes. As of right now, 33% of companies generally take 1 – 2 weeks for prototype reception. A close second is 2 – 4 weeks with 37% of respondents.
This is quite interesting as it signals majority of company's receiving their prototypes under 1 month, also marking a massive departure from just a few years ago.
Findings on 3D Printed Electronics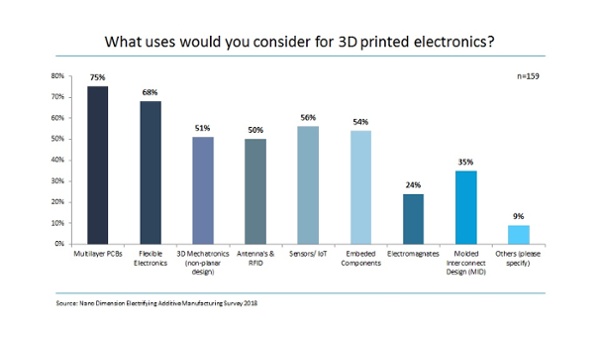 Also among the main concerns of the survey is the uses of 3D printed electronics. As the name of the survey might suggest, the company had a particular interest in the electronics side of things. This is one of the only surveys to delve into this topic, so it's rather uncharted territories.
Multilayer PCBs rank highest (2/3rds of respondents), while flexible electronics rate second. This is perhaps an indicator of what we might see in the future. The concerns of the innovators in 3D printing also lie in sensors and Internet of Things (56%) and embedded components (54%).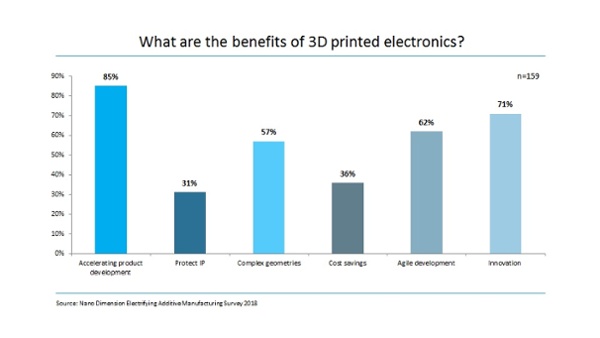 Majority of companies consider 3D printed electronics most useful for accelerating product development (85 percent). Innovation is, as usual, quite high on the list (71%). It's no surprise, as most technologies are there to bolster the R and D and product development wing in tech companies. Coming close as another runner-up creating is sensors and devices for the Internet of Things (56 percent).
While most of the graph is as one would generally expect, there are some surprising ones. For example, one would expect cost savings to be quite high in the hierarchy of needs for companies. Apparently, this is not the case. Slightly above 1/3rd see it primarily for cost-saving.
All featured images courtesy of Nano Dimension's website/press release.