Acclaimed Industrial 3D printer manufacturer BigRep will be showing off their new STUDIO G2 large-format 3D printer at Rapid+TCT. As the name suggests, the STUDIO G2 is the second generation of the BigRep's STUDIO line, with this latest instalment bringing in the ability to process engineering-grade materials for industrial applications.
"We are excited to host the world premiere of the STUDIO G2 at North America's most influential AM event – RAPID+TCT. We believe that both customers already relying on the original machine and new ones will appreciate the many advanced features of the STUDIO G2," said Frank Marangell, CBO at BigRep.
The printer truly embodies the large-format name, offering a build volume of 500 x 1000 x 500 mm. The STUDIO G2 utilises materials such as PA6/66, with a layer resolution of 0.1 mm, creating intricate parts at high speeds. Engineering materials can be quite abrasive in particular, so it speaks to the printer's design prowess that it can handle them.
Additions to the BigRep STUDIO Series
"The new generation STUDIO G2 is a great addition to our expanding industrial portfolio of large-format printers. Based on proven, successful technology, the STUDIO G2 is upgraded with key features that industrial users need," said BigRep CEO, Stephan Beyer, Ph.D.
While the BigRep STUDIO G2 adds a lot to its predecessor, it also builds on the existing resolution and accuracy. The fast-heating print bed can achieve temperatures of 100°C, helping it handle those tougher to print materials. Similarly, the dual extruder comes with two 0.6 mm ruby nozzles and a temperature-controlled filament chamber.
BigRep has also stated that it will be adding more materials for the printer in the near future. These include engineering-grade ASA and composite materials with carbon or glass fiber enhancement. Chances are that we'll find out a lot more at Rapid+TCT. BigRep will be unveiling the printer along with NERA, their fully 3D printed e-motorbike.
BigRep STUDIO G2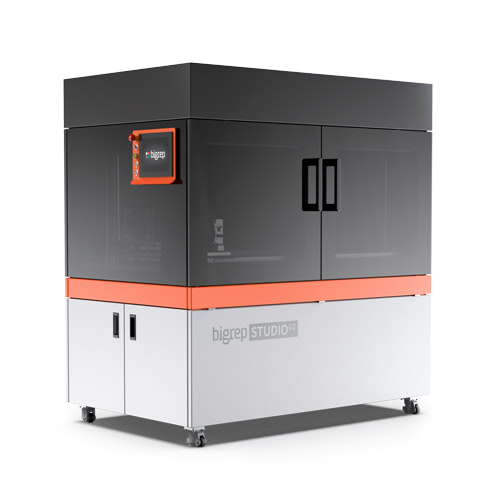 The BigRep STUDIO G2 is optimized for for abrasive and engineering-grade materials.
Features
- Print bed heats up fast
- Temperature-controlled filament chamber
- Insulated & temperature-controlled print chamber
- Dual extruder system
Manufacturer country:
Germany
Industry:
Aerospace, Automotive, Boating, Education
Application:
Production, Prototyping, Research and Development
Print size millimeters:
1000 x 500 x 500 mm
Print size inches:
39.37 x 19.68 x 19.68 inches
Printable material(s):
PLA, PETG, Pro HT, TPU, PA6/66
Featured image courtesy of BigRep.