You may not have heard of Phoenix Analysis and Design Technologies (PADT), but they have recently procured a major partnership. The company is looking to open a 3D printing factory in Phoenix in collaboration with Carbo.
PADT is aiming to produce parts on-demand with Carbon's Digital Light Synthesis technology and Carbon's production systems. During PADT's test period, the organisation created about 20 parts per 3 hrs. They now have three Carbon M2 3D printers on-site, giving them a massive leg up.
A Multi-purpose 3D Printing Factory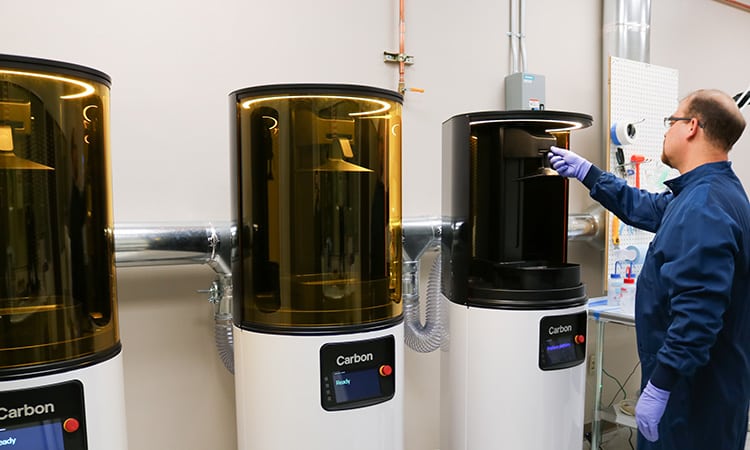 Carbon has about ten other certified production partners like PADT. They tend to supply their machines to crucial industrial projects, so it's no surprise that they've struck up a collaboration. The benefits for both parties are quite clear. While most factories have to severely specialise their market due to the limited scope of machines, 3D printing factories have a distinct advantage in avoiding this trap because of the inherent versatility of the machines they employ.
"Our goal is to deliver true, scalable digital fabrication across the globe, enabling creators to design and produce previously unmakeable products, both economically and at scale," said Dana McCallum, head of Production Partnerships at Carbon. "PADT has a long history in the industry and a strong reputation for engineering excellence. We're thrilled to have them as a certified Carbon production partner."
PADT can provide their service for the medical and automotive industries and maybe more. Currently, Carbon's systems allow them to make 2,000 to 5,000 parts in a week's time without compromising quality and cost-effectiveness. Additionally, traditional methods of manufacturing often caused design limitations. Now, the company can generate parts in a single go and not have to assemble them.
"Carbon's Digital Light Synthesis technology has made this possible by giving us a faster process that creates parts with the same properties as injection molding." said Rey Chu, co-founder and principal of PADT.
Featured image courtesy of PADT