We have news regarding Filabot, the upcycling machine we mentioned about a year ago. Lots of things have changed since their Kickstarter project got backed with $32,330 of funding. For instance their collaboration with DUS Architects, the creators of a huge 3D Printer called the KamerMaker (in English: Roombuilder).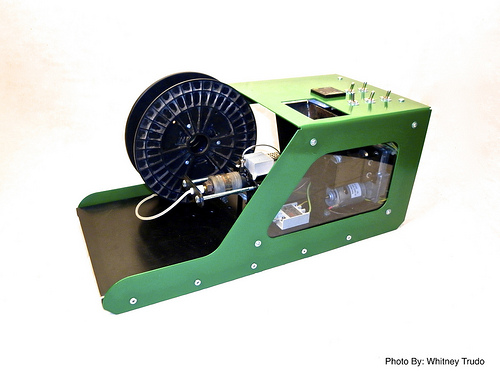 What does Filabot do?
Filabot is a desktop extruding system, capable of grinding various types of plastics, to make spools of plastic filament for 3D printers. Not only is it user friendly, but it is also environmentally friendly. The Filabot can process things such as: milk jugs, soda bottles, various other types of plastics, and bad prints, to make new filament for a future print.
Collaboration with KamerMaker
We are very curious what the  collaboration with KamerMaker will look like. The KamerMaker is the world's first movable pavilion that has the capability of 3D printing entire rooms of plastic. With a record breaking build platform of 2.2m (width) x 2.2m (length) x 3.5m (height) it can actually print objects the size of a small house! So if you could combine a huge Filabot with a KamerMaker and you could place these in for instance India where there's a shortage of good housing and a surplus of scrap plastics, you could make a huge environmentally impact for the better.
Filabot: http://filabot.com
KamerMaker: www.kamermaker.com