BigRep's innovation lab NOWLAB unveiled a new sustainable structure that displays the possibilities of biodiversity in urban settings. The GENESIS Eco Screen consists of filament derived from 100% recycled PET and incorporates plants, insect habitats and embedded channels for water flow and drainage altogether. It utilizes complex designs, merging natural habitats with 3D printed architecture.
The GENESIS Eco Screen was the brainchild of Lindsay Lawson, an Applications Specialist at NOWLAB. The team behind the structure wanted to demonstrate the environmental opportunities presented by additive manufacturing technology using circular economy solutions fusing recycled components and natural materials. It represents a model for minimizing waste emissions and energy usage, while building on natural harmony with plants and insect.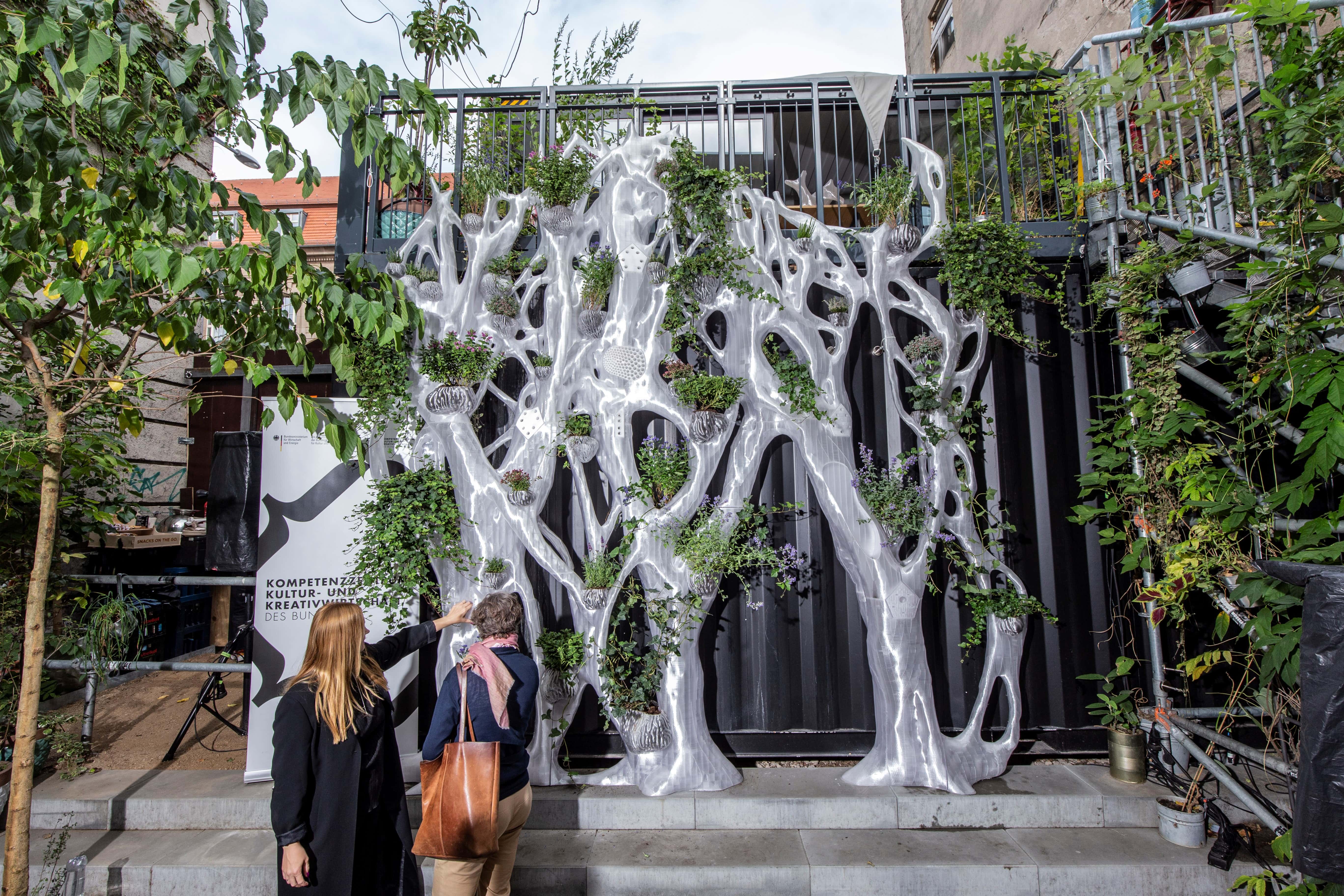 Measuring an impressive 4 by 4 meters, the Eco Screen is on display at Invalidenstraße 86 in Berlin, Germany. Consisting of BigRep PETG filament and BASF Innofil3D rPET made of 100% recycled PET on four BigRep ONE 3D printers, the entire structure was printed live throughout August in Thaersaal during the Fiction Forum (an event on behalf of the Federal Ministry for Economic Affairs and Energy).
BigRep's Eco-Friendly Architecture Projects
Before the GENESIS Eco Screen, BigRep also experimented with other eco-friendly structures. This architectural design appears to be a natural extension of the Banyan Eco Wall, which also had similar drainage features. The Eco Screen is far more complex however, requiring 4 different BigRep ONE printers operating simultaneously. NOWLAB also utilized solar radiation analysis for agent-based modeling and parametric design to create a computer-generated final product with unique characteristics specific to the environment that it is placed in.
Daniel Büning, a fellow of the Kompetenzzentrum and NOWLAB's Managing Director, states "disruptive technologies such as 3D printing are key to solving some of the world's biggest problems. The GENESIS Eco Screen shows how society can develop a greener future – with circular economy solutions that are sustainable, local, modular and collaborative."
The use of this complex modeling helps the Eco Screen develop ideal placement for its plants, insect habitats and embedded channels for water flow and drainage. It also manages to boost biodiversity using a mix of natural elements and recyclable plastics. As a design, it economizes resources and provides a sustainable alternative to traditional architecture.
Featured image courtesy of BigRep and NOWLAB.