This year Raise3D released two new prosumer 3D printers on the market. The Raise3D Pro2 with a print volume of (xyz) 305 x 305 x 300 mm and its bigger brother, the Raise3D Pro2 Plus with a print volume of (xyz) 305 x 305 x 605 mm! Raise3D was so kind to send us their Pro2 model to test and review. In this review article you will learn about all our findings and recommendations concerning the Pro2 model.
Overview (TL;DR)
Very little installation time
No initial calibration needed
Easy to use and great looking control interface
Robust machine
Large build volume
Great print quality
BuildTak surface sticker included
Tools included
| | |
| --- | --- |
| Reliability | |
| User friendliness | |
| Print quality | |
| Print consistency | |
| Range of materials | |
| Support / helpdesk | |
| Slicer software | |
| Availability replacement parts | |
Introduction of the Raise3D Pro2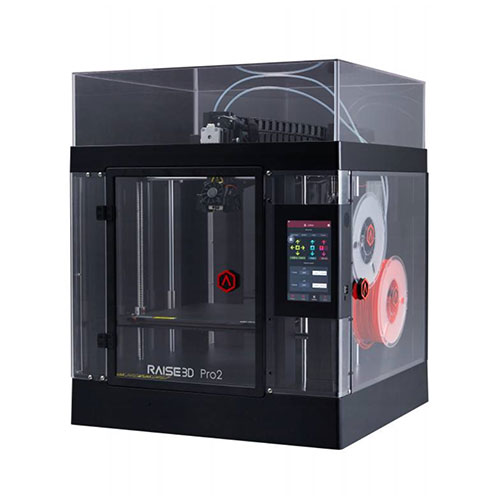 The Pro2 model is a true successor to the previous Raise3D model, the N2. This dual extruder 3D printer with an enclosed print area is designed to print multiple materials and heat sensitive materials to perfection.
The Electronic Driven Lifting is Raise3D's new dual extrusion system, which is unique in the Pro2 series. It refers to the technology used to switch from nozzle 1 to nozzle 2, while printing. The way this system works is one of the most fluent dual systems we have worked with to date.
The build volume is:
– For single extrusion prints: 12 × 12 × 11.8 in / 305 × 305 × 300 mm
– For dual extrusion prints: 11 × 12 × 11.8 in / 280 × 305 × 300 mm
The installed HEPA filter absorbs over 91% of all particles released by printing and the built in camera makes it possible to remotely check up on your prints.
Unboxing & Setup
When you first receive this 3D printer, it is hard to not be impressed by the size of this machine. It is a large 3D printer that comes in an even larger box. If you need this 3D printer to be delivered in the second floor or higher, then its recommended to make some necessary preparations.
The box is big but has its purpose. This machine is very well packaged which shows that the company values a perfect delivery. This is also important because the Pro2 is delivered with a pre-levelled print bed that has to be levelled perfectly at the print, and it did.
When you follow the unpacking instructions in the quick start guide, you won't be faced with any unpleasant surprises. Every moving part of the printer is secured with clamps to secure z-axis movement, clips that hold the extruder assembly in place and sturdy but easily removable zipties that secure every other moving part. It will take you a bit over 30 minutes to get this 3D printer out of the box and ready for printing.
Once the 3D printer is ready for printing, you turn it on and the printer will go through a quick start-up sequence. After that you can start with the final hardware installation all described step-by-step in the quick installation guide.
Note: because we received an early model, we had to do a firmware update first. Raise3D sent us the update file, it needed to be stored on the root of the USB stick
What's in the box
Raise3D Pro2 3D printer
Power cables (5x)
Hex Wrenches
Filament (two spools PLA 1.75mm)
Build Plate (with BuildTak surface cover)
USB stick
Heat resistant gloves
Filament holders (2x)
Spatula
Nozzle cleaning kit
Tweezers
Spare parts (fuses, thumb screws for the bed, other accessories)
First Prints
After you unpacked the 3D printer successfully and completed the initial hardware setup, you install Raise3D's own slicer software ideaMaker. The ideaMaker installation is not difficult and also step-by-step described in the quick start guide.
The only thing you need to do now is loading the filament in the 3D printer. This is done by following the instructions on the machine control. When the filament is loaded, you can start the first print job and away you go.
Our first print we did with the complimentary Raise3D PLA filament came out perfectly. We were very impressed by the performance of this machine without any necessary calibration.
ideaMaker
As mentioned before, Raise3D has their own slicer software that is optimized for the use with Pro2 3D printer, the software is called ideaMaker.
This is a pretty comprehensive slicer with options that you normally don't find in your standard slicer, like a free-cut option that allows you to split your models into separate parts, a max-fit option that stretches your model to the maximum size in one click and a repair tool that fixes issues in the models. Though we would not recommend you to use the repair tool of ideaMaker to fix errors in your models because it is too rigorous with its repairs.
Ones you have a model ready for printing in ideaMaker, you press 'start' and a new screen with your template options opens. In these templates you can adjust everything like layer height, speeds, infill options, adhesion options, etc. Here you can use Raise3D's standard printing templates or you can make and save new templates with your own settings.
The standard templates made by Raise3D are recommended to use as a foundation for your own settings.
NOTE: The temperatures set in the standard templates are in some cases not correct for the best performance of the material. You can adjust this in the ideaMaker template or adjust this manually on the machine after starting the print job. 
Printing With Different Materials
In ideaMaker you can easily select standard templates for different materials and quality settings. To test the print quality, we have used PLA, ABS, PETG and HIPS on this 3D printer. For the more difficult materials like ABS and HIPS it is recommended to print with the top cover on the 3D printer to ensure a steady and warm temperature inside the printing chamber.
Although the print bed is equipped with a BuildTak cover to ensure maximum adhesion, we needed to put extra adhesion on the bed when printing with HIPS. For this we use an adhesive spray (DimaFix) that works great.
Resolutions
When you want to print at the -amazing!- resolution of 10 micron layer height, this is not possible to do with the standard 0.4mm nozzle that is installed on the extruder. To be able to make successful 10 micron prints, you will have to install a (not complimentary) 0.2mm nozzle. It is recommended to use the 0.2mm nozzle when printing below 50 micron layer resolution.
At a resolution of 50 micron or higher, the standard 0.4 nozzle works like a dream. There is also the option to install a 0.6mm or 0.8mm nozzle which come in handy when you want to print larger objects at higher speeds.
Tips & Tricks
Ones the print is started, you can safely remove the USB stick.
Use the top cover when printing with heat sensitive materials such as ABS and HIPS.
When you prefer to use Simplify3D as slicer software instead of ideaMaker, you will need an FFF profile of the Pro2. Please reach out to Raise3D for a Simplify3D profile.
You can manually adjust the z-offset quickly by adjusting the knob (left side of the print bed) indicated on the picture below.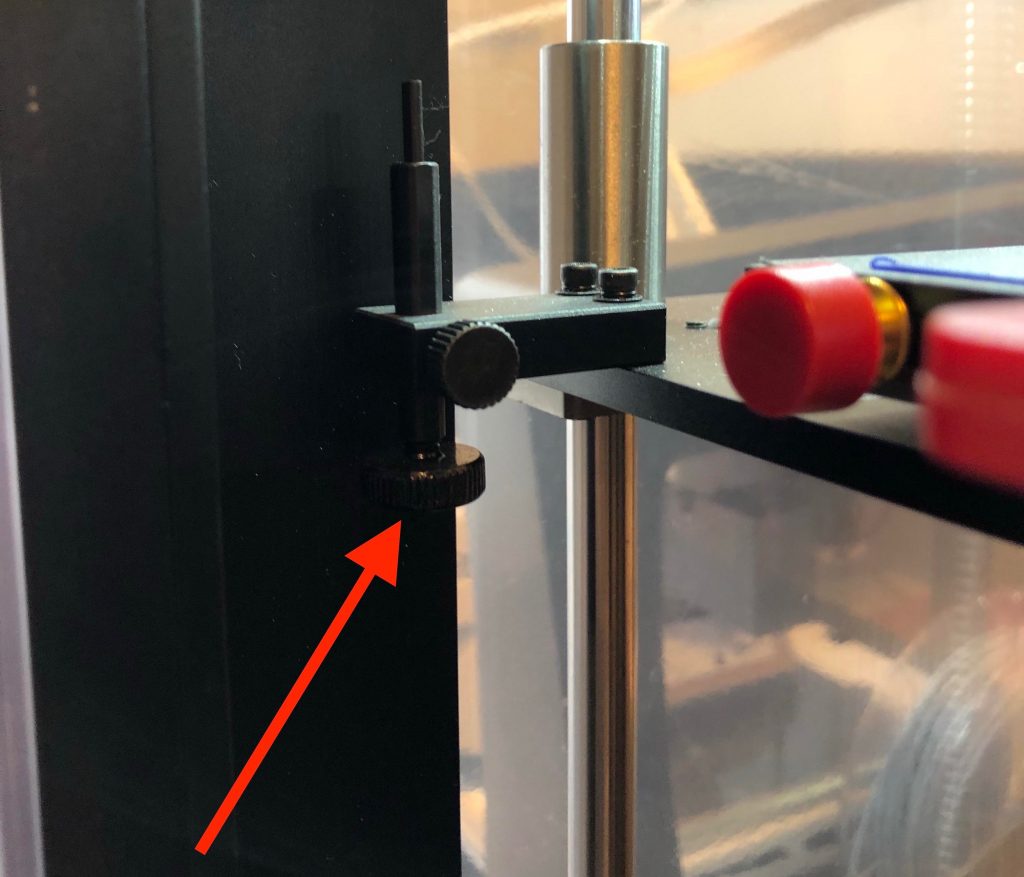 Raise3D Pro2 pro's
This 3D printer prints standard materials with ease. It is also very suitable to print heat sensitive materials, such as ABS and HIPS.
Reliable in quality and performance
Great control interface on the machine
Robust and strong frame with a fully enclosed print chamber
Good system for securing and removing the print bed
High quality prints on several resolutions
When using the 0.2mm nozzle, this 3D printer can handle a 10 micron layer resolution!
Perfectly pre-calibrated for printing with two print heads, plug-and play.
Raise3D Pro2 con's
Hard to find temperature settings in the ideaMaker software (available under the 'cooling' tab in the advanced settings )
When you start a print that only uses the left print head, the Pro2 will always do a full pre-heating sequence for protecting the nozzle lifting system against damage from cold filament. It will heat both extruders to the set temperature first, then heat the print bed and then cool down the print head that will not be used. This feels unnecessary and time-consuming when the 2nd extruder will not be used or moved.
Some of the temperature settings in Raise3D's standard ideaMaker templates are incorrect. An example of this is the standard print bed temperature for printing HIPS is set to 50°C while this should be above 100°C. So, always check the temperature settings on the 3D printer after starting a print job!
Hard to find print bed calibration options.
UPDATE: In the latest firmware update the preheating sequence has been improved by preheating both print heads and print bed at the same time. The firmware update can be found here. 
Conclusion
We are impressed by the performance, reliability and ease-of-use of the Raise3D Pro2. High performance and reliability ratings are very important when it comes to machines that need to be used in a professional environment. Therefore we can recommend this machine to any professional user and enthousiasts looking for a reliable and large volume FFF/FDM solution.