Now that Thingiverse has to compete with Cubify (3D Systems' new sharing platform) they decided to give the old website a face-lift. Give credit where credit is due, this new look is great!
Before Thingiverse became 'Thingiverse, a universe of things' in 2008, people were able to download music, movies and e-books. There was no place to share and download 'things'. After this radical change back in 2008, Thingiverse quickly developed into the most powerful sharing platform for digital designs on the web.
Of course, after two years the website became a bit dated so a re-launch was more than welcome. With the improvements it's easier than ever to share your digital designs with the world. Also the new website gives credit to the best designers in the community on the front page. If your design is worthy enough, you can now become real famous, real fast!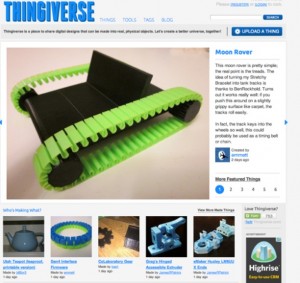 You can visit the all new Thingiverse website here