Is 3D Printing safe? Of course that question does not have an easy yes/no answer. In this article we'll look at several aspects of the safety of 3D printing including the safety of the hardware, the materials used and the 3D printed objects.
At the bottom of this page you'll find a list of the safest 3D printers.
Are 3D Printers safe?
Since 3D printing has become a mainstream technology used across many industries rather than a niche technique for prototypes and highly personalised consumer goods, the safety of 3D printers also has become a topic of discussion.
What makes a 3D printer safe?
There are a few things you should keep in mind when researching whether a 3D printer is safe or not.
Electrical safety
Mechanical safety
Risk of burns
Electrical safety
When buying a 3D printer, check if the power supply meets all CE mark regulations and is protected against short-circuit, overload, over voltage and over temperature.
A nice feature could be that the hotend of the printer contains thermal runaway protection. By using a thermal fuse mounting in the heat sink to monitor temps and kill all power to the heater in the event of any over temp condition.
Last thing which is pretty rare but nice: a smoke sensor that's separately powered from the machine and which kills all power to the heater when smoke is detected.
Mechanical safety
3D printers contain many moving parts. Fortunately, industry-wide most used NEMA-17 stepper motors do not have enough power to cause serious injuries. Though, in search for a safe 3D printer, please keep in mind that moving gears that are not covered can still form a potential risk. So you might want to limit your search to 3D printers that have a 'closed' design.
Risk of burns
There is a potential risk of burns, as the print head of most 3D printers can reach temperatures of up to 280°C and the heated bed of up to 120°C. A 3D printer is regarded safe when contact with the nozzle is prevented by surrounding it with for instance an aluminium cover.
You can also get burns from touching a heated bed. Therefor, a 3D printer with a heated bed needs to have a closed environment.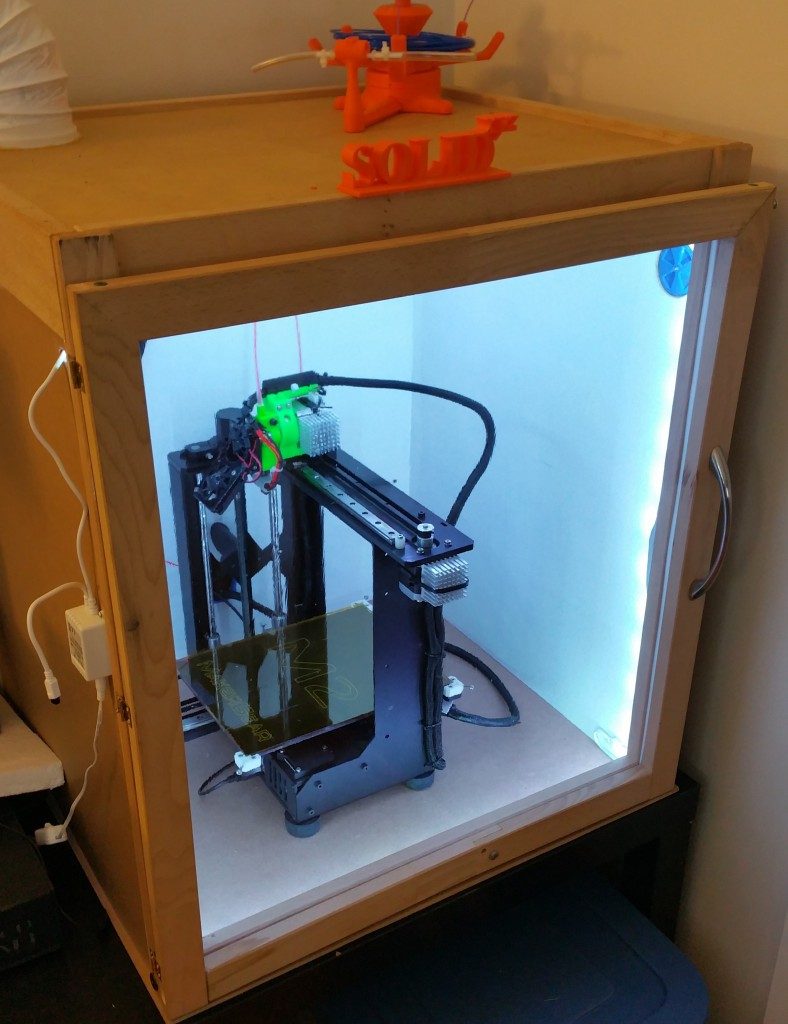 Safety 3D Printing Materials
So now that you have bought a 3D printer that seems safe, the actual printing starts, resulting in all kinds of new risks. What 3D printing material is safe to use?
ABS once was the most popular 3D printing material. Engineers love it for its strength and designers like it cause it's easily polishable with acetone.
Its popularity is lately decreasing due to studies that have shown that the fumes that are released while printing are possibly carcinogenic.
But are there no other options? Of course, you can use PLA. PLA is a bioplastic and is considered to be the safest 3D printing material.
The last few years new PLA's have hit the market that have the same mechanical strength as ABS, making ABS redundant.
Safety 3D Printed Objects
So is the object you've printed safe? Of course it depends on what kind of object you've printed. Is it a functional print? For instance a connector to connect the legs of a chair with the seat? Than it's best to print it in a super strong material with a bit of flexibility like Nylon.
Is the object used as cutlery? If yes, than you'll want to post-process your object with a food-safe glaze, even on a single-use / disposable basis.
Re-using the object is not a good idea due to all the micropores and crevices that your 3D printed object will have. Besides that – the little bits of food which will sit inside of your object will provide food and shelter to bacteria and mold.
But even if your 3D printing material is certified food-safe plastic, your nozzle is going to contain all kinds of leftovers from every other filament you've ever printed with.
On a higher level – high-tech industries such as aerospace and medical fields are turning to 3D printing as a replacement for standard manufacturing. The change from utilising 3D Printing as a prototyping tool to it being used as an end product has got federal regulators tapping the brakes. Concerns about the safety and consistency of 3D printed components means developing new testing mechanisms to prove their safety and efficiency.
Safest 3D printers
Below you'll find an overview of the safest 3D printers currently available.