Investment firm Two Sigma Advisers LP has just made a 15,500 share purchase in 3D Systems. The purchase comes down a value of $158,000, a massive buy-in to the famous 3D printing firm. Two Sigma are among many other firms that have taken a monetary interest in 3D Systems in recent years, giving them a distinct advantage as a public company.
The Securities and Exchange Commission (SEC) has registered this filing, making it a massive win for 3D Systems' fourth quarter. Two Sigma purchased the shares at a time with little agreement on the stock among advisers. Craig Hallum, for example, reported 3D Systems stocks as being a good choice to "Hold" on April 22nd at a $12.00 price target on the stock. TheStreet, similarly, raised 3D Systems a whole grade, going from a "d" rating to a "c-" rating.
JPMorgan Chase & Co., on the other hand, were less enthusiastic. They cut the target price on 3D Systems to $8.00 and set an "average" rating on the stock. The wider consensus has been that 3D Systems is currently worth "buying" (with caveats). The consensus also sets the average target price to $13.88. That said, there is division on whether to invest or not, with the consensus lately fluctuating between buying and holding. Despite this, Two Sigma decided to go ahead and dig in deeper with these shares.
3D System's Shares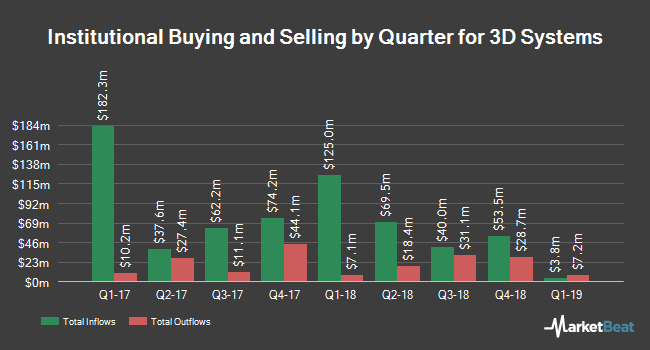 3D Systems (NYSE DDD) opened at $11.15 on Friday. The stock is doing rather well and it also shows in how many other companies are taking note. Aside from Two Sigma, Teachers Advisors LLC now owns $209,336 worth in the company. In fact, they grew their holdings by 1.1% in 3D System's third quarter.  Vanguard Group Inc. also grew its holdings in shares of 3D Systems by 2.5% during the third quarter.
Other companies include Rhumbline Advisers, FMR LLC and Wells Fargo & Company MN. The stock increased 4.40% or $0.47 during the last trading session, reaching $11.15 as of now. The company has been spreading its wings with multiple investors giving it the boost it needs. They've been involved in new devices, medical ventures and various other operational outgrowths.
Featured image courtesy of MarketBeat.