BASF is now ready to commercialize their metal polymer composite filament for FFF systems. The filament itself uses a polymer content that acts as a binder, aiding in uniformly depositing the metal. The filament may provide an alternative to Stainless Steel 316L metal powders when accuracy of the printed part is less important.
As one would expect, the printing process is quite similar to that of regular FFF. The printer heats the Ultrafuse 316L filament and deposits on the build platform in layers. The difference here is that the polymer content of the material acts as a binder material, which debinds during the deposition. After the debinding, the part requires sintering at temperatures just below that of steel.

Ultrafuse 316L can, under certain conditions, be processed on any conventional, open-material FFF printer. Our goal was to develop a high-quality metal filament that makes the additive manufacturing of metal parts considerably easier, cheaper, faster, and accessible to everyone. François Minec, Managing Director for BASF 3D Printing Solutions
FFF Metal Filament
Ultrafuse 316L's core polymer content is the primary binder, while the inside consists of metal particles and a secondary binder. The primary one comes in the form of a green part, which is removable through catalytic debinding process. This leaves a somewhat brown part, that requires sintering to fully realise the metal part within. BASF is currently building a network of certified debinding and sintering locations where users will mail their "green" 3D prints for processing into fully-solid metal parts. 3D printer manufacturers are already creating print profiles for Ultrafuse 316L, such as Ultimaker. The sintering causes the metal particles to coalesce and the material achieves its final properties, improving its hardness and strength.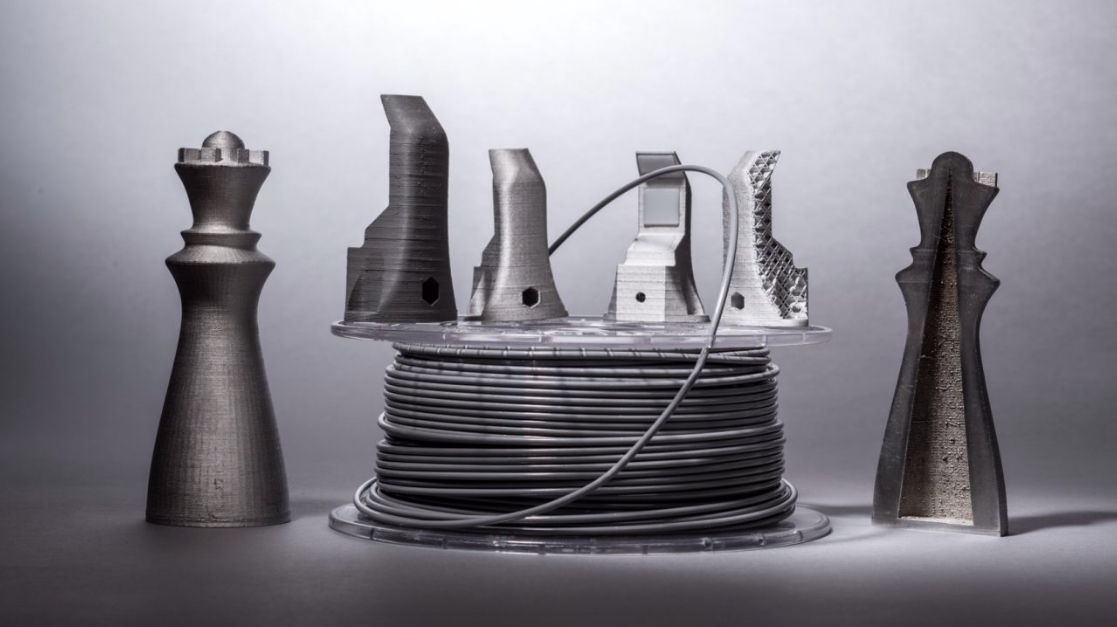 Despite the presence of two binder materials, the metal content of the new 3D printer filament is as high as 90%. This stainless steel is evenly distributed within the polymer contents, reducing the risk of defects. The requirements for using the filament are minimal: a bed that can heat to 100°C with Kapton tape, a hotend that can reach 240°C (ABS printing temperature), and a hardened steel nozzle because the filament is 90% metal powder and it will wear-down a regular brass nozzle. It works with a bowden or direct drive extruder. Print settings should be 100-micron layers to increase density and smoothness, no part cooling, 100% infill, and relatively low print speeds. Thin walls and steep overhangs should be avoided. The catalytic debinding and sintering process also causes some anisotropic shrinkage, so parts need to be scaled by a factor of 1.2 on the X and Y axes and 1.26 on the Z axis to achieve their intended dimensions.
Filament vs Powders?
There are distinct advantages and disadvantages with using filaments like Ultrafuse 316L in comparison to metal powder processes.
Pros
Filament could be cheaper (but you don't want too many failed prints)
More accessible cause it can be done with a desktop 3D printer
Filament is safer to handle and process in comparison to metal powder
Cons
Ultrafuse 316L works with open-material FFF FDM printers, but the material is not entirely universal. The extent of its applicability is currently unknown. The resellers provide extensive printer processing guidelines including Ultrafuse 316L parameter sets. They also have consultancy and on-site support for those looking to incorporate the material on their printer.
Featured image courtesy of BASF.