Willit3DPrint.com, a web app launched by Econolyst Ltd, allows users to calculate the cost and part quality of 3D Printed products at the design stage. But that's not all.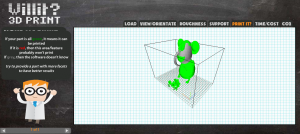 What can Willit3DPrint do?
Test if your part has features that can be 3D printed or not
Visualise the surface roughness of the printed part
See where support is needed
Estimate the build time and the cost of your part
Calculate the carbon footprint of your part
Reorientate, rescale, and reposition your part
Export your changes (in STL or AMF)
How does it work?
The service allows makers to upload an .STL file and instantly see how it will print on a variety of different machines. The interface provides a color-coded assessment of the part. If your part is all green, it means it can be printed. If it is red, then this area/feature probably won't print. If grey, then the software doesn't know.
Econolyst
This free tool is provided by Econolyst, an additive fabrication company based in the U.K. that provides consultation on 3-D printing. Their clients include manufacturing and retail companies that want to understand the business benefits and constraints of Additive Manufacturing & 3D Printing.