XYZprinting have just announced their plans to release the da Vinci Color printer. The company has also revealed that it will incorporate the use of ColorJetting technology to create prints. According to the company's press release the printer will be able to create an almost unlimited set of colors.
The da Vinci Color can process 3D-color inkjet PLA, regular PLA, Tough PLA and PETG. It has a build volume of 7.9 in x 7.9 in x 5.9 inches, which is pretty big for a color printer. The printer also uses the EZ removable print bed and comes with hands-free auto calibration.
It is available for pre-order now, priced at $2,999.95. XYZprinting will also showcase their new machine IFA 2017, September 1 – September 6, at the Berlin Exhibition Grounds.
3D ColorJetting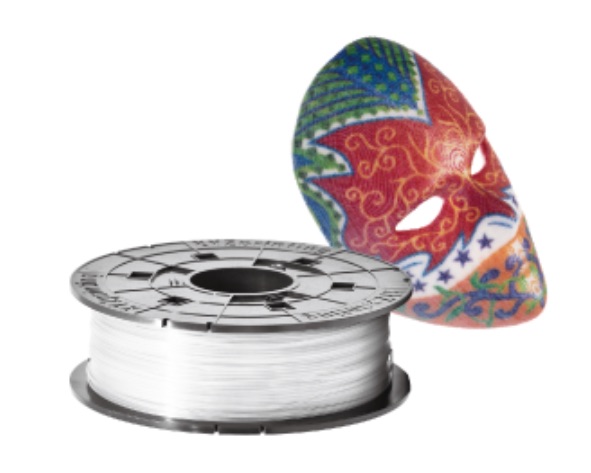 We've previously covered the various methods of color printing and some of the emerging technologies. ColorJetting is one of the most interesting ones. It implement the CMYK range of colors that 2D printers have been using for decades. As a result, it can generate virtually any color imaginable.
It makes use of CMYK color binders to dye the print as each successive layer takes shape. As the binder hits the core material, the print comes out colored and solid. The technology was pioneered by Z corp (now owned by 3D systems).
The printer uses a 3D ColorJet PLA, a biodegradable, environmentally friendly material. PLA is a natural fit, since it melts at low temperatures, reducing warpage. According to the company spools of filament cost $35 and the color ink costs $65. This is far more economical than any previous attempt at ColorJet printing.
Specs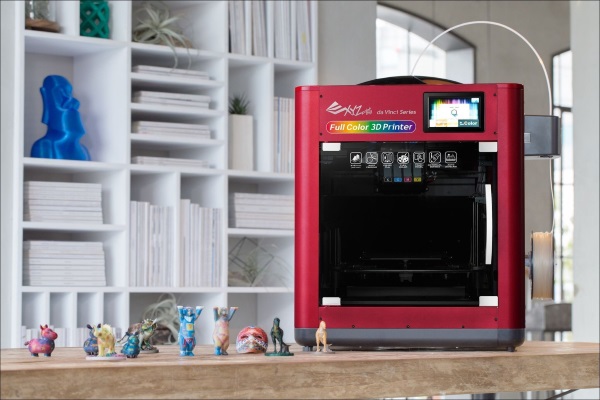 | Specs | Description |
| --- | --- |
|  Build Volume |  7.9 x 7.9 x 5.9 in (200 x 200 x 150 mm) |
|  Size |  600 x 581 x 640 mm (WxDxH) |
|  Layer Resolution |  100-400 microns (0.1-0.4 mm) |
|  Price |  $2,999.95 |
|  Materials |  3D Color-inkjet PLA / PLA / Tough PLA / PETG |
|  Nozzle Diameter |  0.4 mm |
|  Print Bed |  EZ-removable print bed (non-heated, auto-levelling) |
|  Stepper Motors |  1.8° step angle with 1/16 micro-stepping |
|  XY Positioning precision |  X/Y 12.5 micron, Z 4 micron |
|  Build Speed |  Average: 30-60 mm/sec, Max: 120 mm /sec |
|  Print head travel speed |  30 – 300 mm/s |
|  Display |  5-inch color touch LCD |
|  Filament Feeding |  Auto loading |
|  Weight |  32 kg |
|  Software |  XYZmaker |
|  Supported File Types |  AMF, PLY, OBJ, STL, 3CP |
|  OS Compatibility |  Windows, Mac OSX, Linux |
|  Power Requirements |  100-­240 V, 50-60 HZ |
|  Connectivity |  WiFi, USB 2.0 port |
|  Operating Temperature |  15­-32°C |
|  Storage Temperature (Ink cartridge) |  15­-35°C |
|  Storage Temperature (Filament material) |  0­-38°C |