3D printing has become a trend in many sectors, such as the medical world, fashion, and even pop music. This is all due to the fact that the technique offers many new opportunities. With the invention of a 3D printed lung that worked for 40 days, it really seems like the opportunities are limitless. But there are still companies to surprise us, with 4 AXYZ being a perfect example. This company claims to have found a way to print wood.
Yes, wood. If you are one of our frequent visitors you will probably remember our recent article on the company, in which we showed you a variety of pictures of wood furniture (as you can also see in the images featured in this article). In this piece we also explained you that 4 AXYZ uses a machine which combines small uniformly-cut pieces of wood and uses a special binding process to assemble the layers. Very, very technical – we understand. Therefore, we wanted to learn more about this company and decided to get in touch with them in order to find out how one can produce 3D printed wood. We spoke with 4 AXYZ's co-founders Abir Shah, the principal engineer, and Shikhar Shah, who works on business development and promotion.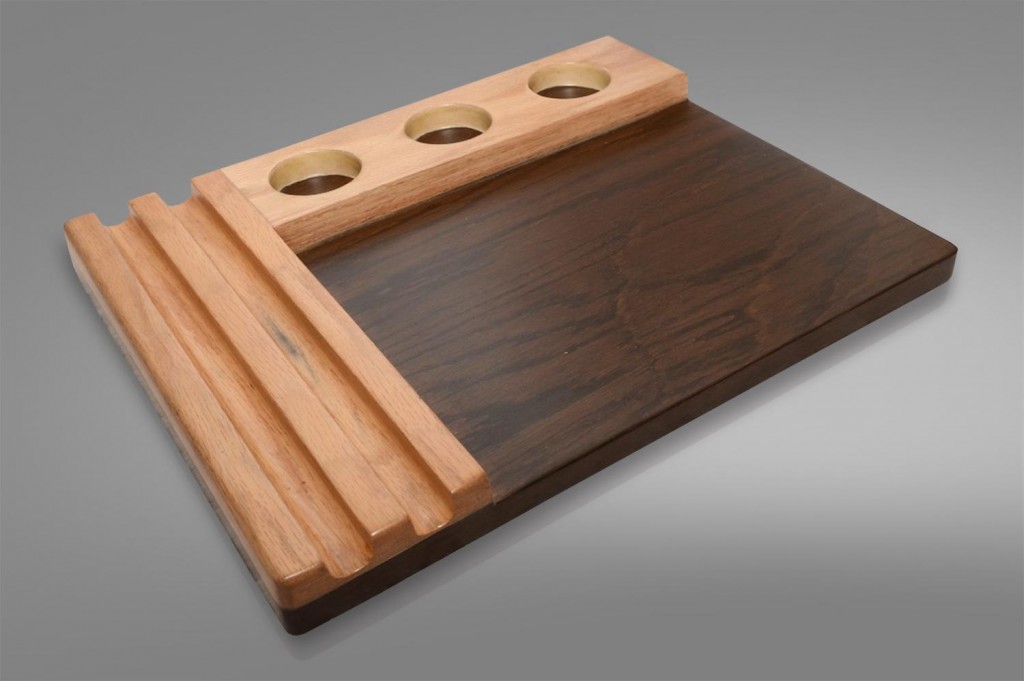 Creating your own wooden furniture sounds very futuristic to us. Could you explain what the purpose of your project is?

Shikhar: "It has come a full circle from the time when every human being cut down his own tree to make his own furniture. Today society might function differently, but we still desire customized furniture. We have been making compromises for many decades, by being forced to buy what is affordable in stores, rather than making what we want. Our process for customized ordering will soon allow people to connect with the past and take furniture making into the future."
Abir Shah: "Our machine should be ready before the end of this year."
Do you think that in, say, ten years we will all be printing out or own furniture?
Abir: "Or rather in six to eight months. Our machine should be ready before the end of this year, so we may not have to wait 10 years. Yet you are right. As we take our business wider and deeper with more equipment deployed globally, we don't see why the old way of ordering and buying furniture should not become obsolete."
The way you print out furniture is quite different from regular 3D printing techniques. Could you explain to us how you create 3D printed wooden furniture?
Abir: "I guess the key to our process is respecting the material. We are not tampering with the properties of real wood by making it into a powder or into fibres. We have two steps that we have perfected and created IP around them, that make this possible. Step one makes the wood ready for layering without changing its look and feel, or its strength. Then comes our digital delivery process which installs pre-formed layers in the precise dimension, shape and location where they are needed. So instead of conventionally delivering paste-like material and allowing layers to be formed, we are doing all the work to make the layer first and then delivering it in place."
The idea is for customers to design their own wooden furniture. At the same to you work with designers. Could you explain why?
Shikhar: "If you want something specific, you are always going to be its best designer. That option will always remain available. People also like designs of other creative folk and might want to buy those. That is why designers will get a chance to showcase their product also. However, there is the third combination of people modifying other designers' works. Here we will allow the designers to set the parameters of modification and individuals can customize existing designs into what they want for themselves. This is total freedom in the end and of much value to everybody."
You are currently in need of proper funding for your project. How much do you need and where can people fund?
Shikhar: "Furniture and woodworking machinery plants cost many millions of dollars. It is an industry norm for those familiar with hardware investment. We have had a tremendous response recently. At this point we will restrict our interaction to those who can invest $100,000 or multiples of the same. They should send a simple email of intent to our business team via info@4axyz.com with the subject line "Investor Relations" and their full contact details. Somebody will get back to them."
Shikhar Shah on 3D printing: "Industries will soon begin to change their entire model and the benefits or effects will be global in not a long time from now."
You seem to work with wood sensors that can control light and heat as well as they can keep thieves outside. Are they also 3D printed?
Abir: "Our focus is the manufacturing technology and the business model thereafter. There are no 3D printed wood sensors. We enable the insertion of sensors, conventional electronics, into our products via our process during manufacturing. This is truly revolutionary, but once again, we don't make these. Our customers would be able to design their products accordingly and place orders by providing us the sensors and details of where they should be embedded. Once embedded, the doors and windows could have all those features you talk about. No, we have no plans ourselves for any such appliances, but we welcome people with ideas to talk to us for their development."
What do you think, being a professional in the industry, is the most important development in 3D printing today?
Shikhar: "In some ways, the most important development is the awareness of 3D and Additive Manufacturing among the lay person. Trade publications like yours and the general media are actively reporting on what is new technology and what is trending. This is going to promote 3D printing and Additive Manufacturing hugely as an economy and allow governments to fund and encourage its expansion. Industries will soon begin to change their entire model and the benefits or effects will be global in not a long time from now. In our opinion, the general awareness is the best thing going on out there."
Image credits: 4 AXYZ.