From your living room to your ring finger, customization becomes easier and more attainable to anyone with the mass manufacturing capabilities of 3D printing. Jewelry, novelty items and home decor are just some of the things that could benefit from this sort of technology. Creativity and imagination are central to the jewelry craft. Which is why the industry has embraced 3D printing technologies to reduce the time and labor required in the manufacturing process.
3D printing jewelry printers
So today the world of technology has taken strides in the development of 3D Printing for Jewelry Manufacturing.   Companies such as Objet Geometries have produced a desktop 3D printer solution that offers an exclusive combination of high-quality, finely detailed models in a compact, office friendly system.
Based on proven technologies and compounds, the PolyJet™ Photopolymer Jetting technology, creates true-to life parts of any kind with extreme accuracy in a matter of minutes.  No need to send CAD sketches away and wait weeks for a 3d model to be returned (at great expense).  Now 3d Print Modeling is as easy as paper printing!
3D printed Jewelry are Unique
If you want your own unique piece of Jewelry, 3D printing is your friend. For example 3D print your own jewelry designs in sterling silver.  Have you ever had an idea for a cool piece of jewelry, but no silversmith skills to make it happen?
With a 3D printer you can deliver your own designs from a 3D CAD model or even from a simple hand drawn sketch. To have your silver jewelry 3D printed the only thing you need is a 3D printer. Or you can upload upload your designs to 3d Printing service, such as the Shapeways website. Within 15 days you can have your own ultra unique, bespoke jewelry.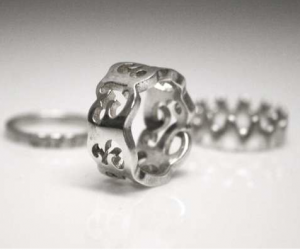 Not only do you get the most awesome jewelry you could ever imagine, but you also get a great story to tell of how you designed your very own piece. 3d printing jewelry is something that you have a deeper connection to than a mass produced item. It also makes for the perfect gift. Imagine giving a friend or family member a ring that you have designed especially for them.