This 3D scanner disguised as a giant sphere takes 3D scanning to the next level. It's called the OrcaM Orbital Camera System, has seven cameras and a whole lot of lightulbs inside to illuminate and capture objects from every possible angle. The creators at Germany's Research Center of Artificial Intelligence (DFKI) made the 3D geometry as accurate as down to the sub millimeter.
The OrcaM can scan objects as wide as 80 cm and as heavy as 100 kg. The scan that comes out is in full color and contains detailed texture.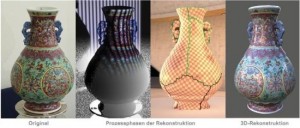 With the OrcaM you can now make a very accurate of all fragile art or objects and if they break, just print out a new one!
The next video shows how the Germans get it to work