TEVO 3D Printers, hailing from China, is a company to look out for. They released a few very successful DIY kits and we had the honour to put their biggest 3D printer to the test, a Delta 3D printer called 'Little Monster'. Tevo's Little Monster is already 80% pre-assembled, making it a quick build. You'll be printing within a few hours after unboxing it.
TL;DR
Quick build – 80% pre-assembled.
Massive print size.
Can reach high print speeds.
Packaged intuitively (labeled very well) to optimize assembly speed.
Tools included.
Easy to control via touch screen display.
Easy to use – fully automatic calibration.
Great quality 3D printer parts.
Sturdy aluminum frame.
| | |
| --- | --- |
| Reliability | |
| User friendliness | |
| Print quality | |
| Print consistency | |
| Range of materials | |
| Support / helpdesk | |
| Availability replacement parts | |
Unboxing & Setup
The Little Monster (LM) comes well packaged in a cardboard box. The 3D printer parts are tightly packed in foam and very well labeled.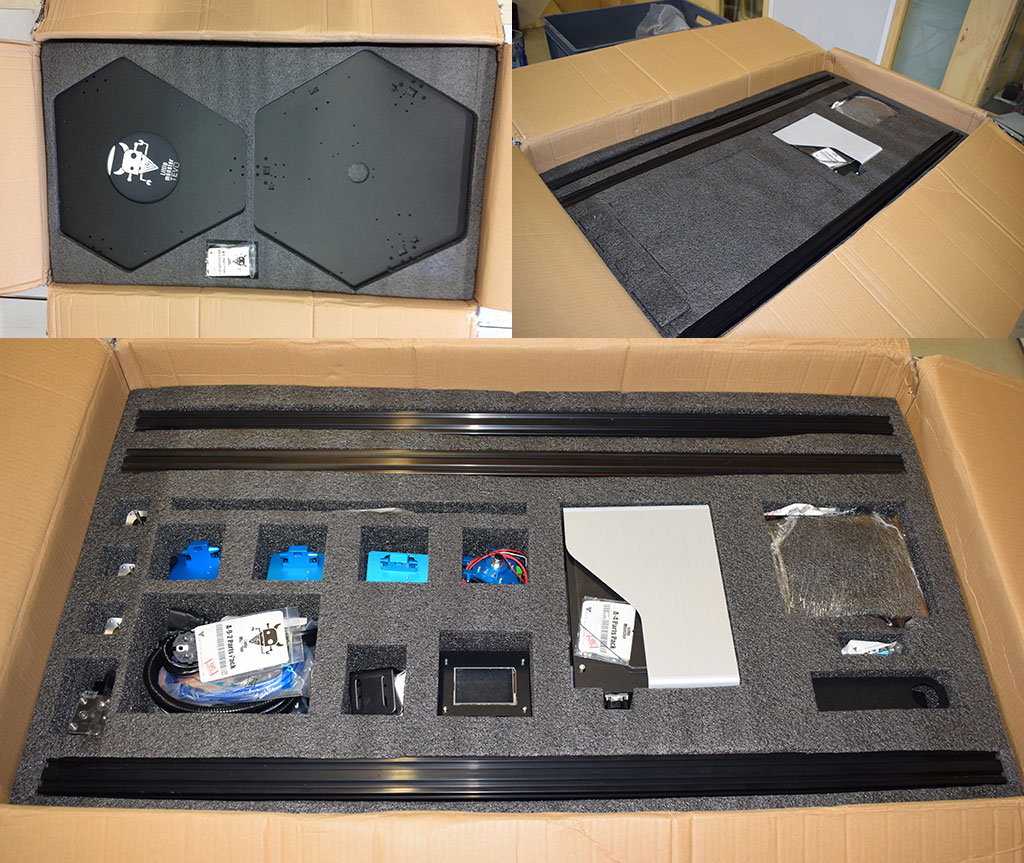 What's in the box
Pre-assmembled knock-off E3D Titan flying extruder with Volcano nozzle and BLTouch sensor.
Knock-off Smoothieboard (MKS SBASE) with custom made auto calibration by Antclabs.
MKS TFT28 touch screen display.
Openbuilds aluminium extrusion 4080 frame.
Fast heating glass ceramic bed (2 minutes 140 °F / 60 °C).
Pre-assembled arm carriages.
Light weight arms (397mm).
Power supply with solid state relais and USB power output.
Spool holder
USB cable, SD card.
Basic tools.
Assembly guide, service booklet, parts checklist.
Hardware
The Little Monster is provided with a knock-off E3D Titan flying extruder (with 0.4mm Volcano nozzle) and a replica of the Smoothieboard called the MKS SBASE. The frame consists of aluminium extrusion parts and high quality CNC'd top and bottom aluminum plates which bring a lot of weight to the table (in total it weighs 55.1 pounds). The board is pre-wired and all the wires are also very well labeled.
Flying Titan extruder
Because it's 'flying' and light weight, you're able to print at high speed with this 3D printer. It also gives you the ability to print with a wide range of materials. Tip: for flexible filament (the real flimsy Ninjaflex stuff) you'll have to decrease the pressure a tad bit in order to get good results.
MKS SBASE
Can't say too much about this as it's not my specialty but I've heard some stories that people are swapping it with a Duet Wifi.
Assembly
The Little Monster assembly guide is included in the box and consists of 10 easy to follow steps. All steps are accompanied with well made, highly detailed illustrations. In case you've lost yours, you can download it here.

Facebook members group
For tips, tricks and downloadables please visit the Tevo Little Monster Facebook Group. Good chance the community will save you when you're facing problems.
First prints
After you've finished the setup it's time to put it to the test. The automatic calibration takes away all of the pain of calibrating a Delta. It fixes concave issues and automatically adjusts the delta radius. The only thing that you have to do to get a perfect print is adjust the z-offset in your slicer. After the auto calibration I just printed the test file that was on the SD card – noticed it was printing too far from the bed and adjusted the z-offset in Simplify3D (process settings -> G-Code).
High speed print test
First of all: apparently the setting 'Default Printing Speed' in Simplify3D doesn't do what you think it does. It doesn't control the print speed. It's more comparable to travel speed.
The actual print speed is a calculation of multiple elements. At first Simplify3D checks your .stl and adjusts the speed when necessary to get the best result possible. If you want to prevent Simplify3D from doing this – uncheck the mark under 'Speed Overrides'.
Furthermore it also has to do with a hidden calculation that happens in the background which is called feed rate. Feed rate is measured in mm³/s (cubic millimeters per second). It's a volumetric measure of exactly how much plastic is extruded per second from your extruder. The feed rate is a calculation based on the following settings:
Extrusion Width
Extrusion Multiplier
Primary Layer Height
Default Printing Speed
So when using Simplify3D, it's a matter of fiddling around with these settings to find out what the max feed rate is that your extruder can handle without jamming – the actual print speed.
As a first test we printed this calibration cube. Remember that the Default Printing Speed does not resemble the actual printing speed.
Simplify3D settings:
Default Printing Speed: 900 mm/s (54000,0 mm/min)
infill: 30%
first layer speed: 2%
layer height: 200 micron
material: PLA
Result
I think the actual print speed was approximately 100 mm/s and I was pretty happy with the result.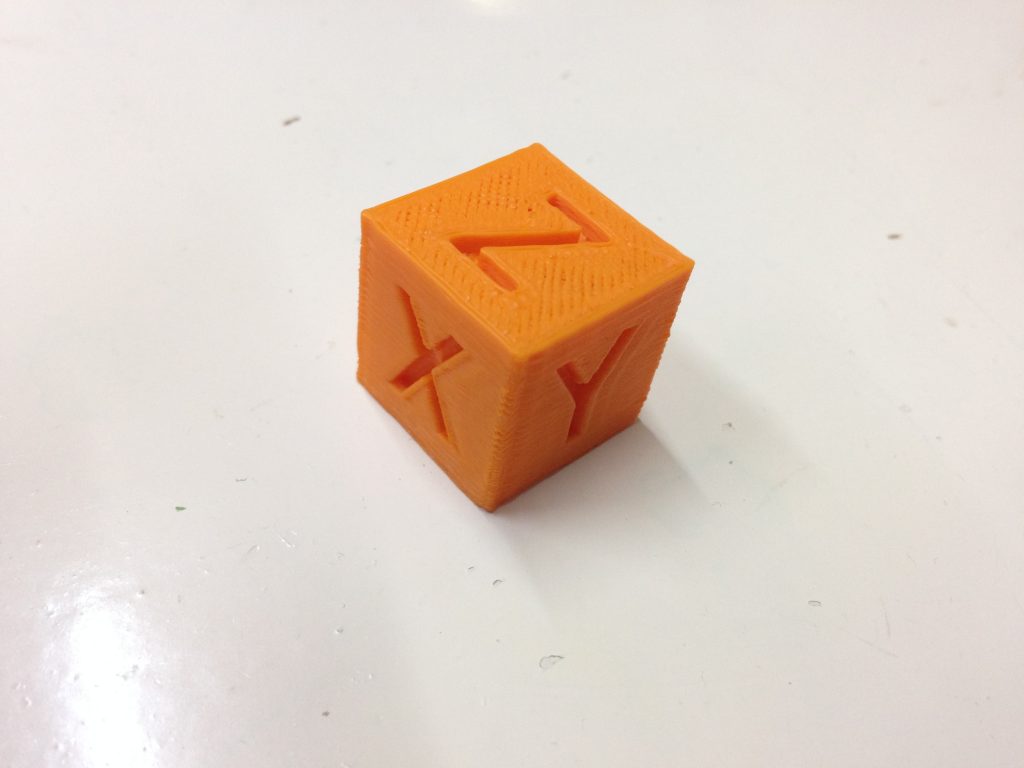 For the second test case I scaled this rocket up to 500 mm. With a layer height of 200 micron and in corkscrew (spiralize or vase) mode with the Default Printing Speed set to 450 mm/s (27000 mm/min). Again, this doesn't mean it actually extrudes that fast, but in 4 hours and ten minutes the print was finished and it looked great.
Result
I think the actual print speed was approximately 115 mm/s and I was impressed with the result.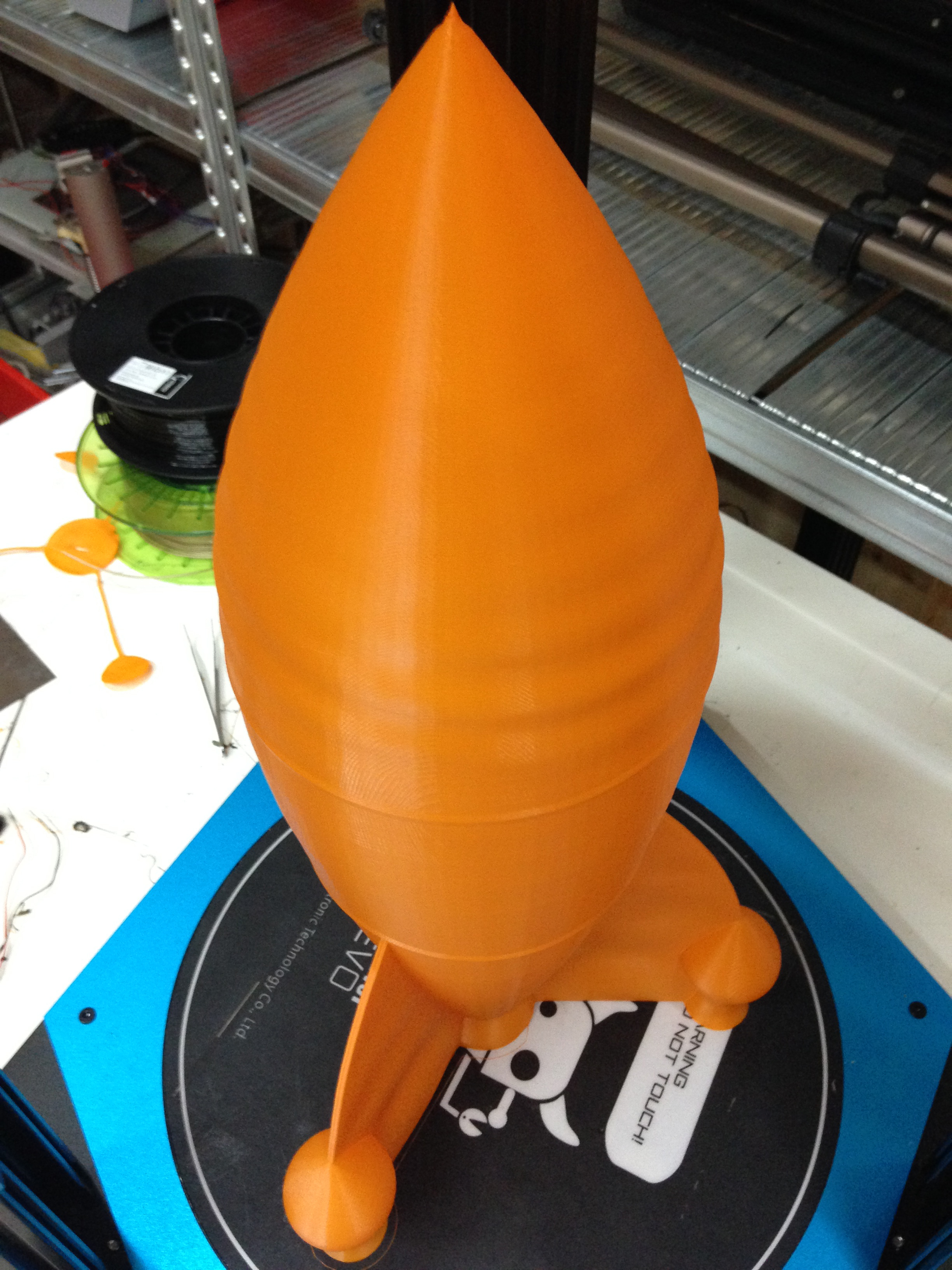 TEVO Delta pros
Fast
Auto calibration
Sturdy frame
Massive build volume
Great print quality
BuildTak replica surface sticker included
Tools included
Easy and quick build
TEVO Delta cons
There's a Wi-Fi setting on the display but no documentation on how to get it to work
Power cable is too short (1 meter power cable while the height of the machine is already 1 meter and the power input is on top)
It's pretty loud
Conclusion
TEVO did it again. The Little Monster is worth every penny. It's easy to set-up, delivers high quality prints and prints really fast. The auto calibration and touch screen display make it a reliably, easy to use machine. The TEVO Monster is available on GearBest or Amazon.com.