Based in China, Tiertime develops both desktop and industrial 3D printers. Their Tiertime Up Mini 2 was launched in August 2016 and we had the honor to put it to the test.
TL;DR
Fully assembled 3D printer
Enclosed environment (perfect for ABS)
Small footprint
HEPA filter
Auto bed leveling
| | |
| --- | --- |
| Reliability | |
| User friendliness | |
| Print quality | |
| Print consistency | |
| Range of materials | |
| Support / helpdesk | |
Delivery
The Tiertime UP mini 2 3D printer was delivered in a great looking box and nicely packed with foam supporting all parts that were delicate or were not allowed to move during shipping.
After unpacking comes the set-up. For this you follow the Quick Start Guide that is included in the package. You first need to remove all foam cushions and protections inside the 3D printer. Then you can assemble the print head and download the software. After doing that you are ready to go.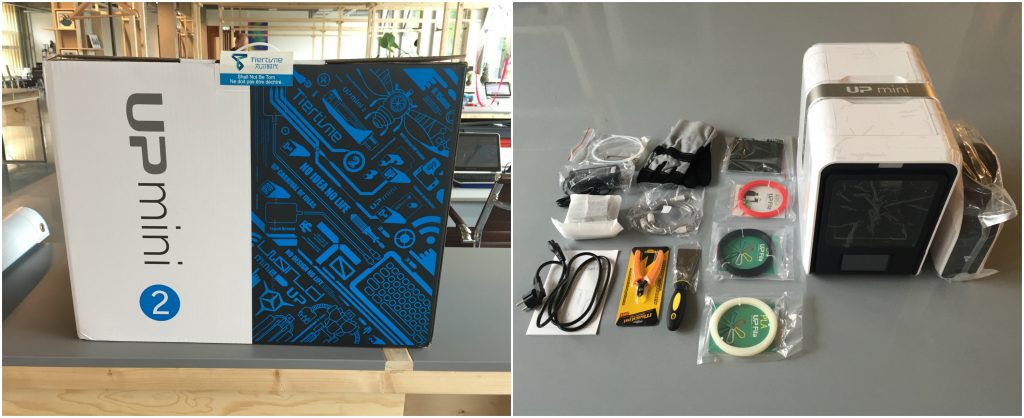 What's in the box:
UP mini 2
UP Fila Station
UP mini 2 extruder V1
Tiertime power supply 90W & power cable
UP flex 120 print board (2)
Cell board for UP mini (2)
500g spool of ABS filament (1.75mm)
Sample filament for ABS, ABS+ and PLA (50g for each series)
Quick Start Guide
Tool Kit: Calibration card, Filament guide tube, USB cable, Spare Nozzle & Nozzle Wrench, Gloves,
Scraper, Pliers, hex wrench & spare screws
Design & Specifications
To be honest, the UP mini 2 looks great. In my opinion, the fila station (the weird casing where you put your filament) is a bit over the top. But, it works. The 3D printer is fully encloses with outer casing made from plastic (also the station). This might make the UP feel a bit cheap when you open or close a door or replace a filament in the station. The inner casing however is of metal making it a solid frame. The door is transparent so you can watch the printing process, lit by LED lighting on the inside. It comes with a solid aluminium handle that you can extract for carrying the UP. This makes the UP a very portable 3D printer.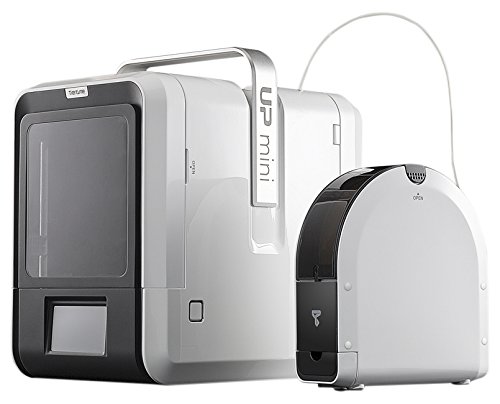 An overview of the UP mini 2 specifications:
Weight & dimensions
dimensions: 36.5 x 25.5 x 38.5 cm
weight: 8.0 kg
Print Properties
Technology: FDM printing
Print jets: Single extruder
Maximum creation size: 120 x 120 x 120 mm / 4.72 x 4.72 x 4.72 inch
Material: 1.75mm PLA plastic and ABS plastic
Build platform: Heated, with Perforated Print Board or UP Flex Print Board
Nozzle Diameter: 0.4mm
Layer thickness: 0.15/0.20/0.25/0.30/0.35 mm
Print speed: 10-100cm3/h
Support structure: Smart Support Technology (automatically generated, easy to remove and fine-tunable)
Compatable files: STL, UP3, UPP
Connectivity
Software
Description: Comes with UP! software
Windows requirements: Win XP/7/8/10
Mac OSX requirements: Mac OSX
Warranty
Software & Printing
The first thing I noticed when turning on the 3D printer was the great looking touchscreen. It gives clear instructions and is easy to use. Via this touchscreen you can initialize and calibrate the 3D printer to ready it for printing. Also, you can select the filament that you will be using. The printer then automatically selects the right temperatures for you. Furthermore you can look up all sorts of information about your print and settings.
I do have to mention that starting with the UP mini 2 did come with a few setbacks. Probably due to shipping, the vertical end stop was not working properly. This made the 3D printer jam when I tried to initialize it for printing. After consulting with the Tiertime helpdesk to figure out what was causing this, it became clear that the end stop was causing the problem and needed a small adjustment I could do by hand. After bending it a bit in the right direction, it worked properly and kept on working like it should.
UP Studio App
To prepare models for printing, you'll need to download the Up mini 2 app. You can do this on their website. You can easily upload your STL files in the app and ready them for printing. Ones you are done with setting up your print (selecting the infill, layer thickness and desired print quality), you select the print option and the software begins with slices the model before sending it to the printer.
Here I ran into my second problem, WIFI connectivity. No problems connecting the 3D printer to my network but problems started to happen when sending files from the app to the 3D printer. I received connectivity errors and when I succeeded in sending a file, the print failed halfway indicating an error in the file or joggle error. I contacted Tiertime about this and they said that this was new problem for them, they are looking in to it to fix this problem.
A solution for me was to simply connect the 3D printer via the provided USB cable. Ones the printer was connected with the app via USB, it was very easy to send files successfully. After these few setbacks, the first printing results amazed me.
Print Results
For my first successful print (after connecting with USB) I chose to print a benchy to see how well it does compared to other printers. I was positively surprised by the quality and detail this 3D printer was capable of producing. I set the layer thickness to 0.15mm (highest quality). In the UP Studio software you can choose the infill, support, layer thickness and you can do a lot more finetuning.

After the benchy print I did several other prints and also a torture test made by Cliff Biffle meant to push your printer to its limits. The UP did a pretty good job on that print. I even tested the stop and resume function of the UP in the middle of this print. [When you open the door the printer stops automatically, if you close the door you get the option to resume the print] If you look closely you can see the slightly burned plastic in the bow, that is the only mark that the printing pause left on the object.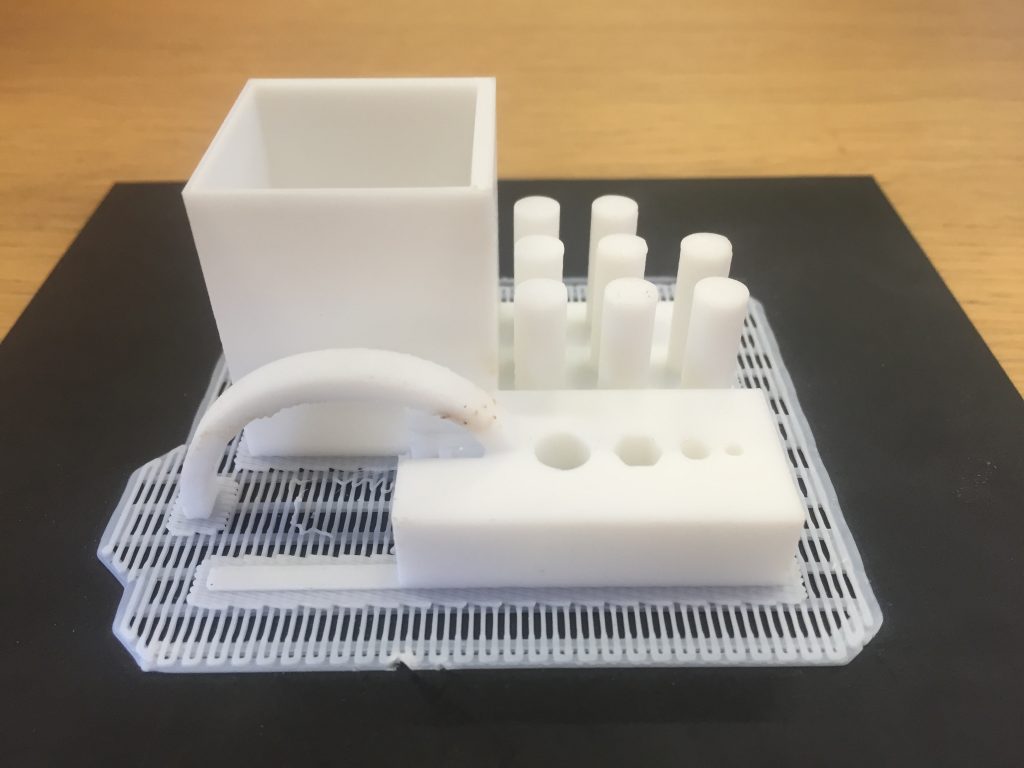 Price
The Tiertime UP mini 2 has a retail price of $599USD at the moment. If they fix the minor software problems and truly make this printer plug-and-play, $599USD is a more than fair price for the quality you get when buying the UP 2.
Visit Amazon to purchase the Tiertime UP mini 2 3D Printer.