Applying 3D printing in education has a wide variety of important uses in primary and secondary schools, universities, libraries, technical colleges, and other educational settings.
3D printing has changed the manufacturing world for the better. Many manufacturers use 3D printing or additive manufacturing technologies to produce airplane parts, prosthetic limbs, and even 3D-printed medications.
In education, 3D printing technologies facilitate improved learning, skills development, and increased student and teacher engagement with the subject matter. Furthermore, 3D printing sparks greater creativity and collaboration in solving problems.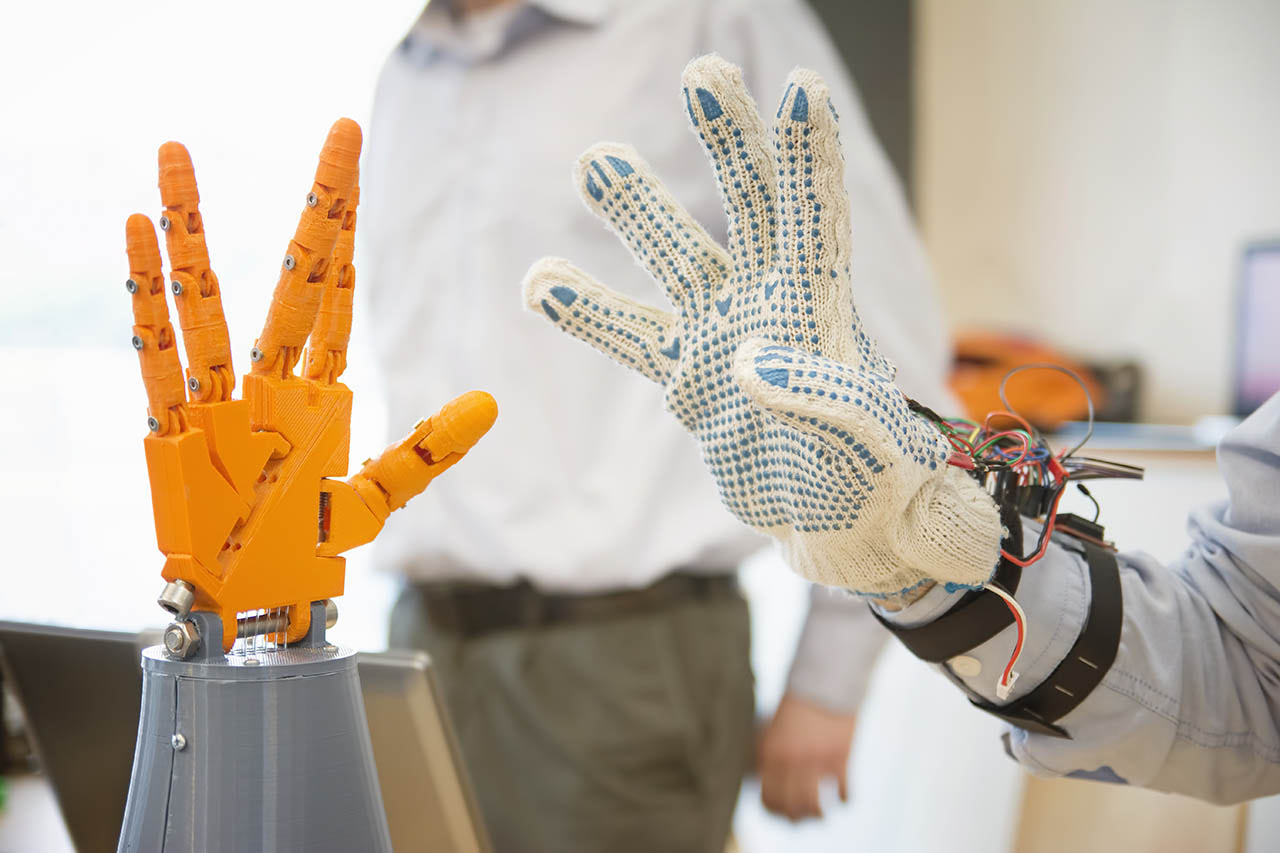 How is 3D Printing Used in Education?
Broadly speaking, there are four main use cases for 3D printing in educational settings, which are:
Teaching students about 3D printing, how 3D printing technology works, and its applications in real-world scenarios (e.g. streamlining industrial processes)
Informing educators about 3D printing so it can be incorporated appropriately into learning curriculums
Improving student creativity and design skills
Printing artifacts that aid students' understanding of important concepts (e.g. 3D-printed anatomical artifacts)
3D Printing in Schools
Educators can include 3D printing at all school levels, from primary through to secondary (high school). 3D printing technologies enable educators to provide students with accurate physical prototypes, which provides practical, hands-on knowledge useful for understanding scientific concepts. Find out about applying 3D printing to STEM learning in the dedicated STEM learning section of this page.
Using 3D-printed objects during oral presentations and demonstrations can improve students' public-speaking abilities. Public speaking skills become crucial when students enter the workforce. Educators can also use 3D-printed visualizations to improve spatial education. A study in China from 2014 found that 3D printing significantly improved spatial learning.
Overall, much of the research on 3D printing in education highlights how 3D-printed artifacts provide learning benefits that are not achievable with screen- or paper-based learning. Improved understanding comes through touching and physically observing 3D-printed objects. 3D printing promotes learning through exploration instead of outdated methods that only focus on learning from textbooks.
It is crucial to get a 3D printer that is suitable for how you want to use this technology to educate students. Schools need robust printers built for the demands of daily classroom use while also being affordable and user-friendly. Our expert team can advise you on a suitable 3D printer for your school.
3D Printing in Universities
At the third level of education, there is greater scope to teach students how 3D printing technology works. Many third-level universities and technical colleges now incorporate 3D printing modules and projects into engineering, applied sciences, and other courses.
Third-level 3D printing modules focus on building 3D printers from scratch in addition to fabricating 3D models using different materials. The need for explicit knowledge of 3D printing is reflected in how dedicated modules have been included in computer graphics courses, industrial engineering, and CAD.
MIT has its own graduate and advanced undergraduate course teaching the fundamentals of 3D printing. The University of Texas and Virginia Tech have followed suit with their own courses and certificates covering 3D printing and design principles for additive manufacturing.
3D printing also provides many opportunities to aid visual and practical learning across the sciences. 3D-printed components are often used as test models for scientific experiments across different disciplines, including mechanical engineering, aerospace, and robotics.
Universities have similar requirements to schools for 3D printers. Third-level educators need fast and reliable printers with an added emphasis on functionality. Get the advice you need on 3D printers suitable for use in universities and technical colleges by contacting us.
Teacher Training
3D printing can not be successfully used in education without educators who understand the design principles of additive manufacturing and how to use 3D printers and filaments. Teacher training, ongoing professional development, and 3D printing workshops can ensure students get the most from 3D printing being used in education.
3D Printing in Libraries
Libraries in the digital era are not just about books⁠—the nature of libraries is changing to reflect how people learn about subjects using new technologies. Libraries provide an easy way to introduce 3D printing ideas and technologies to a large variety of potential users.
Having 3D printers in public libraries improves collaboration and knowledge exchange between people interested in learning about it while removing barriers to entry. Many libraries now have dedicated makerspaces with 3D printers available for use by all library members.
University libraries are one of the few cross-disciplinary areas on college campuses. Having 3D printers in a university library makes the technology available to all students rather than restricting its use to engineering or science departments.
The best 3D printer for a library is typically going to be similar to what we would recommend for classroom use. You need a printer that is affordable, durable, and fast, and we can point you in the right direction.
What is STEM Education?
STEM is an interdisciplinary approach to educating children from an early age with knowledge and skills in the four key disciplines of science, technology, engineering, and mathematics. These four core disciplines drive much of the economic development and innovation in the modern world.
People employed in STEM fields change the world through their daily work, whether by coming up with novel medical treatments for illnesses, researching cures for life-threatening illnesses, or creating new technologies.
By enabling learners to engage with STEM concepts from a young age, STEM education aims to adopt a new learning approach that goes beyond the ability to remember facts and procedures. STEM encourages people to use their creativity, critical thinking, knowledge, and skills in real-world situations.
What is STEAM Education?
STEAM education builds on the foundations of STEM education and embeds the arts into its educational philosophy. The idea behind STEAM is that it applies the arts to these four disciplines to create new ways of solving problems, innovating through creativity, and presenting information in new ways.
Applications of 3D Printing in STEM Classes
Here are some of the main ways 3D printing improves learning in STEM/STEAM classrooms:
– Using drag-and-drop CAD programs, students can create and design simple machines by assembling the parts. Students can bring these concepts to life by 3D printing them. In this way, 3D printing provides an excellent foundation for future engineering work.
– Building prototypes to encourage creativity and critical thinking.
– Enable students to use CAD software to solve problems and 3D print prototypes of their models.
– Teaching complex geometry concepts with 3D printing visualizations, which help spatial imagination.
In summary, embedding 3D printing in STEM and STEAM learning encourages the critical thinking, problem-solving, and communication skills needed for future workforces to thrive in these crucial STEM/STEAM disciplines.
Get Started with 3D Printers in STEM Education Today
3D printers are more affordable than ever and easier to use. By investing in a 3D printer, your classrooms provide the foundation for future generations to continue innovating and solving problems.
In addition to investing in a suitable 3D printer, you will need materials such as filament for printing. It is important to get a printer that fits your school's budget and needs, and that's where we come in with expert advice.
Project Ideas For 3D Printing in a Remote Learning Environment
Below you'll find an overview of the ideas the derived from the aforementioned webinar.
Collaborative or individual stop motion animations using 3D prints as components: The students are assigned a component to design for (background, characters, buildings etc) and the teacher can hit "Go" on the 3D printer to produce the needed components to create the project.
Design Challenges to create PPE (Personal Protection Equipment) for the COVID-19 Pandemic response: The students are tasked with coming up with designs for ways to navigate through grocery stores and public spaces or create designs that will be helpful to them at home and then share those designs to an open-source community page so that others can make them too. (Examples: Shopping cart handle protectors, mask hooks for cars, hand sanitizer holsters etc.)
Collaborative Mosaics or statues: Have each student create a piece of the puzzle for a 3D printed statue or art piece where each student is given instructions for parameters but can each use their own creativity to make it personal for them. The students design, the teacher hits the "Go" button and the project can be assembled and displayed in the school or a local business where they can visit their creation.
Create Distance Learning Space organizational tools or artwork: Each student has their own space at home where they are sitting to do their learning and zoom meetings. Challenge them to design something that would help them either organize or decorate their learning space at home to make it easier to participate or more personal. Expand that to ask them to interview a family member in another home to find out what they could design for their space to help them too. Encourage the class to upload their completed designs to the open-source community to help others!
Have students build an "Engagement Box": Teachers could deliver a kit to students to assemble and modify at home. The kit would include a particle photon, micro controller, a few buttons, a slider, some default sensors and maybe an OLED screen to assemble.
Have the students create "Lego" or small object launchers: Send each student a few legos or small bouncy balls and have them create a prototype from cardboard for a "Flinger," Trebuchet or Catapult. Once they have prototyped from cardboard, they design their project for a 3D printer and once the components are completed, the teacher gets the parts to the students to assemble and test. Set a day where each child gets to show what they made, launch their item, measure the distance and see who makes the design that launches the furthest!
Design 3D models for the visually impaired: Join the e-NBLE Community in creating open-source designs for tactile learning tools for visually impaired students. How does a visually impaired child know what a specific constellation "look like?" How can they "See" the shape of a giraffe? Visit their blog from a previous design challenge for inspiration!
Bridge Building Contests: Challenge the students to design a bridge with 3D printed parts. The bridge has to span a certain amount of distance and the design has to hold weight. You could give the students an opportunity to not just design the bridge, but learn the slicing side of the process. By limiting how many grams of material each bridge can use, students will need to decide how much infill they want to use and what wall thickness they think they might need. The teacher 3D prints the student designs and then tests them during a bridge weight test event to see who came up with the design that holds the most weight.
Create a class collaborative or individual diorama: Have the students design pieces for a group diorama project or characters and backgrounds for their own. The teacher could 3D print the designs and deliver them to the students in a shoe-box to assemble at home, paint and let their imaginations run wild.
Use Makercase to create a class marble run: Have each student design a component and level for an epic 3D printed marble run and then have a viewing party to watch the marbles make their way through the design! Check out Makercase.
Have your students design prosthetics for animals or replacement parts for broken toys: Teach 3D modeling and empathy to your students by providing them with small toy plastic animals with various limbs, fins or horns missing and have them design a replacement or prosthetic that can be printed out, painted and glued back onto their animal. Encourage them to find broken toys or games with missing pieces around their own homes and design replacements for them that can be 3D printed or laser cut! For inspiration, check out Toyrescue.com!
Helpful Links
3D Design tools (CAD)
Tinkercad – Free, easy-to-use app for 3D design, electronics, and coding. It's used by teachers, kids, hobbyists, and designers to imagine, design, and make anything!
OnShape -The cross platform 3d modeling software for real word design and engineering solutions. (Compatible with Chromebook)
Fusion 360 – A Mac or PC 3d modeling software similar to above but with a deeper toolset for fabrication and CAM
Project Inspiration
Curriculums
Other Useful Links
Particle Photon – Jeff's go-to development board for connecting things and people together
octoprint.org – Remote control and viewing of 3d printers using a raspberryPi
The Spaghetti Detective – Object recognition plugin for Octoprint which recognizes when prints have gone off the rails and sends you messages about it!