Advertising options on 3DPrinting.com
3DPrinting.com was founded in 2011. Over the years we have become a leading source of news, information & resources for anyone interested in 3D printing. We serve a highly focused niche of 3D printing professionals and enthusiasts from around the world. All interested in how 3D printing is going to shape the future.
Together with our community we strive to push this amazing technology even further. Care to join us?
Advertising on 3Dprinting.com allows you to reach a highly focused niche of 3D printing professionals and enthusiasts. Please read on to explore all the opportunities we offer to advertise your products / services on our website or online store.
Our audience
We serve a highly focused niche of 3D printing professionals and enthusiasts from around the world. All interested in how 3D printing is going to shape the future.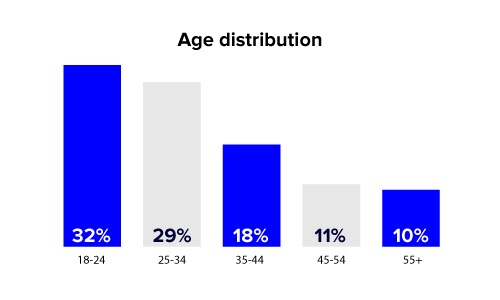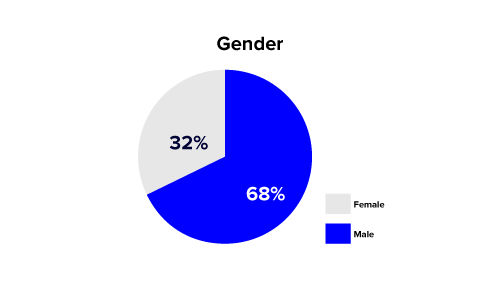 Each month we welcome approx. 120.000 visitors. Our audience is predominantly male in the age group of 18 to 44 years old. We like to call them Technologists: highly interested in technology and therefore are early adopters of new technology. They are highly educated and they have relatively high incomes. The majority work in technical jobs like engineering, IT and architecture. They live alone or with their partner and most don't have any children.

We reach this audience all over the world, but our community mainly comes from the United States, Canada, Australia, United Kingdom and Northern Europe.

Advertising opportunities
Advertorial Content
Are you looking for options to increase your exposure and reach? An advertorial post on 3DPrinting.com might be the perfect solution for you. If you have a product or service that you think deserves to be on 3DPrinting.com? We're happy to collaborate with you on creating a great piece of content. We offer a full service when it comes to creating content. From copywriting to video productions. Contact our sales team to discuss the opportunities for your brand.
Sponsored Content
We are always busy with creating captivating, educating and stimulating content on our site. We offer you the option to work together with us on creating in-depth articles, 3D printing guides, tips&tricks and how-to articles. If you are looking to link your brand or product to one of these articles, you can become an article sponsor. You can either contact us to see what options/ideas we have for you to cooperate on or you can come to us with an idea you have.
Content Subscription Plan
When you are looking to invest in a content campaign and you would like to publish multiple articles in a short period of time , we offer a content subscription plan with interesting discounts. This content subscription plan starts at one article per month over a period of three months and can be upgraded to suit your specific wishes.
Please contact us if you would like to receive more information about our content subscription plan.
Display Advertising
We offer one option for display advertising. You can purchase a square banner space to be displayed on our homepage and on all our article pages. The price for this banner is $250 per week.
If you are interested in page take overs, display advertising on specific pages or other tailored options, please contact us for possibilities and pricing.
Featured Positions
If you are looking to promote your already published article on 3DPrinting.com, you can feature your article on our homepage and at the top of our category pages. A featured position on our homepages ranges from $50 to $150 per week depending on the position you choose.
Please contact us for more information about the positions and pricing.
Product Reviews
One of our greatest options we offer is for you to get your 3D printer, filament or service tested and reviewed by one of our experts. If you provide our team with the product (or service) you would like to have reviewed, we do an extended review and publish an article about all our findings on 3DPrinting.com. This is by far the best way to get exposure & promotion for your product.
If you are interested in having your 3D printer, filament or service reviewed by 3DPrinting.com, feel free to contact us.
Video Content
We also offer the possibility to have your brand/product/service displayed in a video. Are you interested in a video review, product introduction video, service explanation video or anything else, please contact us for the options. Our team is experienced with video content creation in small and large productions.
Feel free to contact us for all options.
Job Postings
Are you looking for new employees? Tap into our global pool of 3D printing experts by sharing your job listings on the 3DPrinting.com job board. One vacancy on our job board costs $75 for a two month listing. Package deals are available.
Please contact our sales team for more information
Directory Listings
Would you like to have your company, product and/or service displayed in one of our lists, overviews or on a specific page? Sign up for a page and reach our large and highly targeted audience of 3D printing companies and enthusiasts. This is where your potential customers are looking for you.
Please  contact our sales team  to get included in a directory or for more information.
Event Promotions / Media Partnerships
Are you organizing a 3D printing related event and are you looking for a media partner to help you with targeted promotions? We are experienced in working together with large, medium & small event organizers. Leading up to your event we can provide advertorials, display promotions and targeted media rounds to reach your prospect visitors with the news you want to share.
Please contact our sales team  for details and possibilities on setting up a media partnership between your organization and 3DPrinting.com
Social Media
We have a large and active following on our social media channels. These channels can be used to drive traffic to content we created in collaboration with your brand.
Please contact our sales team for more information
Newsletter Advertising
We offer the possibility to include a banner or text promotion to our weekly newsletter, sent out to over 4500 subscribers.
Please contact our sales team for more information
Store Partnerships
In order to serve our audience with the best 3D printing products we have recently opened our own 3D Printing Store. This store is currently for USA customers only. Would you like to discuss a store partnership with us and have your products displayed in our store?
Please contact our store team for more information.