Hands-On Review
Anycubic Photon Mono M5s
Anycubic has just released the Anycubic Photon Mono M5s, which is the first consumer grade, leveling-free resin printer with a 12k LCD screen. And we have got one sitting right here, which we have reviewed for your purchasing consideration.
Read on to know more about the Photon Mono M5s, which is both very precise, and very fast!
Highest Resolution
The Photon Mono M5s is the latest in the Anycubic Photon resin printer range, coming with a 10.1 inch mono screen with 12k (11520 x 5120 px) resolution. This amounts to a printing accuracy of 19 microns, surpassing the 22 microns of the Phrozen Sonic Mini 8k, which previously held the record for having the highest resolution for a desktop resin printer.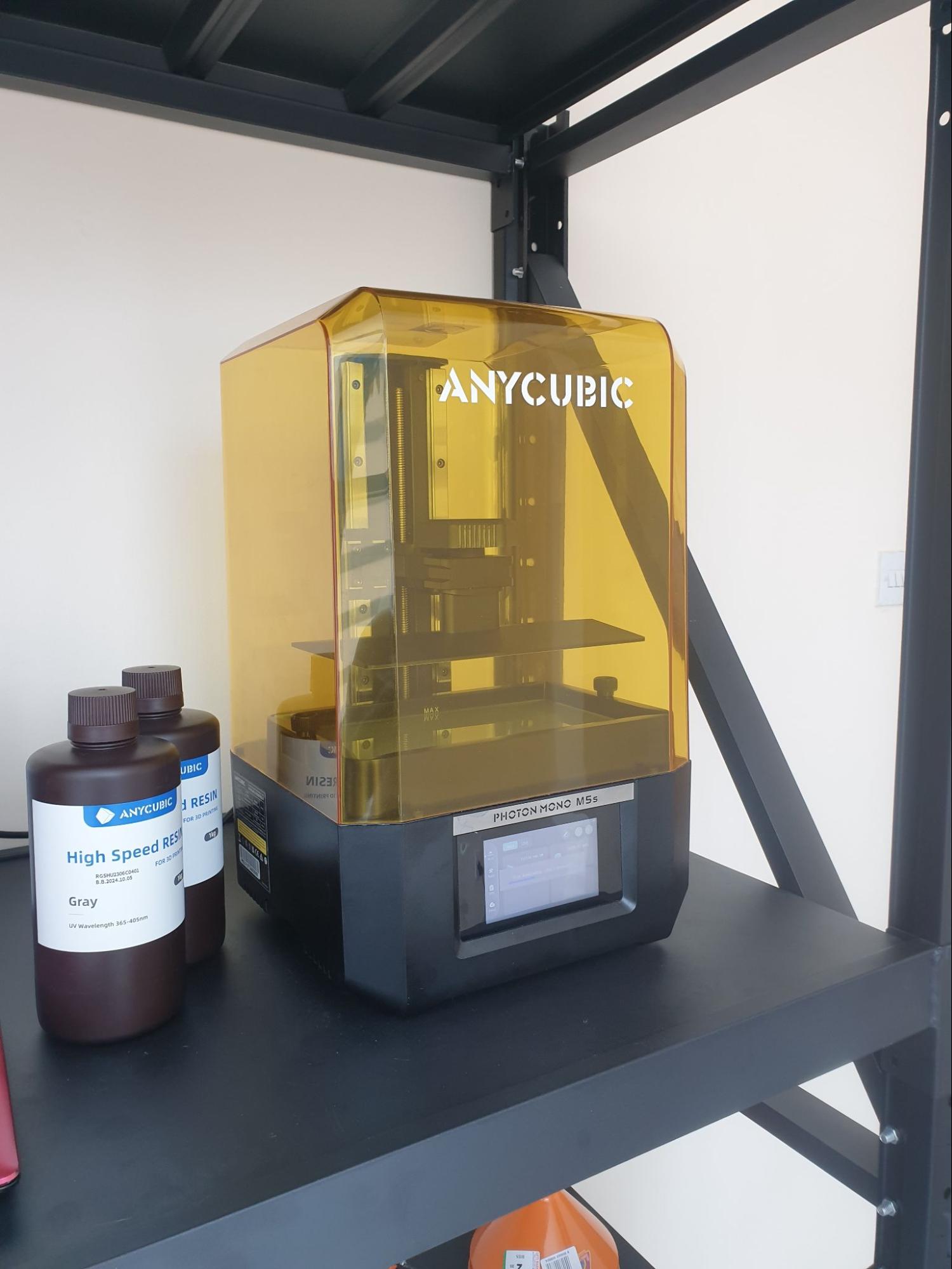 Naturally, the printed pixel size is a function of not only the screen pixel count, but the build plate size also, and so Anycubic have opted for a smaller build plate in favor of increased precision. Consequently the build volume measures in at 218.8 x 123.8 x 200mm, which may appear a little on the small side, but is still way bigger than that of the Sonic Mini 8k with its diminutive 165 x 72 x 180mm build volume).
Not only does the Photon Mono M5s come with the highest resolution, but it's pretty fast also, especially when combined with a high speed resin with its 1.4 second exposure time per layer. The press materials state that the Photon Mono M5s has an average printing speed of 105mm/h. These high speeds are enabled by Anycubic's 3rd generation high speed release film, which is good for printing up to 30,000 layers before needing a change.
Having recently migrated from a mostly-FDM based lifestyle to a resin-based one, I was pretty blown away by the speed of this machine. But more on that later.
Setup
Weighing in at 8.9kg, and measuring 256 mm x 285 mm x 460 mm, the Photon Mono M5s fits comfortably on my shelf, although users should be sure that the cover has room to fit onto the machine when choosing a location to install it.
Setting up the printer was painless, as the printer is pretty much "plug and play". There was no leveling required (even after installing the included screen protector), and after setting up the Anycubic Photon Workshop slicer (and the Android app), I was ready to start printing.
The Photon Workshop software is very easy to use, and the app provides the ability to initiate and monitor prints remotely, which is nice, especially as it has print monitoring and will alert the user if anything goes wrong with the print.
Features
As we mentioned in the title of this article, the M5s is a "smart" printer that is equipped with a variety of sensors to make life easier. Sensors include an optical sensor and a force sensor, which work in cooperation with the app and printer, and can alert the user to any impending issues.
The smart features of the Photon M5s include:
Auto Device Check
Once you initialize Through multiple tests on the connectivity of the exposure screen, mechanical detection module, and motor operation status, the Mono M5s quickly detects and troubleshoots hardware problems, ensuring smooth operations to help achieve printing success.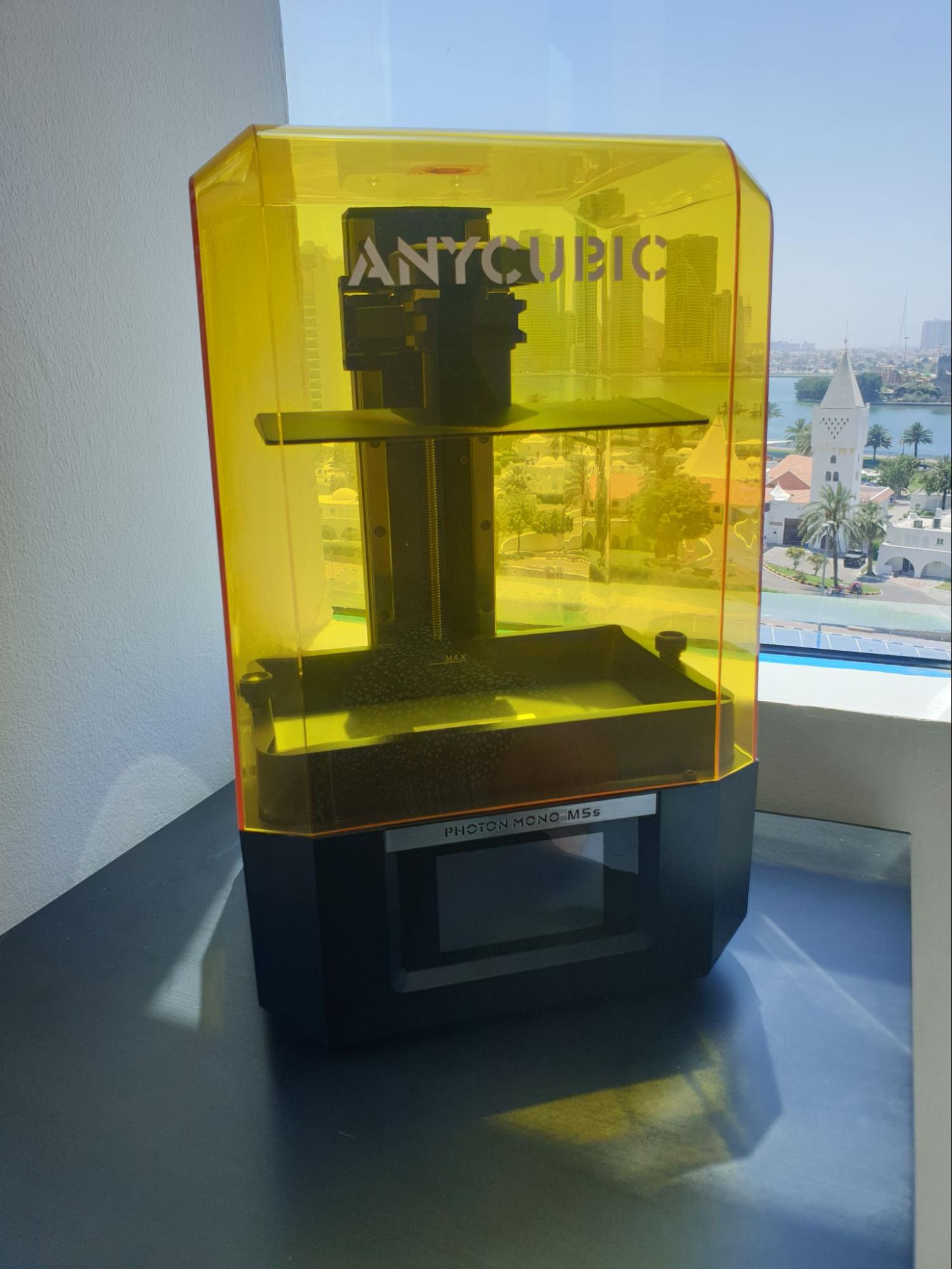 Resin Detection
In order to reduce printing failures caused by insufficient resin, the resin detection mode is preset to intelligently detect whether the amount of resin in the vat meets the printing requirements before printing. I can confirm that this indeed works, and it gives a little notification on the touchscreen when there isn't enough resin for the job. Users can opt to ignore the warning if they wish, and I have done this also. It seems that the software overestimates the resin needed by a small amount, and gives some safety margin. My print was a success even after ignoring the warning, but we do not recommend doing this all the time.
Prints Status Detection
The print status detection feature minimizes resin and time waste by alerting users about common printing failures like bottoming-out. It intelligently analyzes failure causes and offers helpful suggestions to enhance printing efficiency.
Intelligent Mode
Anycubic Photon Workshop updated slicing software includes an "Intelligent Mode" that accurately adjusts exposure parameters based on model intricacies and dimensions. This reduces the chances of printing failures resulting from incorrect parameter settings, ensuring better printing outcomes.
New Support Algorithm
The enhanced support algorithm in Photon Workshop enhances printing stability and success rates while minimizing model surface damage. It simplifies support and bottom valve removal, significantly improving punching and slicing speeds, thereby enhancing the overall user experience and ease of slicing.
Printing with the Anycubic M5s
Without the aid of a stereo microscope and accompanying software, I struggled to come up with something to print that would demonstrate the 19 micron resolution of the M5s. You wouldn't see the difference between a 30 micron printer and a 19 micron printer with the naked eye, so it seemed a bit of a moot point to print a miniature figurine as a demonstration. However, I did manage to print a tiny impeller for a project I am working on, which you can see in the image below. The blades are very thin, and were replicated perfectly with the Photon Mono M5s.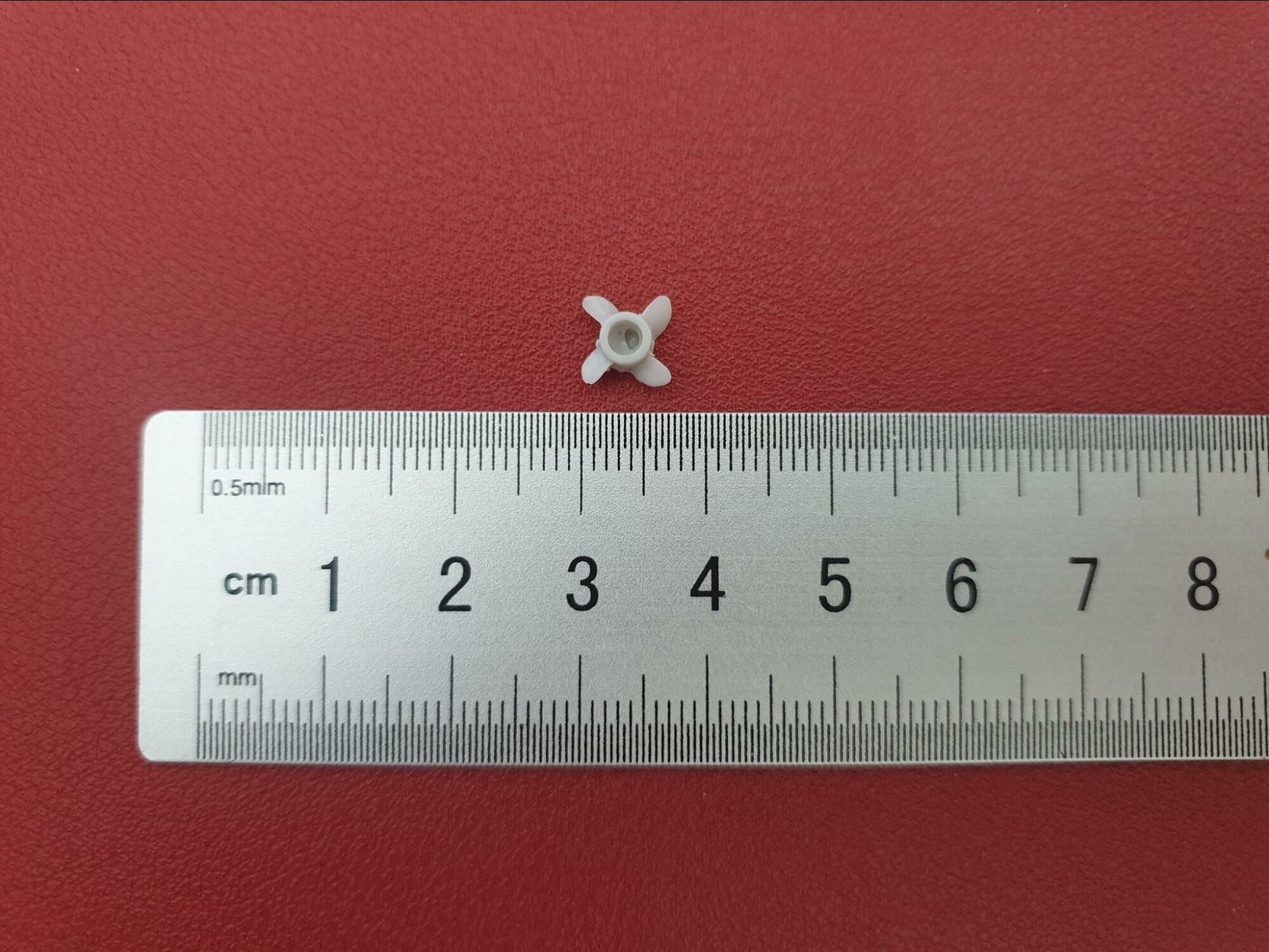 For another project, I printed a telescopic coupler for carbon fiber poles for a project. Sure, it doesn't exactly show off the magnificence of 12k, but the coupler has threads, and this seemed like a good demo of the machine's accuracy. Printing threads can be challenging at times.
You can see the 3D model of the telescopic coupler that I designed in the image below.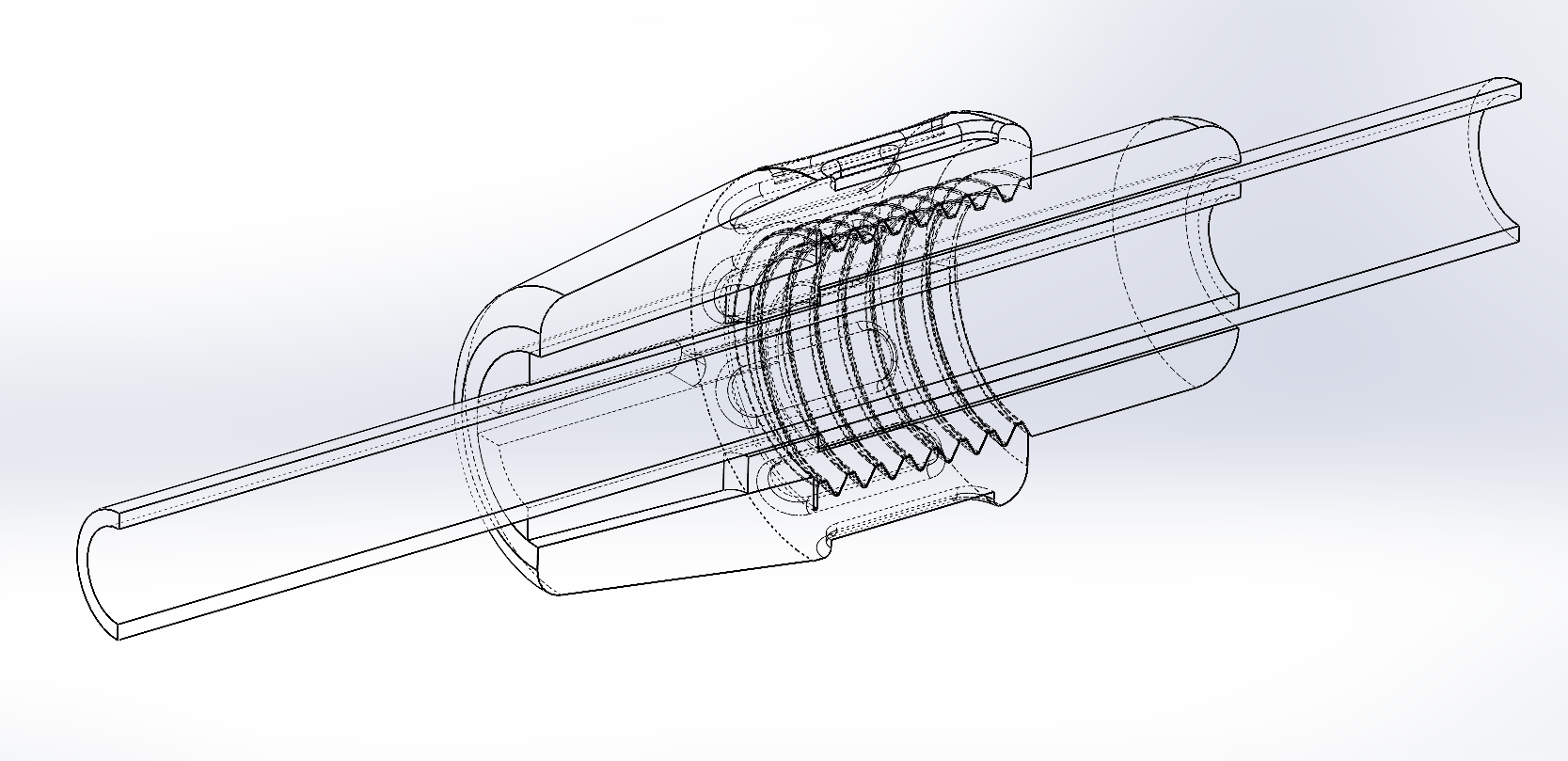 The outer diameter of the coupler measures 16mm, so I added an M16 cut thread to that surface, and the same sized extruded thread to the other component. I manually added a gap of around 50 microns separating the threads.
For this print, I mixed some of the Anycubic High Speed resin with a generic ABS-like resin to see if I could achieve an ABS-like material, but at the high speeds allowed by the High Speed resin in the M5s. I sliced the parts in the Photon Workshop at 0.01mm layer height, and started the print.
20 minutes later, my parts had printed, and I was surprised that my random resin concoction had worked. Fast ABS!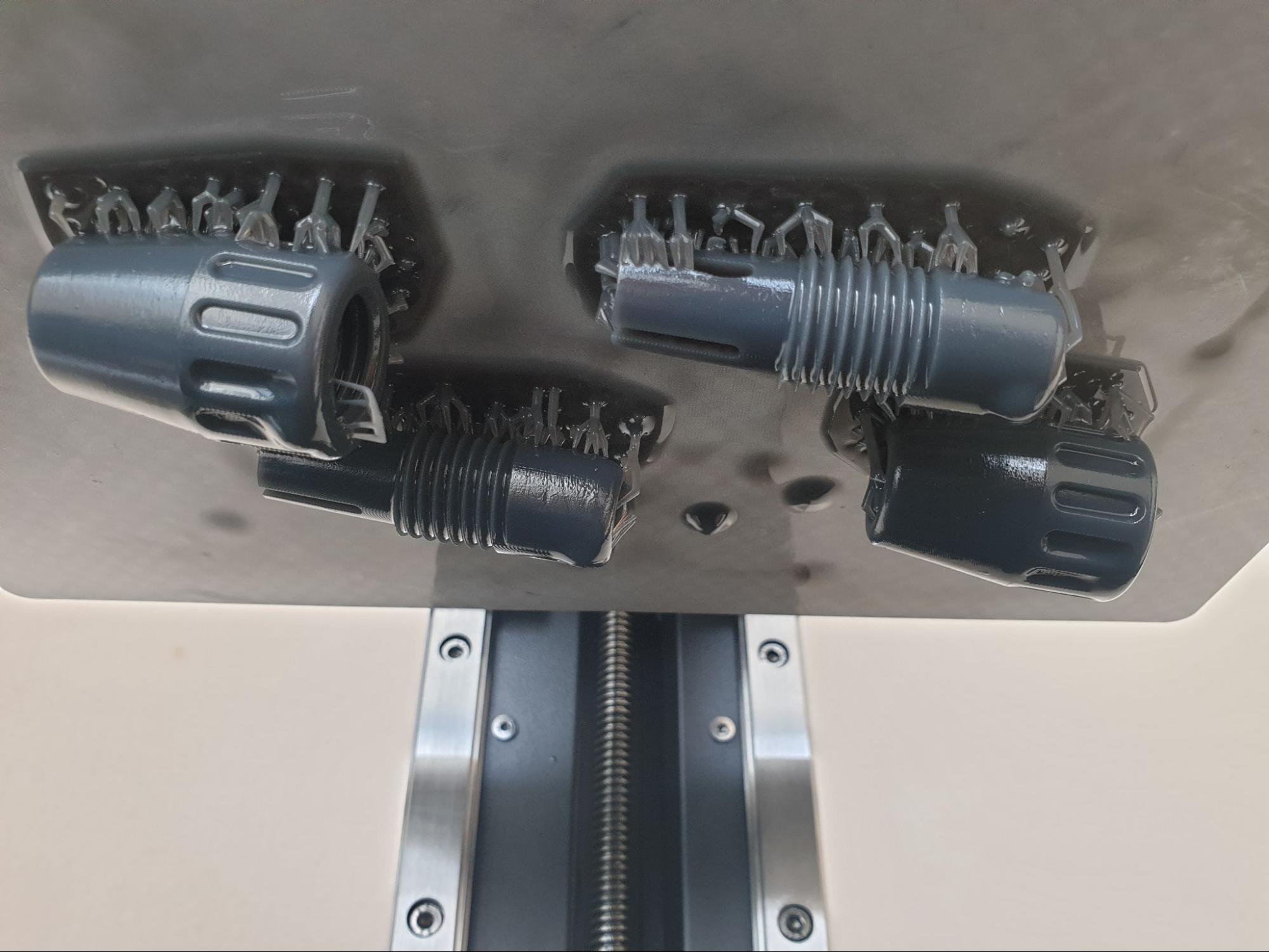 To my absolute joy, the threads fit together perfectly and the component parts worked as designed, allowing the telescoping of two carbon fiber tubes of differing diameters.
You can see the assembled part in the picture below.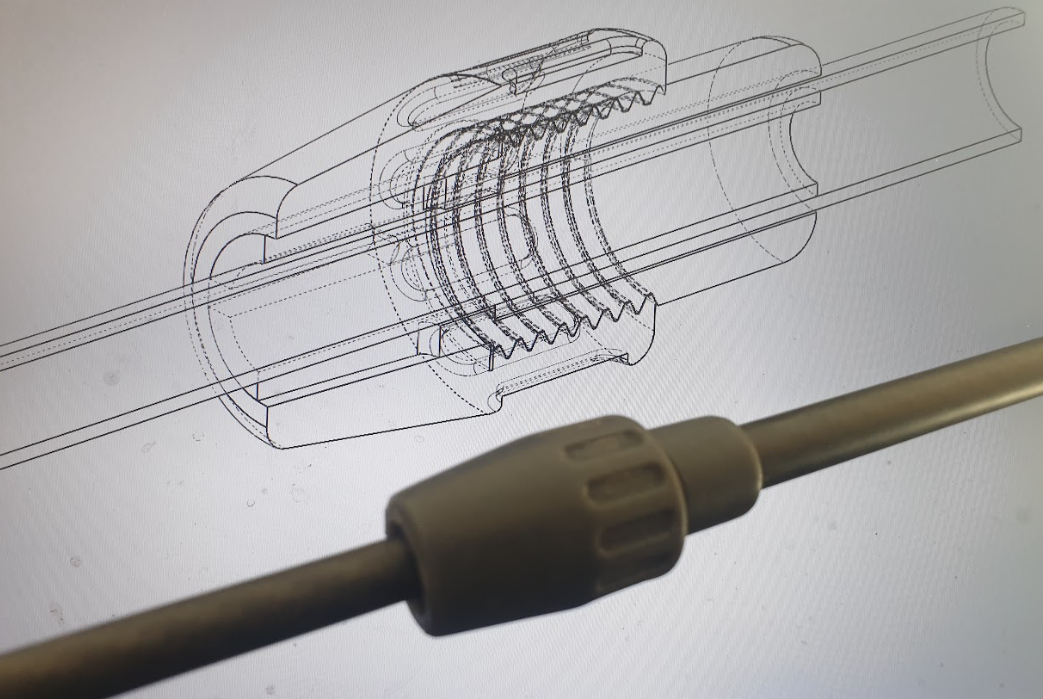 I have been printing on the Photon Mono M5s for a few weeks now, with a variety of different resins. While the High Speed resin does indeed print very fast, I prefer the feel of ABS-like resins, so in future I will be printing with these, and with some more technical resins.
The other resins seems to work fine using similar resin profiles for the Anycubic Photon Mono Premium 8k printer, so if you just stick to those recommendations when printing with the Photon M5s, you should be alright.
Specifications
Here is a list of the other specifications for the Photon Mono M5s, for your information.
Machine Weight
19.6lb./8.9kg
Printing Volume
190oz./5.4L
Average Printing Speed
With high speed resin – 105mm/hr. or 4.13 in./hr.
With general resin – 70mm/hr. or 2.76 in./hr.
Power Supply
100W rated power
Machine Dimensions
11.41×10.63×18.11in.
290*270*460mm(HWD)
Printing Dimensions
7.87×8.58×4.84in.
200x218x123mm(HWD)
Z Axis
Double liners with 10 μm
Exposure Screen
10.1″ monochrome
12K(11,520 x 5,120px) resolution
480:1 contrast ratio
4.7 % light transmittance
2,000 hours typical lifespan
Control Panel
4.3″ TFT touch-control
Data Input
USB Type-A 2.0, WIFI
Final Thoughts
19 microns is a gamechanger in terms of desktop printer pixel resolution, but who will benefit the most from this diminutive pixel size?
While it's nice to have incredibly detailed miniatures, the difference of a couple of microns isn't really going to benefit those printing figurines, especially as the difference is imperceptible to the human eye.
Researchers, on the other hand, will likely be very happy with the ability to print at the thickness of a human hair, especially those who are working in mechanics of materials at microscopic scales. The affordable price point of this printer will also be attractive to researchers who are either restricted by department budgets, or are buying their own machines. Anycubic has been a popular brand in the research community for a while, largely due to the accessibility of the machines, and now the enhanced resolution of the Photon Mono M5s makes for an attractive purchase also.
For the majority of consumers, the fast printing speed will no doubt be an attractive proposition. My own prints were completed in just 20 minutes in some cases – to print these parts on an FDM machine would have taken hours.
The notion that you can print something, realize you messed the design up, fix it, and reprint it all within the space of an hour, is a nice feeling.
Overall, whether you need 12k resolution or not, it seems that with the release of the Photon Mono M5s, the 12k cat is truly out of the bag, and it will only be a matter of time before 12k printing becomes the norm, just as 8k printing has become the norm now. The price is extremely competitive too, especially when you compare it to existing 8k printers with smaller build platforms.
Verdict: This printer offers high resolution and high speed, at a very attractive price point. Normally it will retail at $539, but Anycubic has been offering it on sale for $499. Or to put it in TL;DR terms, I am happy with this printer.
For more information on the Anycubic Photon Mono M5s, head on over to the product landing page at this link.