Most of the advancements in automated 3D printing are in professional and commercial print factories, but us plebeians aren't being left completely out of the party. Desktop belt 3D printers are poised to bring automated manufacturing to everyone who has a few hundred dollars. Through their Kickstarter for their belt printer, iFactory3D (website) will be rewarding super early backers with a low, low price of €649 ($765) for the iFactory One.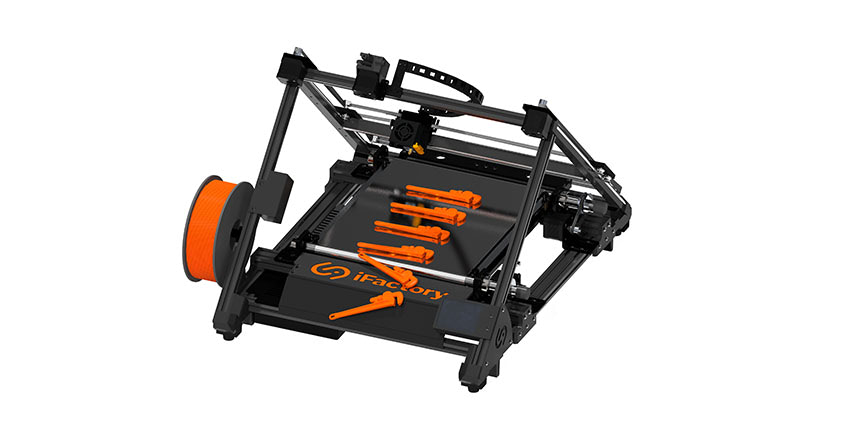 With belt printing, the Z axis is angled at 45° and the bed is a conveyor belt. The novel configuration provides multiple advantages:
– Infinite length objects: a table can be placed behind the printer to support long parts as they come off of the print bed
– Serial production: a scraper at the back of the bed automatically removes prints so objects can be continuously printed without interruption
– Reduced support material: the angled printing makes most overhangs easier to print without the use of supports, and it also enables more geometries to be printed completely hollow
– Different strength profile: all FDM prints are weakest on the axis with the layer lines so for some applications, diagonal layers may lead to a stronger part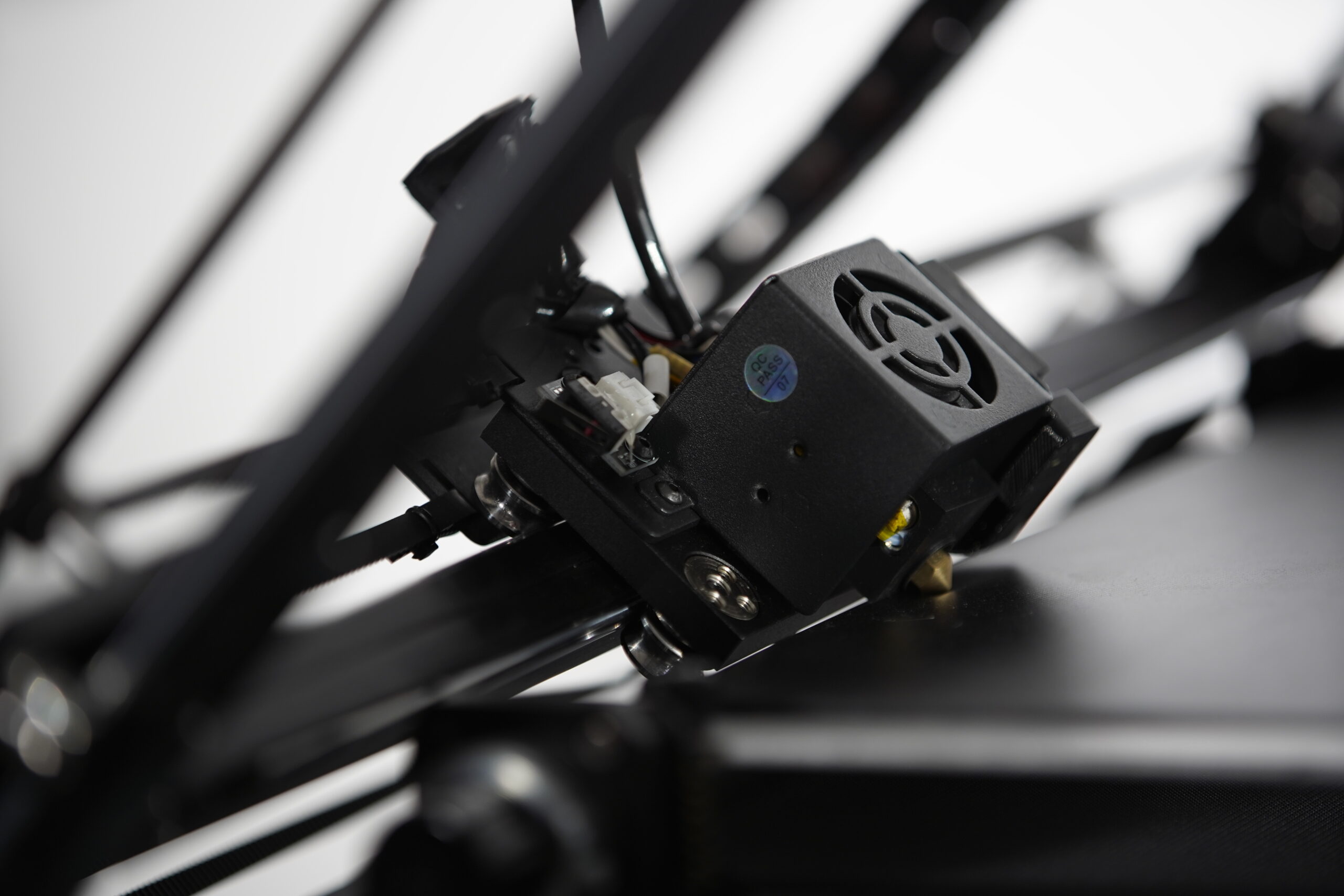 iFactory Features
The iFactory One has a build volume of 180mm(H) x 290mm(W) x Infinite(L), and it can handle all the standard materials like PLA, ABS, TPU, PETG, and Nylon. Beyond that, it will have a couple other powerful features, assuming development goes as planned: cloud control and PrinterGUARD, an error detection system like the one we just covered. As of now, PrinterGUARD can identify the five most common printing errors: "spaghetti, detached objects, warping, stringing, and air printing." According to iFactory3D, their self-learning AI will increase that to 20 error types soon. Artur Steffen, CEO of iFactory3D, is no fan of printing errors, saying "A private poll of 1,000 3D printer users found that these printing errors occur in approximately 20% of all cases. Before the iFactory One entered the market, error diagnostics and the human aspect led to great losses for manufacturers. But the defect ratio can be minimized by means of the custom 3D solution."
A critical component for this printing technology is the belt itself. What you see with these new conveyor belt printers is that either the adhesion is a problem or the belt leaves marks on the models that are printed. So another great feature of this particular model is the newly designed belt that iFactory uses. They still keep it a secret what kind of belt they use but one thing we already know is that it is well chosen after rigoureus testing.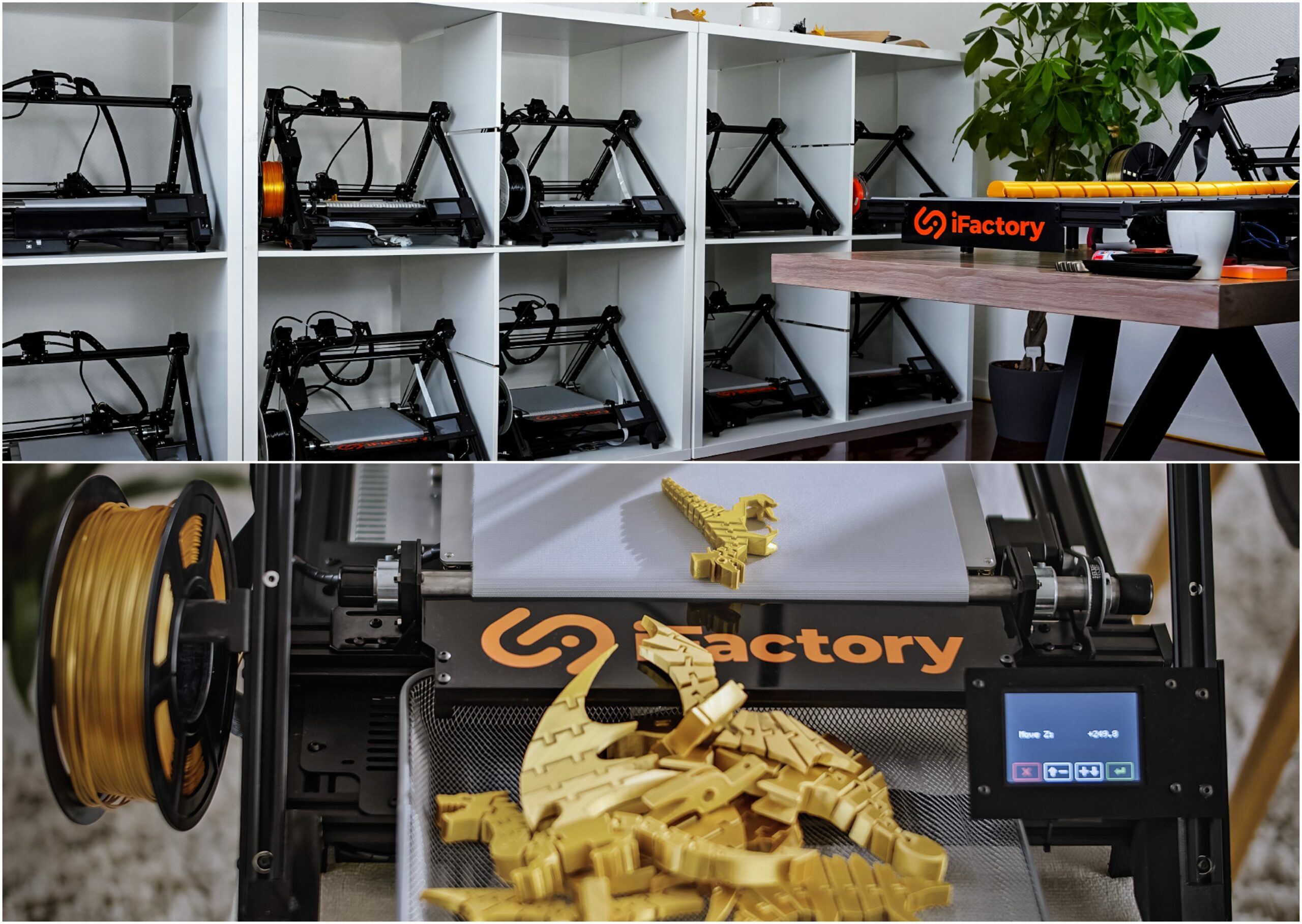 The First Prototype
iFactory3D's co-founder Martin Huber decided to design an affordable, open-source belt printer when he and Artur were doing R&D for a cleantech company they started. They needed tens of thousands of dollars worth of printed parts, so to save money, Martin bought several printers so he could print them himself. But he became frustrated with how much time he had to spend tending the print farm to remove prints and initiate new ones, valuable time that should have been spent on his development work. He found belt printers on the market that would solve his problem but none at a price he could afford, so he designed his own. You may have seen demos recently of Creality's 3DPrintMill belt printer; Creality claims to have been working on it for two years with Naomi Wu. That may be true, but what is certainly true is that Martin published very similar designs for his Affordable Open Source Belt 3D-Printer on Thingiverse in July of 2018. Make of that what you will.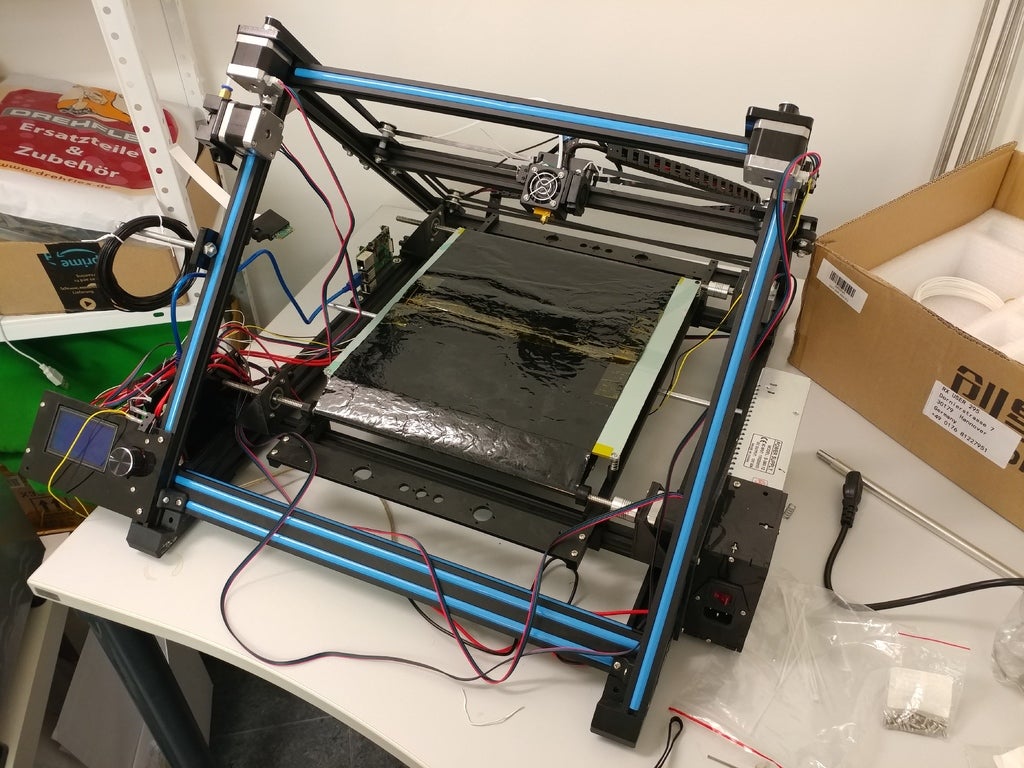 Profit from the discounts and early delivery options
If you miss the flash sale this Friday, then you can still get one for €749 or €799 when those run out. If you need it before Christmas, they have a €999 option that comes with a pre-Chirtmas delivery guarantee: if they don't make it in time, you will receive a 50% discount. Those who wait for March delivery will receive one spool of iFactory's PETG. All of those prices are for the kit version; the pre-assembled version is €149 more, which is a fair upcharge. When you factor in the value of belt printing and embedded error detection, even the retail price of €999 is a great deal.
About iFactory
Back in 2018, iFactory co-founders Martin and Artur joined forces for the first time to start a cleantech company that focused on creating energy from waste heat. In the R&D processes within this company they found the need for a smart production technology
After quite a search, they found a possible solution in a new printing technology called belt printing. The only downside was that no manufacturer at the time offered an affordable model. So Martin decided to build his own and uploaded the first design to Thingiverse as an open source project.
Out of this project their new Dusseldorf Germany based company called iFactory3D was born.